Nintendo has taken it upon itself to dedicate 2013 to everyone's favorite second string plumber.
On the latest Nintendo Direct, Mr. Iwata greeted his audience with an iconic green hat on his head.  After introducing himself, he acknowledged the hat and began the show with a background of Mario's little brother Luigi. Luigi was introduced in the arcade version of Mario Bros. in 1983 which would make this year 30 years since his first appearance.
Shortly after, Mr. Iwata stated that Nintendo has taken it upon itself to dedicate 2013 to everyone's favorite second string plumber. Alongside new footage of Luigi's Mansion: Dark Moon, 2 new games and some DLC featuring Luigi in major roles were also announced.
More news on Dark Moon (March 24, 2013)
Sheguiro Miyamoto makes his first Nintendo Direct appearance to give more detail about Luigi's Mansion Dark Moon. The 3DS graphics add true depth to the rooms that Luigi walks through – "as if he is really there". Lighting and shadows provide very realistic environments that behave like they do in reality. The new screens show Luigi in many environments doing a variety of actions not seen in the original.
Many new scenes and puzzles are shown including one that requires Luigi to use the Poltergust 5000 in order to inflate a balloon that will carry him upwards. The "Dark Light" feature is shown in more detail and a mischievous ghost dog who can only be tracked by the Dark Light is introduced. Miyamoto also answers a very important question for fans and confirms that Boos will be making an appearance alongside other ghosts, but their role is still unconfirmed.
Multiplayer is also expanded on. Hunter Mode, as mentioned in the first preview, will be co-op games to take down ghosts in a haunted building. Rush Mode ("Climber Mode") requires players to clear rooms of ghosts with the time limit in order to progress. The third mode mentioned, Polterpup ("Chaser") Mode puts the Luigis on the tail of the mischievous "ghost dogs".
Mario & Luigi: Dream Team (Summer 2013)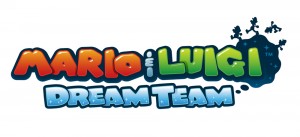 The next game featuring Luigi comes in the form of the 4th installment of the "Mario & Luigi" handheld RPG series. Mario & Luigi: Dream Team follows Mario and Luigi on another humorous and colorful adventure, only this time, the adventures take place inside Luigi's dreams. Mario somehow enters the world of Luigi's dreams and transverses them while solving puzzles and defeating enemies.
Since this game takes place in a dream world, many wacky things can be expected to occur. Luigi, although asleep, can still help his older brother by being disturbed by Starlow, the yellow fairy, in his sleep which in turn causes changes in the dream environment.
Why Luigi's dreams hold the key to the adventure has yet to be revealed, but if Luigi gets to be the heroic one, he must be dreaming.
Mario Golf: World Tour (Summer 2013)

The last upcoming game from Mario universe isn't necessarily centered around Luigi, but also includes him in the roster. Nintendo has once again teamed up with Camelot to bring a new Mario Golf game; this time for the Nintendo 3DS. Players will be taking their drivers and irons through 18 hole courses of varying difficulties and designs. Camelot Software has been behind the creation of all Mario Golf and Mario Tennis games and has a reputation for making very realistic controls and elements; The Mario Golf series is one of the most realistic and gamer friendly golf games out there.
New Super Luigi U (TBA 2013)
A large scale New Super Mario Bros. U DLC package will be released which will create a mode to redesign the world of NSMBU replacing all 80 courses with new levels. The catch? Mario is nowhere to be found and Luigi is the star of the game. Thus, the word "Bros." is missing from the title. This suggests that this game mode will be for 1-player only and judging from the video clip, the difficulty has been increased as well. It will be available for download on the Nintendo e-Shop.
Below you can watch the full Nintendo Direct Video which shows footage from all of these games as well as news on other Nintendo 3DS franchises such as Fire Emblem: Awakening and a new Animal Crossing.