Rob, Paul, and Matt talk about Star Wars, Overwatch, Dragon Ball, and South Park. Plus, we review Darksiders: The Warmastered Edition, The OA, and Justice League Dark.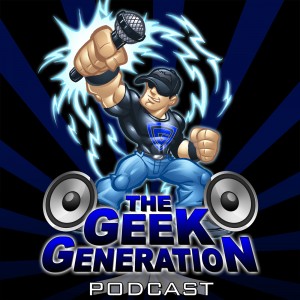 Host: Rob Logan
Co-hosts: Paul O, Matt West
The Geek Generation – #284 – Back in Business

[download] [subscribe in iTunes]
Show notes:
Got feedback??
Geek Outs:

New baby
Comedians doing sports shows
Titanfall 2
YouTube shows (Hot Ones, Rachel & Jun)
Cookie Dough Kit Kats
Becoming a gamer
Star Wars: Rogue One
Star Wars: The Last Jedi
Homeland
The Goldbergs
Overwatch
Dragon Ball Super

Freak Outs:

Trump
Recent crop of anime
South Park Season 20
4D cinema
New Evernote limitations

Reviews:

The OA
Justice League Dark
News/discussion:
Peter Capaldi announces Doctor Who departure
The end is near for the 12th Doctor, as actor Peter Capaldi has announced on BBC Radio 2 that he will take his leave from Doctor Who this Christmas. Capaldi's departure will match the exit of longtime showrunner and executive producer Steven Moffat. Chris Chibnall is set to succeed him, so it would seem that a 13th Doctor will be revealed before the year's end. Series 10 of Doctor Who is set to premiere on April 15th
The Flash script to get a page-one rewrite
According to Variety, Warner Bros. Pictures has hired Joby Harold to do a page-one rewrite on The Flash movie script. While the film was previously scheduled for a 2018 release, it's been on hold since losing director Rick Famuyiwa, and now the studio has decided to take it in a different direction. This is only the latest of problems for The Flash movie, as three directors have already come on to the project since its inception, all leaving shortly after
Ben Affleck steps down as director of The Batman
Ben Affleck has stepped down as director of The Batman. He will, however, remain on as the star of the film and as a producer. Affleck said in a statement, "There are certain characters who hold a special place in the hearts of millions. Performing this role demands focus, passion, and the very best performance I can give. It has become clear that I cannot do both jobs to the level they require. Together with the studio, I have decided to find a partner in a director who will collaborate with me on this massive film. I am still in this, and we are making it, but we are currently looking for a director. I remain extremely committed to this project, and look forward to bringing this to life for fans around the world."
FOX sets X-Men series pilot for production
FOX is moving ahead with its planned live-action X-Men series. Unlike the upcoming FX show Legion, this X-Men series is expected to tie into the big-screen films with four-time franchise director Bryan Singer set as executive producer and as the director of the pilot episode. The series will focus on two ordinary parents who discover their children possess mutant powers. Forced to go on the run from a hostile government, the family joins up with an underground network of mutants and must fight to survive.
New Avengers video game announced by Square Enix
Marvel Entertainment has officially announced a brand-new video game starring Earth's mightiest heroes, which is set to come from publisher Square Enix and developers Crystal Dynamics and Eidos Montreal. Crystal Dynamics is most notable for their work with the recent Tomb Raider franchise, while Eidos Montreal worked with them on Tomb Raider, in addition to their own work on Deus Ex: Human Revolution and Thief. The Avengers project is being designed for gamers worldwide and will be packed with all the characters, environments, and iconic moments that have thrilled longtime fans of the franchise. Featuring a completely original story, it will introduce a universe gamers can play in for years to come. More details on The Avengers project and other games will be announced in 2018.
James Cameron and Tim Miller teaming up on a new Terminator movie
Deadline is reporting that James Cameron and Deadpool director Tim Miller are teaming up for a new Terminator movie. Cameron, who will regain the Terminator rights in 2019, is reportedly "godfathering" the new film. While it's unknown whether the new movie will be a reboot or continuation of Cameron's first two films in the franchise, the plan is for Miller to direct, as Cameron will be busy directing the Avatar sequels
Teri Hatcher to guest star on Supergirl
Another familiar face is heading to The CW's Supergirl, as Lois and Clark's Teri Hatcher will play a recurring, villainous role in the latter half of the second season. Hatcher's co-star Dean Cain has already appeared on the show multiple times as one of Kara's adoptive parents.