Rob and Volpe talk about Stranger Things 2, Iron Fist, and Samurai Jack, then review Red Oaks and Arrival. Plus, Rob interviews Emily Beecham, who plays the Widow on AMC's Into the Badlands.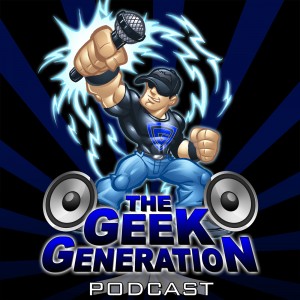 Host: Rob Logan
Co-host: Mike Volpe
Special Guest: Emily Beecham (Into the Badlands)
The Geek Generation – #285 – Emily Beecham, AMC's Into the Badlands

[download] [subscribe in iTunes]
Show notes:
Got feedback??
Geek Outs:

The Man in the High Castle – Season 2
MasterChef – Season 4

Freak Outs:

Krispy Kreme
Thumb accident
South Park: The Fractured But Whole delayed again

Reviews:
News/discussion:
Warner Bros. signs on Matt Reeves to direct The Batman
Following Ben Affleck's recent stepping down as director of The Batman, Warner Bros. has found a replacement in Matt Reeves, the helmer behind Cloverfield and Dawn of the Planet of the Apes.
Kevin Smith set to make Jay and Silent Bob reboot
Castlevania animated series coming to Netflix in 2017
Producer Adi Shankar, of Dredd and The Grey fame, has revealed that he's working on a Castlevania animated series for Netflix, with a first season due in 2017 and a second due the following year. Additionally, Warren Ellis (from the Red graphic novel) is writing, while Adventure Time's Kevin Kolde is also involved. Details like the plot or voice cast aren't available, although Shankar has dribbled out a few hints in the past. In 2016, he suggested that his in-progress show would be "dark, satirical" and "flip the vampire sub-genre on its head.
PS4 System Software Update 4.50 detailed
Sony has released a list of features that PS4 owners can look forward to when System Update 4.50 drops. The biggest new feature is that PS4's will now support external USB 3.0 hard drives up to 8TB in size. Originally, external HDDs would only allow storage of media like videos and music, but now you'll also be able to download your digital games directly to it. Also, users will now be able to select any in-game screenshot as their home screen background, as well as gain the ability to watch 3D movies in stereoscopic 3D directly on the PS VR headset.
Sharknado 5 announced by SyFy and The Asylum
SyFy and The Asylum have announced that Ian Ziering and Tara Reid will return to star in Sharknado 5, reprising their roles as shark-fighting heroes Fin Shepard and April Wexler. The latest film in the hit global franchise, Sharknado 5 features the return of original cast member Cassie Scerbo as Nova, a bartender-turned-badass Sharknado fighter. In Sharknado 5, with much of North America lying in ruins, the rest of the world braces for the inevitable – a global Sharknado. Fin and his family must put a stop to this disaster before Earth is completely obliterated.
New Friday the 13th movie completely shut down
Paramount Pictures has announced that the new Friday the 13th movie has been removed from its schedule, and The Hollywood Reporter is adding that the planned reboot has been completely shut down. With less than six weeks to go before filming was to have started, the studio pulled the plug on the film, which was set to open on October 13th of this year. While the reason is unknown, one factor could be the poor performance of Paramount's Rings, which opened to only $13 million.
The OA renewed for a second season at Netflix
Netflix has announced that The OA, the sci-fi drama that made its surprise debut last year, has been renewed for a second season.