Check out our Q&A with Harmonix's PR and Communications Lead Nick Chester regarding the recently announced Rock Band 4.
In March, Harmonix announced that Rock Band 4 is now in development after a gap of 5 years since the release of Rock Band 3. In the late-2000s, the Guitar Hero and Rock Band series were fighting for control in almost every living room to be the ultimate rhythm game, and yet both fizzled out after their 2010 releases at a respectable height of success. At that point in time, GH and RB had put out a combined 20 separate games between 2005 and 2010 to the point where over-saturation was starting to harm buyers interest in buying another game when they already had some. Now, it seems that both Rock Band and Guitar Hero are making a come back for 2015.
Rock Band 4 is making its debut well within the 8th generation of gaming and the technology has the potential to bring Rock Band to a completely new level. With new technology at their disposal, I reached out to Harmonix's PR and Communications Lead, Nick Chester, who was gracious enough to give me some answers.
The Instruments:
Can fans be expecting a return of "Pro-Mode" and, if so, will there be any expansion or innovation in the line of Midi devices?
"Pro Mode will be returning for drums only. In regards to MIDI devices and support, we can't really speak to that at the moment."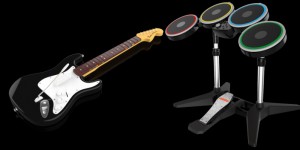 Will there be any new features on the new 5 button guitars/4 pad drums?
"The peripherals players will use will be largely unchanged from a functional standpoint. So that's 10 buttons (5 top, 5 "smaller" buttons on the bottom), whammy, strum bar, and switcher for the guitar; four pads, kick pedal, with support for optional cymbals. The Xbox One and PlayStation 4 will feature component-level improvements to make them more reliable and better than before. Because we wanted to support last-generation instruments and the purchases our fans made, we didn't want to make any major changes that would cause incompatibility. That said, there's a lot of innovation that can be done in the software and in the gameplay; you don't have to dramatically change an input device to innovate or evolve a gameplay experience. We can't wait to show those innovations off soon!"
Will any of the Rock Band 4 peripherals be compatible with the newly announced Guitar Hero Live, considering the newly revamped guitar that they are pushing forward and its lack of backwards compatibility? How about the other way around?
"That would be a question for Activision regarding whether or not our peripherals will work with their game. Regarding whether or not their instruments will work with our game, our stance has always been that if you have an instrument peripheral with inputs that would make sense for our game, we'd love to support it. This was the case last generation where we worked to support all matter of guitar controllers — and drums! — for our titles. Of course, we wouldn't be able to say if we could do that until after launch of both of our titles. It may not even be possible."
Will the keyboard controller be returning?
"We're focusing on the core of the Rock Band experience – guitar, bass, drums, and vocals. We're proud of the work we were able to do in order to implement keyboards into Rock Band 3, including creating an entirely new peripheral around that gameplay experience. For Rock Band 4, however, it's important for us to focus on where the vast majority of players are in order to create the best, most focused experience, and that's guitar, bass, drums, and vocals."
Are any other instruments or peripherals in development?
"None at the moment."
The Cameras:
Will Rock Band 4 utilize the XBox One Kinect/PS4 Camera in any way?
"We have no plans to implement the Kinect or PlayStation Camera."
Will we see the ability to insert oneself into the game or to record "living room music videos"?
"Again, can't speak to much to specific features like that, but I can say we're looking at allowing things like Twitch streaming and game capture in certain contexts, for sure."
Development:
Will we see Rock Band 4 playable in some form at E3 2015?
"Absolutely! We can't wait to show people what we're up to and more importantly, let people play it for themselves this year."
Any particular reason Rock Band 4 will not be releasing for the Nintendo Wii U?
"Harmonix is an independent studio and we're self-publishing Rock Band 4, along with our partners at Mad Catz. That's a huge undertaking. In order for us to make this happen, we have to focus, and right now that's on PlayStation 4 and Xbox One. We're open to bringing the game to other platforms if it makes sense and we can, but we have nothing to announce right now."
When did development begin?
"Rock Band 4 is the result of years of brainstorming and prototyping, much of which began after we launched Rock Band 3. While we hadn't been actively working on a Rock Band follow up, instead focusing on other projects, we've never stopped thinking about what we could do in order to evolve and continued innovate in this space. The core team on the Rock Band 4 game we'll ship this year, including work building an entire new-gen engine to support it, started a little over a year ago."
Is Rock Band 4 expected to be a title that will stand as a platform for songs for years to come or would a successful launch put efforts for a "Rock Band 5" in production?
"We don't have any plans to launch a Rock Band 5 next year; we truly see Rock Band 4 as THE music gaming platform for this generation, and we'll update it with music content as we always have, as well as other game content to keep the experience fresh."
Overview
5 years of silence, in my opinion, is probably the best thing that could happen to this game series. Any gamer, hardcore or casual, who's in their late 20s or late teens most likely spent some time playing one of these guitar-wielding band simulators and by this point has gotten over the overwhelming titles of the previous decade. "Distance makes the heart grow fonder" comes to mind. While some fans with newer consoles probably won't feel the desire to invest in a whole new set of controllers, I'm sure some fans are now realizing how much they miss the series. I'm more of a Guitar Hero man myself, but I am very excited for the potential of Rock Band 4.