Defend your missile silo and slaughter attacking villagers with your friends in this arena combat/tower defense game.
Release Date: March 30, 2015
Developer/Publisher: Toadman Interactive & Fatshark
Platforms: Steam
MSRP: $9.99 (Steam single license) or $24.99 (Steam 5-pack license)
Players: 5-player Co-op
Bloodsports.TV is a post-apocalyptic Hero Siege game developed by Toadman Interactive and Fatshark. The game is a spin-off set in the world of Krater which takes place in post-apocalyptic Sweden.
In Bloodsports.TV, you choose from one of 8 gladiators and join a group of up to 5 players to defend a Missile Silo against waves of enemies. At the end of each wave, a missile is sent to attack a nearby settlement, aggravating the inhabitants, drawing them to attack the gladiators in the arena.
After a brief respite, a new missile is loaded and a new wave of enemies comes.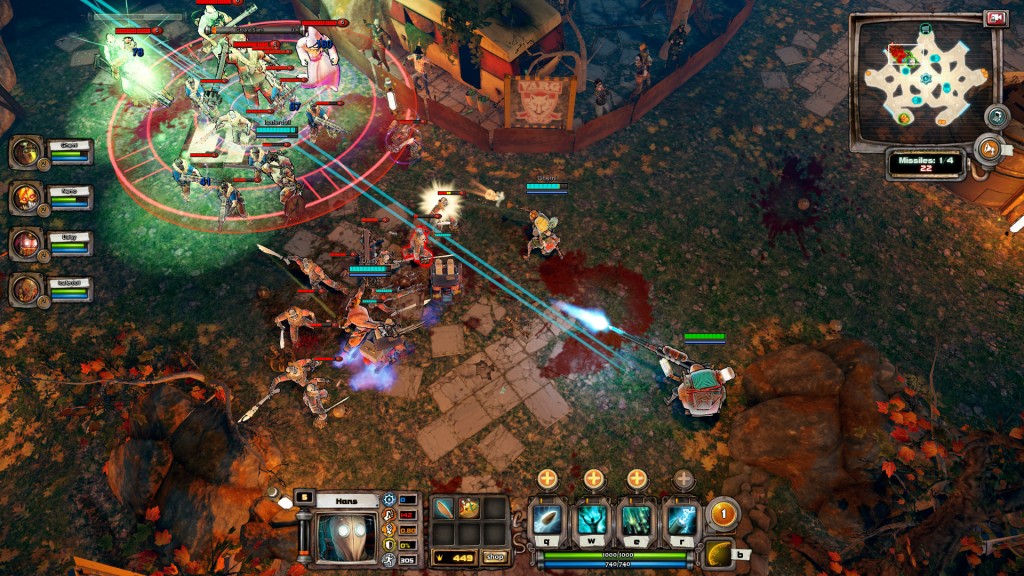 Story
The story here is not a deep one, nor does it need to be. I haven't played Krater, the game it spins off from, so perhaps there is more depth than I'm aware of, but none of that is necessary to enjoy this game. Simply put, your job is to defend a missile silo with your team from a group of angry villagers. If you successfully defeat a wave, the missile is launched and that village is destroyed.
Gameplay
Gameplay and presentation is a top down arena combat game with tower defense elements. At first glance, most people will compare the look to that of a MOBA. While the trend in gaming seems to be moving more towards having every character controlled by a human player, it's nice to see a game where the enemy is completely controlled by computer AI, but still allows for cooperative play for those who want to play with their friends.
There are four classes to choose from, which greatly varies different gameplay styles and strategies. These include the Bruiser (tank), the Slayer (short range melee), the Regulator (long distance projectile), and the Medikus (healer). In addition to different attacks, each has a series of abilities which can be leveled up throughout a single game.
The greatest variable in any round you'll play is the tech, gear, consumables, and implants that you purchase from the shop. These are essential to deal with the increasing difficulty of enemy waves. There's also a build path integrated, allowing a logical progression to upgrade and combine items as you go along, while still offering enough choice to suit your individual gameplay preferences.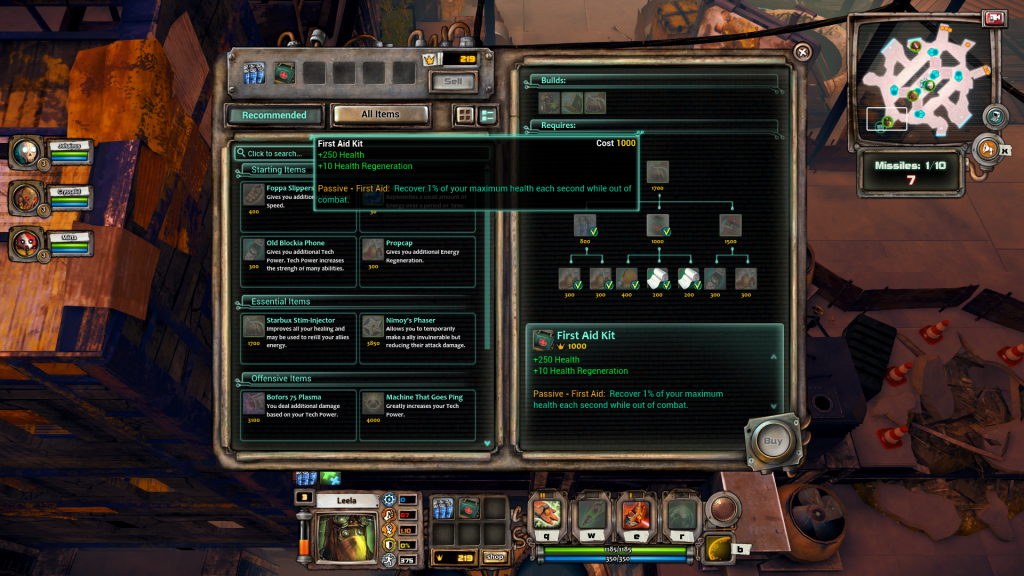 While co-operative play is the greatest advantage of this game, there's also a drawback to it. Playing a game by yourself is quite difficult, making multiplayer a must. Even if you host a game in hopes that someone will join, there's no guarantee you won't be stuck playing solo.
Graphics
This game looks great, with an art style many will compare to the Borderlands series. Colorful, animated characters of various shapes and sizes fill the arena. As you play more and more, it becomes very easy to recognize different enemy types.
The arenas have been shown the same care to detail. With this game being a spin-off of a larger RPG, the creators have fleshed out a cohesive world and have brought that look over to Bloodsports.TV.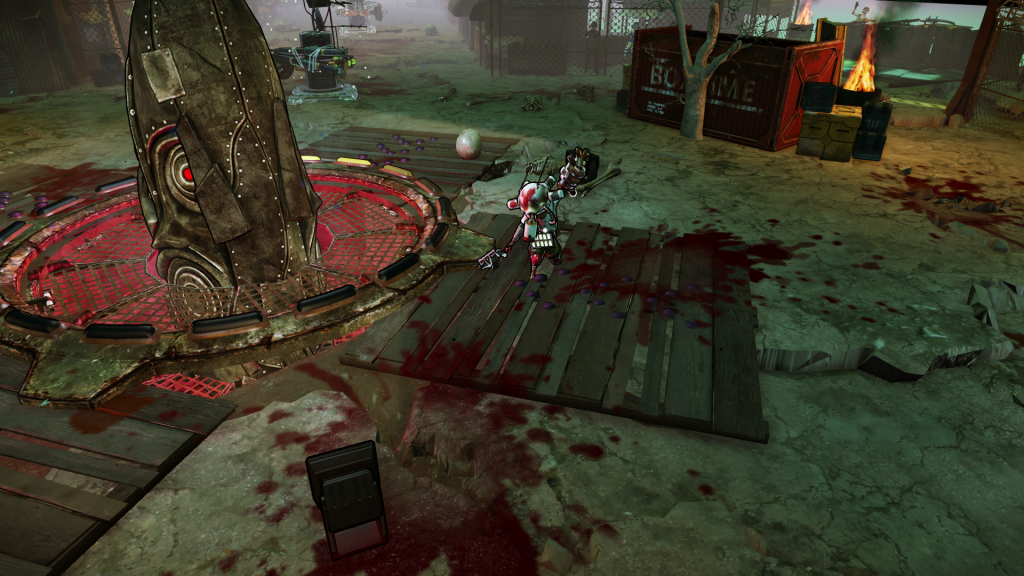 Sound
In an arena combat game, it could be very easy for sound to become chaotic and distracting, but it's handled very well here. An announcer with a charming accent gives brief play-by-play throughout, warning of approaching waves and bosses, while informing your team of downed allies. This aspect helps to reinforce the idea of the televised gladiator fight that's being presented.
Each gladiator also has their own unique voice and a series of satisfying sound effects and battle cries that accompany their different attacks and abilities. The beat of the synth-style music is a welcome accompaniment to the mayhem taking place.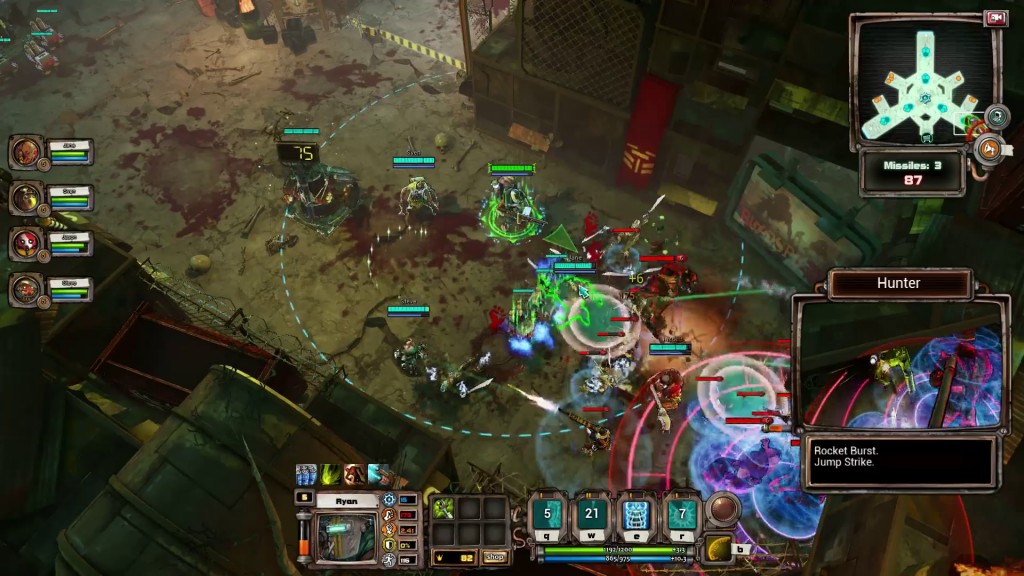 Pros
+ 5-player Co-Op gameplay
+ Beautiful art style
+ Charming announcer
+ Short rounds for quick games and an Endless mode for longer
+ Classes and the shop allow for diverse gameplay
+ Fun replay value
Cons
– Solo gameplay is quite difficult
– Lack of boss diversity (from what I've seen so far)