Rob, Paul, and Damien talk about Starcraft 2, Overwatch's 30th hero, Anthem, the Oscars, and how Hollywood might finally be listening to us. Then we review Super Smash Bros. Ultimate and The Umbrella Academy.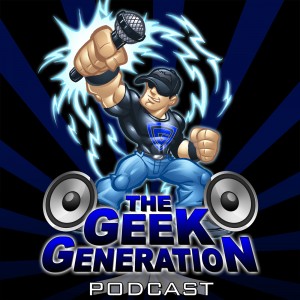 Host: Rob Logan
Co-hosts: Paul O and Damien Cranshaw
The Geek Generation – #310 – Don't Shame Me

[download] [iTunes] [Spotify] [SoundCloud] [Google Play] [Stitcher] [TuneIn]
Show notes:
Got feedback??
Geek Outs:

PAX East
Verizon doubled internet speed
Hollywood is finally listening to Rob

Freak Outs:

Oscars
Carpal Tunnel symptoms
PayPal
Elseworlds CW crossover event

Reviews:
News/discussion:
Jason Reitman to direct Ghostbusters
Academy Award nominee Jason Reitman will direct and co-write a new Ghostbusters movie, which will be set in the same universe as the first two films, ignoring 2016's attempt at a Ghostbusters movie. Ivan Reitman, Jason's father and director of the first two Ghostbusters movies, will produce. Reitman said of the movie, "I've always thought of myself as the first Ghostbusters fan, when I was a 6-year-old visiting the set. I wanted to make a movie for all the other fans. This is the next chapter in the original franchise. It is not a reboot. What happened in the '80s happened in the '80s, and this is set in the present day." The film is set for release on July 10, 2020.
The Punisher and Jessica Jones canceled at Netflix
Marvel's The Punisher and Jessica Jones has unsurprisingly been canceled at Netflix. The announcement follows in the footsteps of the previous cancellations of Iron Fist, Luke Cage, and Daredevil. The upcoming third season of Jessica Jones will still be released, serving as the show's final season and ending Marvel's multi-series run on the streaming service that began in 2013.
Chris Hemsworth to play Hulk Hogan in upcoming biopic
Chris Hemsworth is set to portray wrestling superstar Hulk Hogan in a biopic that reunites director Todd Philips and writer Scott Silver of the upcoming DC Comics movie The Joker. The film will focus on the rise of the wrestling icon and is described as an origin story of the Hulkster and Hulkamania. Wrestling fans will be happy to know that Terry Bollea, aka Hulk Hogan himself, will act as a consultant and executive producer on the movie, as will Eric Bischoff.
Will Smith not returning for Suicide Squad sequel
According to Variety, Will Smith will not be returning for the upcoming Suicide Squad sequel. Sources say scheduling was the ultimate factor and that the decision was made on amicable terms between both sides with no hard feelings. Guardians of the Galaxy director James Gunn, who was brought on the project after being dropped by Disney for past tweets, is hoping to start production this fall. The release date is currently set for August 6th, 2021.
Star Trek: Discovery renewed for Season 3
Star Trek: Discovery has been renewed for a third season at CBS All Access. Michelle Paradise will serve as a new co-showrunner alongside producer Alex Kurtzman for Season 3. Kurtzman said of his co-showrunner, "Michelle joined us midway through season two and energized the room with her ferocious knowledge of Trek. Her grasp of character and story detail, her drive and her focus have already become essential in ensuring the Trek legacy, and her fresh perspective always keeps us looking forward."
Another Walking Dead spin-off in development at AMC
During a quarterly earnings call with Wall Street Analysts, AMC COO Ed Carroll confirmed that the network is actively developing another spin-off of The Walking Dead. Carroll stated, "We're not at a stage where we'll be announcing its plans to premiere. But we have hired creative people that have pitched story outlines. We feel very good about the development of that series. We're not in a position to talk about partnerships in terms of other territories or ancillary windows, other than that there's a healthy appetite for it and we've had a number of conversations with a lot of players in the space.
Into the Badlands canceled at AMC
AMC has also announced the cancelation of its post-apocalyptic series Into the Badlands. The show will conclude its run after the final eight episodes of its current third season.