If you are a fan of point-and-click/puzzle games, My Brother Rabbit will provide you with some gorgeous visuals and a truly charming story.
Article by: Matt West
Upon watching the launch trailer of Artifex Mundi's My Brother Rabbit, I was expecting something a bit different from the gameplay and experience that I got. I expected a puzzle/platform type game. Instead, My Brother Rabbit is one part point-and-click adventure, one part hidden item picture search, and one part puzzle-solving. The story takes place in the imagination of two little children. Facing his sister's serious illness, the brother attempts to bolster her spirits and help her cope with her treatments through the power of that imagination. While the sister is represented during the game as a sick flowerling, her brother champions the experience as her stuffed animal rabbit.
Through the multiple levels, Brother Rabbit must attempt to find items to build contraptions assisting him in bringing his little sister to her medical treatments. As a level is completed, we are reminded of the real world through sketches of the little boy remaining loyally at the side of his sister as she's sick in bed, traveling in the car, and receiving shots on a hospital gurney. In the world of imagination, a surrealist take is employed in illustrating the world Brother Rabbit must navigate to bring his flowerling sister closer to getting cured.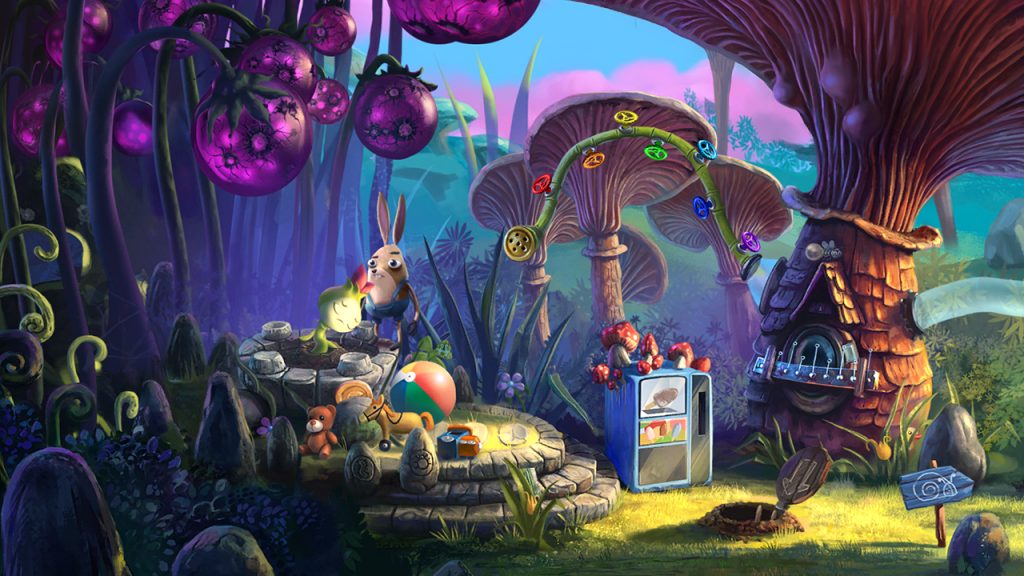 Gameplay is simplistic at the base level. The interface is essentially point-and-click. As the player uncovers new "quests", a small icon appears in the top right of the screen. These quests are typically to collect certain items, like ten butterflies which are then attached to a metal bar. As they fly away, they lift the bar which was holding a small door shut. Upon opening that door, a puzzle is revealed. When on a screen where one of those collectable items is located, the quest icon turns bluish. If nothing is located on that particular screen, then the icon is gray. Secret side quests also exist in the game that do not affect the outcome (for example, click on every duck you see).
As repetitive as the point-click-collect can be, the story was charming enough and art work was so splendid that I was happy to experience the entire contents of the game. Some of the more interesting quests include repairing a steampunk Robo-Moose, journeying under the sea and having to use radar to catch a sea turtle, and repairing a flying cycle. Adding to the play experience is a gorgeous score by Arkadiusz Reikowski, which is sampled in the launch trailer (below). Overall, the game provides 90-120 minutes of solid gaming for players of almost any age.
My Brother Rabbit is a reminder of days when imagination and play could help distract our younger selves from the troubles of our real world. The whimsical nature of the game and its gorgeous appearance make for a welcome escape in our current lives. Hardcore gamers, however, would likely do best to avoid this game, as the experience will be neither challenging nor rewarding enough for them. Casual and experiential gamers will probably enjoy seeing the story play out as they explore the Dali-esque melting clocks and steampunk-inspired crafts.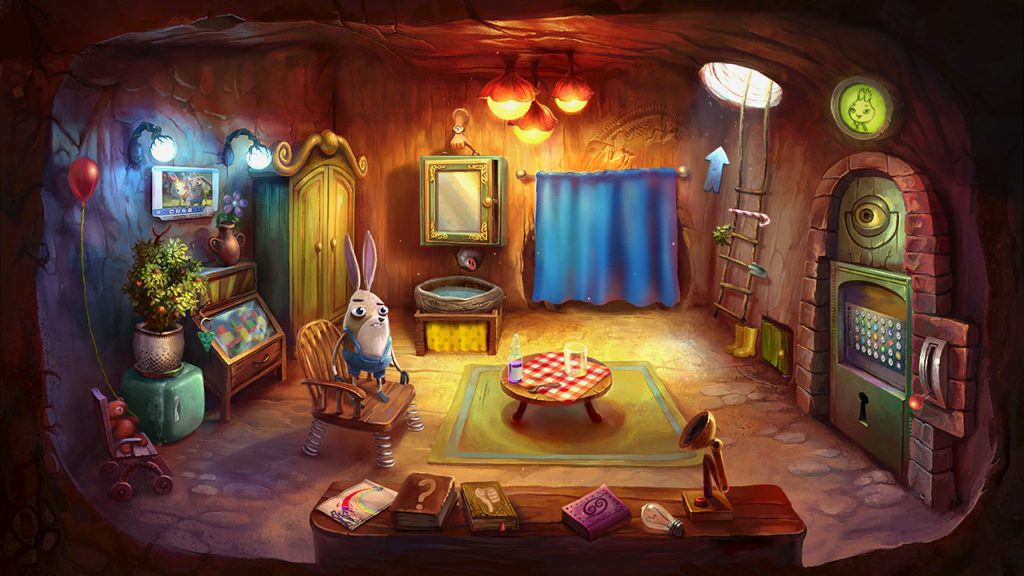 If you are a fan of point-and-click/puzzle games, My Brother Rabbit will provide you with some gorgeous visuals and a truly charming story. While it was nothing like I expected it to be, the game turned out to be a pleasant surprise. The sweetness and charm behind attempting to illustrate the imagination of two children ends up making this a homerun.
Pros
+ Beautifully illustrated
+ Gorgeous score
+ Charming story
Cons
– Would have liked to have more control over Brother Rabbit
– Point-and-click gameplay can feel repetitive
My Brother Rabbit is available for purchase in the Humble Store.