Rob, Volpe, Paul O, and Matt West geek out about Creed 2, Dave Chappelle, The Fractured But Whole, and Plex, then freak out about The Walking Dead, Dragon Ball Super, and YouTube. And of course, we've got Oreos.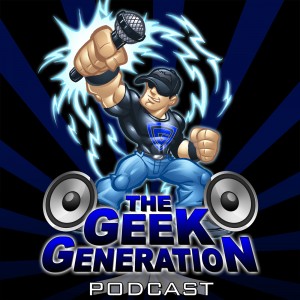 Host: Rob Logan
Co-hosts: Mike Volpe, Paul O., Matt West
The Geek Generation – #294 – Birthday Bash 2018

[download] [subscribe in iTunes]
Show notes:
Got feedback??
Geek Outs:

Creed 2 casting news
The End of the F***ing World
Hulu Live
Chappelle Netflix Specials
Black Panther Soundtrack
War Machine signs with WWE
Subnautica launches on January 23rd

Freak Outs:

The Walking Dead
Xbox One dashboard
Dragon Ball Super
Dragon Ball x Adidas collaboration collection
Anti-social media
Instagram Recommended Posts

Reviews:

Vice Principals: Season 2
Marvel's Runaways

Oreo Taste Test: Hot & Spicy Cinnamon
News/discussion:
Superman's new costume for Action Comics #1000 brings back the classic red trunks

DC is going all-out to celebrate the one-thousandth issue of ACTION COMICS—the longest continually published comic book of its kind in history, the series that introduced Superman to the world, and the title that launched the superhero genre. The Jim Lee-drawn cover features a new costume that integrates a variety of classic and new elements, including the Man of Steel's trademark red trunks.
Available at comics retailers and digitally on April 18, ACTION COMICS #1000 features the DC debut of acclaimed writer Brian Michael Bendis in a 10-page Superman story featuring art by DC publisher and celebrated artist Jim Lee. This milestone issue will also include two 15-page stories from two of DC's current and most popular talent teams: SUPERMAN writer Peter J. Tomasi and artist Pat Gleason, as well as ACTION COMICS writer and artist Dan Jurgens.