Rob and Taud chat about the upcoming Electric Dreams series, Crisis on Earth-X, The Orville, Justice League, and Overwatch League's lack of representation. Then we review Super Mario Odyssey, Breath of the Wild, and A Hat in Time.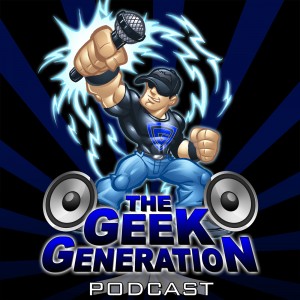 Host: Rob Logan
Co-host: Taudriel
The Geek Generation – #293 – Overlooked by Overwatch

[download] [subscribe in iTunes]
Show notes:
Got feedback??
Geek Outs:

Millie Bobbie Brown to play Sherlock Holmes' sister
Electric Dreams
Crisis on Earth-X
The Orville

Freak Outs:

Chocolate Hazelnut Oreos
Justice League
Overwatch League's lack of representation

Reviews:

Super Mario Odyssey
The Legend of Zelda: Breath of the Wild
News/discussion:
New Line's Walter Hamada to oversee DC film slate for WB

After the box office disappointment of Justice League, it was announced that Warner Bros. had begun restructuring their DC Films division by shifting previous point man Jon Berg out. Now, according to Heat Vision, Warners' new choice to take the reigns of the DC brand is New Line executive Walter Hamada, who helped shepherd IT as well as The Conjuring universe.
Hamada will continue to work alongside DC CCO Geoff Johns, an acclaimed comics writer in his own right whose expertise with the brand is still valued at the studio. Johns also has story credit on the in-development Wonder Woman 2 and Green Lantern Corps. Hamada's ascension marks yet another chapter in the ever-shifting struggle to find an overall guardian of the DC brand, similar to the way Kevin Feige has consistently overseen all the Marvel Studios pictures.
As president of all DC-based film production, Hamada will inherit the DCEU during a crucial transition period where only one film, Aquaman, will see release in 2018. That will give the new team a chance to reassess a series of films that the previous regime had developed, including Flashpoint, Man of Steel 2, Green Lantern Corps, Suicide Squad 2, and Batgirl.
Animaniacs set to return on Hulu with 2-season order
Hulu, Amblin Television, and Warner Bros. Animation have announced a deal to create and premiere a brand-new version of the iconic cartoon franchise, Animaniacs for a two-season straight-to-series order. The deal also brings the complete libraries of all the original Animaniacs, Pinky and the Brain, the subsequent Pinky, Elmyra and the Brain, and the complete Tiny Toon Adventures collection exclusively to Hulu.
Bright sequel announced by Netflix
Netflix has announced that they have officially greenlit a sequel for Bright. David Ayer will write and direct with Will Smith and Joel Edgerton expected to return. Bright premiered on the streaming service on December 22, 2017, and despite mixed reviews, became the highest-viewed Netflix film ever in its first week of release, and one of the biggest originals Netflix has ever launched.
Krypton premiere date announced by Syfy
Syfy has announced the Krypton premiere date of March 21, 2018. Set two generations before the destruction of the legendary Man of Steel's home planet, Krypton follows Superman's grandfather — whose House of El was ostracized and shamed — as he fights to redeem his family's honor and save his beloved world from chaos.