NBC has announced its schedule for the 2016 – 2017 season which includes, along with midseason additions, five new comedies, seven new dramas, and three unscripted series.
NBC has announced its primetime schedule for the 2016 – 2017 season which includes, along with midseason additions, five new comedies (The Good Place, Great News, Powerless, Trial & Error, and Marlon), seven new dramas (This Is Us, Timeless, Taken, Chicago Justice, Emerald City, The Blacklist: Redemption, and Midnight, Texas), and three unscripted series (The Wall, Better Late Than Never, and First Dates).
The Good Place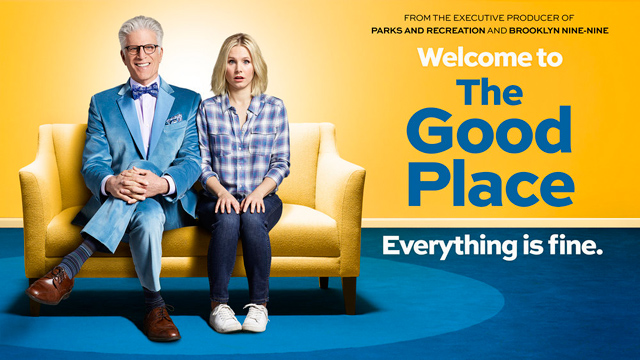 From Michael Schur, executive producer of "Brooklyn Nine-Nine," "Parks and Recreation" and "The Office," comes a smart, unique new comedy that follows Eleanor Shellstrop (Kristen Bell, "House of Lies," "Veronica Mars"), an ordinary woman who, through an extraordinary string of events, enters the afterlife where she comes to realize that she hasn't been a very good person. With the help of her wise newfound afterlife mentor (Ted Danson, "Bored to Death," "Cheers"), she's determined to shed her old way of living and discover the awesome (or at least the pretty good) person within. Directed by Drew Goddard, the Oscar-nominated writer of "The Martian."
The cast includes Kristen Bell, Ted Danson, William Jackson Harper, Jameela Jamil, Manny Jacinto, and D'Arcy Carden.
https://youtu.be/UMf24rEsMOs
Great News
Getting along with some colleagues can be rough, but working with your mom? That's a whole other story. When Katie, an up-and-coming news producer, finds out her overbearing mom (Andrea Martin, "SCTV," "My Big Fat Greek Wedding") has rejoined the workforce as an intern at the station where Katie works, it might just be the worst news ever. But, with her biggest cheerleader at her side, Katie might finally get the recognition she deserves. The laughs hit close to home in this new office comedy from executive producers Tina Fey, Robert Carlock and the producers of "30 Rock."
The cast includes Briga Heelan, Andrea Martin, Adam Campbell, Kimrie Lewis-Davis, John Michael Higgins, and Horatio Sanz.
Powerless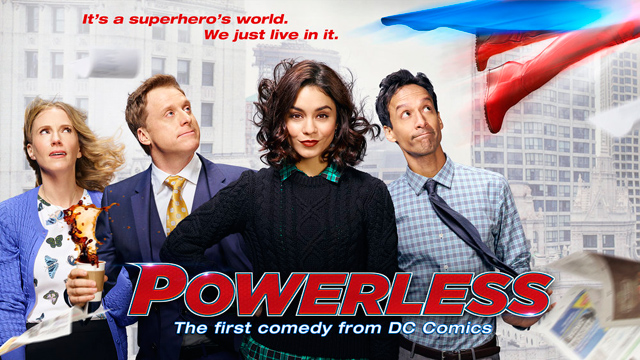 In the first comedy series set in the universe of DC Comics, Vanessa Hudgens ("Grease Live," "High School Musical") plays Emily, a spunky young insurance adjuster specializing in regular-people coverage against damage caused by the crime-fighting superheroes. It's when she stands up to one of these larger-than-life figures (after an epic battle messes with her commute) that she accidentally becomes a cult "hero" in her own right … even if it's just to her group of lovably quirky co-workers. Now, while she navigates her normal, everyday life against an explosive backdrop, Emily might just discover that being a hero doesn't always require superpowers.
The cast includes Vanessa Hudgens, Alan Tudyk, Danny Pudi, and Christina Kirk.
A leaked trailer has appeared online. Watch it before it disappears!
Trial & Error
In this outrageous fish-out-of-water comedy, bright-eyed New York lawyer Josh Segal heads to a tiny Southern town for his first big case. His mission? To defend an eccentric, "rollercizing" poetry professor (John Lithgow, "3rd Rock From the Sun") accused of the bizarre murder of his beloved wife. Settling into his makeshift office behind a taxidermy shop and meeting his quirky team of local misfits, Josh suspects that winning his first big case will not be easy, especially when his client is always making himself look guilty. "Making a Murderer" can be funny!
The cast includes John Lithgow, Nicholas D'Agosto, Jayma Mays, Sherri Shepherd, Steven Boyer, and Krysta Rodriguez.
Marlon
Loosely inspired by the real life of star Marlon Wayans ("In Living Color," "Scary Movie"), this update to the classic family comedy centers on a loving (but immature) father committed to co-parenting his two kids with his very-together ex-wife. While his misguided fatherly advice, unstoppable larger-than-life personality and unpredictable Internet superstardom might get in the way sometimes, for Marlon family really always does come first — even if he's the biggest kid of all.
The cast includes Marlon Wayans, Essence Atkins, Notlim Taylor, Amir O'Neil, Bresha Webb, and Diallo Riddle.
This Is Us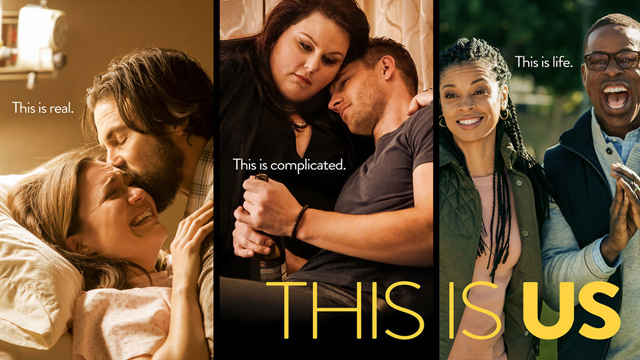 Sometimes life will surprise you. Starring Mandy Moore ("A Walk to Remember"), Milo Ventimiglia ("Heroes," "Gilmore Girls") and Sterling K. Brown ("The People V. O.J. Simpson: American Crime Story)," this refreshingly honest and provocative series follows a unique ensemble whose paths cross and their life stories intertwine in curious ways. We find several of them share the same birthday, and so much more than anyone would expect. From the writer and directors of "Crazy, Stupid, Love." comes a smart, modern dramedy that will challenge your everyday presumptions about the people you think you know.
The cast includes Milo Ventimiglia, Mandy Moore, Justin Hartley, Chrissy Metz, Sterling K. Brown, Susan Kelechi Watson, Chris Sullivan, and Ron Cephas Jones.
https://youtu.be/rfUiKg28r_M
Timeless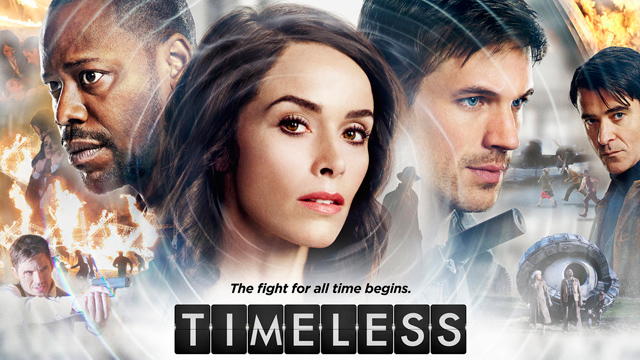 From Eric Kripke ("Revolution," "Supernatural"), Shawn Ryan ("The Shield") and the producers of "The Blacklist" comes this thrilling action-adventure series in which a mysterious criminal steals a secret state-of-the-art time machine, intent on destroying America as we know it by changing the past. Our only hope is an unexpected team: a scientist, soldier and history professor who must use the machine's prototype to travel back in time to critical events. While they must make every effort not to affect the past themselves, they must also stay one step ahead of this dangerous fugitive. Can this handpicked team uncover the mystery behind it all and end his destruction before it's too late?
The cast includes Abigail Spencer, Matt Lanter, Malcolm Barrett, Goran Visnjic, Paterson Joseph, Sakina Jaffrey, and Claudia Doumit.
https://youtu.be/4glJzvUunOE
Taken
From executive producer Luc Besson ("Taken," "The Fifth Element") comes a modern-day, edge-of-your-seat thriller that follows the origin story of younger, hungrier former Green Beret Bryan Mills (Clive Standen, "Vikings") as he deals with a personal tragedy that shakes his world. As he fights to overcome the incident and exact revenge, Mills is pulled into a career as a deadly CIA operative, a job that awakens his very particular, and very dangerous, set of skills. In 30 years, this character became the Bryan Mills that we've come to love from the "Taken" films.
The cast includes Clive Standen, Jennifer Beals, Brooklyn Sudano, Monique Gabriela Curnen, Gaius Charles, Michael Irby, James Landry Hébert, and Jose Pablo Cantillo.
Chicago Justice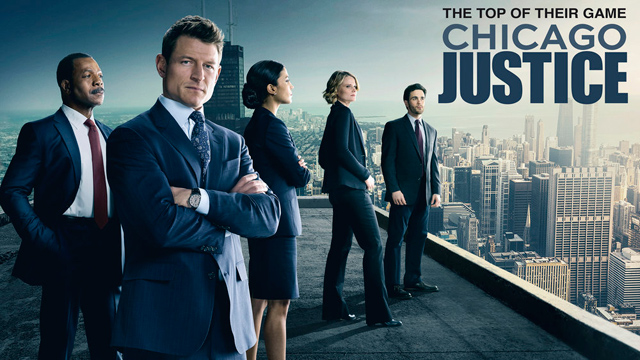 Powerhouse creator Dick Wolf delivers a captivating new installment to the hit Chicago franchise. Just like their brethren in the Chicago P.D., the State's Attorney's dedicated team of prosecutors and investigators navigate heated city politics and controversy head-on while fearlessly pursuing justice. As they take on the city's high stakes and often media-frenzied cases, they must balance public opinion, power struggles within the system and their unwavering passion for the law. It all starts with a gut-wrenching case when one of Chicago's finest is shot in the line of duty.
The cast includes Philip Winchester, Carl Weathers, Nazneen Contractor, Joelle Carter, and Ryan-James Hatanaka.
Emerald City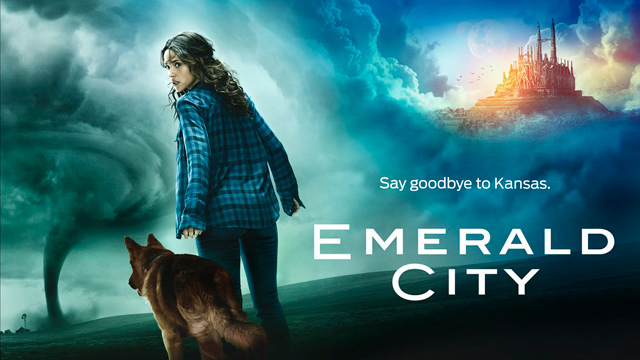 In the blink of a tornado's eye, 20-year-old Dorothy Gale and a K9 police dog are swept into a world far removed from our own — a mystical land of competing realms, lethal warriors, dark magic and a bloody battle for supremacy. Starring Vincent D'Onofrio ("Daredevil," "Jurassic World") as the guileful Wizard and directed by the visionary Tarsem Singh across three European countries, this is Oz completely reimagined — a place where familiar characters show up in fresh, unexpected ways, and where an unsuspecting young woman holds the fate of kingdoms in her hands. As Dorothy navigates this dangerous world and uncovers her true destiny, we'll see there's no place like… Oz.
The cast includes Vincent D'Onofrio, Adria Arjona, Ana Ularu, Oliver Jackson-Cohen, Jordan Loughran, Gerran Howell, Mido Hamada, Joely Richardson, Isabel Lucas, Stefanie Martini, Suan-Li Ong, Florence Kasumba, and Roxy Sternberg.
The Blacklist: Redemption
In this thrilling new spinoff of NBC's breakout hit series, undercover operative Tom Keen joins forces with Susan "Scottie" Hargrave (Famke Janssen), the brilliant and cunning chief of Grey Matters, a covert mercenary organization that solves problems governments don't dare touch. While on the hunt for Liz's attacker, Tom secretly discovered that Scottie is actually his biological mother. Now, as they team up to employ their unique skills and resources in a dangerous world of deadly criminals, Tom begins his own covert mission to find out more about his shadowy past.
The cast includes Famke Janssen, Ryan, Edi Gathegi, and Tawny Cypress.
Midnight, Texas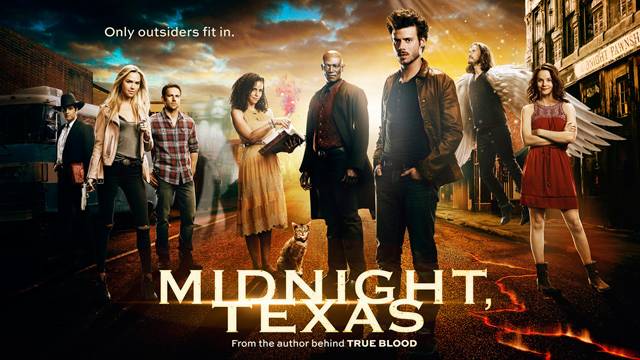 Welcome to a place where being normal is really quite strange. From Niels Arden Oplev, the visionary director of "Mr. Robot," and based on the hit book series from author Charlaine Harris ("True Blood"), comes a journey into a remote Texas town where no one is who they seem. From vampires and witches to psychics and hit men, Midnight is a mysterious safe haven for those who are different. As the town members fight off outside pressures from rowdy biker gangs, ever-suspicious cops and their own dangerous pasts, they band together and form a strong and unlikely family.
The cast includes François Arnaud, Dylan Bruce, Parisa Fitz-Henley, Arielle Kebbel, Sarah Ramos, Peter Mensah, Yul Vazquez, and Sean Bridgers.
The Wall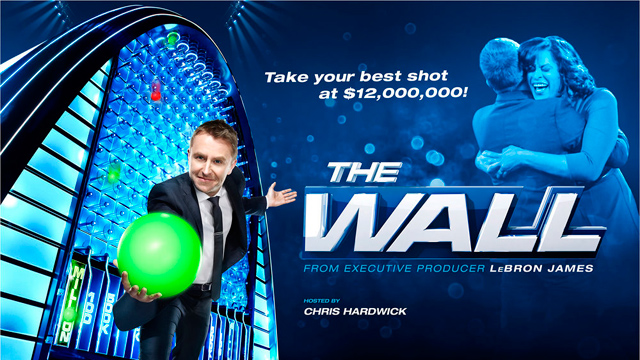 Packed with drama and action, this is a game that the entire family can root for together. Executive producer LeBron James presents a challenge infused with the thrill of victory and the agony of defeat, where regular people can achieve their dreams with one bounce of the ball. Hosted by comedian Chris Hardwick and set in a large glossy arena centering on the colossal 40-foot wall, the gameplay involves quick thinking, shrewd strategy and a little luck. Played by contestant pairs, this is an unpredictable journey with giant swings of fortune and millions of dollars passing through the contestants' hands throughout the hour.
Better Late Than Never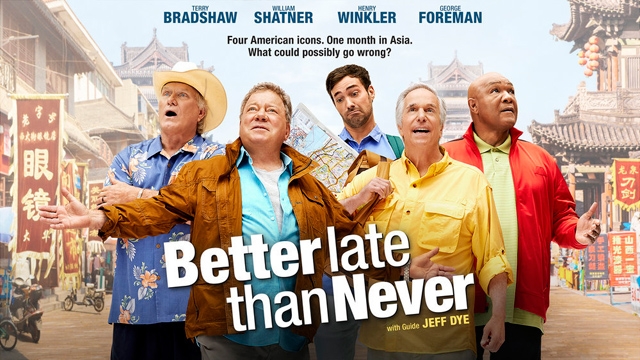 Based on a popular Korean format, this hilarious fish-out-of-water comedy/reality show follows cultural icons Henry Winkler, William Shatner, Terry Bradshaw and George Foreman on their greatest adventure yet. Deciding it's better late than never, these four national treasures embark on the journey of a lifetime, traveling across Asia on their own with no schedule and no itinerary. The only help will come from Jeff Dye, a young tech-savvy comedian with an agenda of his own and who isn't above leading the men off track. Each stop is packed with hilarious cultural experiences, heartwarming spectacles and unexpected twists as our legends take on this unforgettable adventure.
TRAILER
First Dates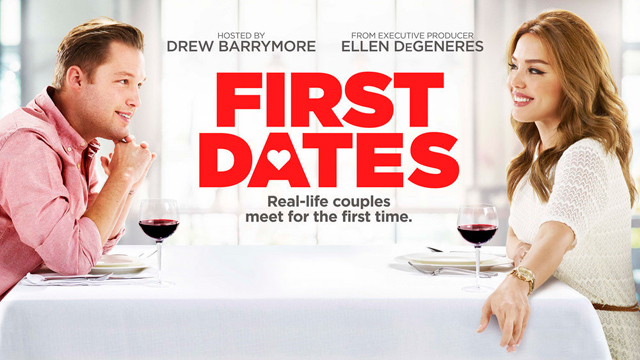 Everyone can relate to the experience of a first date: the promise of potential love when it goes well and the hilariously awkward moments if it crashes and burns. From executive producer Ellen DeGeneres, narrated by Drew Barrymore and based on the hit U.K. format, this new series offers a voyeuristic look at a variety of real first dates happening throughout one night at the same restaurant in Chicago. The daters are of all ages, backgrounds and from across the U.S. The audience will be along for the ride in a refreshingly authentic viewing experience that plays like a real-life romantic comedy. At the end of each episode, we will find out if the participants want to see each other again for a second date or if they head back to love's drawing board.