If you're a fan of the series, you're definitely going to want to pick up Xrd. With such a strong soundtrack, gorgeous visuals, and complex gameplay, Guilty Gear Xrd -SIGN- is a must have.
Written by: Louie Montoya
It's time to pull out those dusty motorcycle boots, those suffocating acid-washed jeans, and the leather fingerless gloves because we're about to dive into a review for the newest Guilty Gear! Guilty Gear Xrd -SIGN- is a 2d fighting game fueled by aesthetics of American 80's rock culture with a phenomenal power-ballad filled soundtrack, over-the-top fighters, flashy visuals, and… well, a character that is basically Axl Rose (named Axl Low) from Guns N Roses.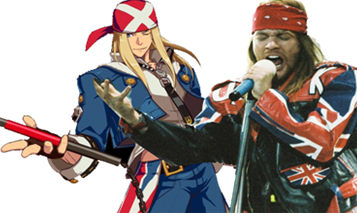 This is the 5th installment of the long standing Guilty Gear series, developed by Arc Systems Works. For those new to the series, Guilty Gear is a rambunctious fighting game with crazy characters battling it out in lively arenas. Utilizing the Unreal Engine 3, Guilty Gear Xrd -SIGN- (pronounced ex-ard, in the explosive opening scene) takes a departure from the classic 2D sprites, in favor of cell shading.
Visuals
Simply put, Guilty Gear Xrd -SIGN- looks great! The cell shading style really shows its worth here giving each character a distinct, albeit badass look. Backgrounds are also rendered similarly, boasting the same bright colors as the fighters, but where the visuals truly excel is in the expression of movement. Even the fighters' idle animations look incredibly dynamic and fluid. Button commands reward the eye with some wonderfully sophisticated and stylized attacks and movements that are sure to amaze. Whether its the pirate girl May's adorable dolphin jumping through a hoop to rain havoc on her enemies, the colorful visualized noise that comes out of witch/rockstar I-No's sweet electric guitar, or the fire explosions created by the signature gun/sword of Sol Badguy (who isn't all that bad)– attacks in Guilty Gear Xrd -SIGN- are absolutely stunning. A well connected special attack is often rewarded with awesome little cutscenes of characters getting ready to unleash hell's fury on their enemy. Luckily these cutscenes are short enough to never disrupt the pace of the game.
Character Design
One of the crowning features of the Guilty Gear series is how interesting and unique each character is. Every fighter seems to be incredibly distinguished with one-of-a-kind fighting styles, weapons, and lore. Each fighter's moves and attacks are very different, giving each match-up a lot of variety. Unfortunately, this means that the character pool is not as large as some other fighting games, but Guilty Gear makes up for this with the quality of each fighter. The costumes, armors, and weapons are magnificent, beautiful, and sometimes incredibly silly. Some of the characters in this game are really out there (I'm looking at you weird, sleeping boy strapped to a robot bed mechanism), but Guilty Gear Xrd -SIGN- really pulls it off by never taking itself too seriously… a hard feat for such an intense fighting game. It's clear that the developers put a lot of effort into making a radical and colorful cast, and the results are some of the most memorable characters of any fighting game. Faust, a deranged ex-licensed, but still practicing, surgeon that wears a paper bag over his head, will be sure to make his way into your heart as he passes through inter-dimensional doors, licks his opponents, and jumps on top of his 8-foot scalpel in order to plant dandelions and occasionally slice up his opponents with a whirling death attack.
Music and Sound Effects
The music will get you hyped… seriously hyped. The gameplay really benefits from the heavy, driving music on each stage. The soundtrack is fast-paced, filled with plenty of power chords, deep bass, and sweet wailing guitar solos. Each track is well done, with lots of variety. The overall feel is somewhere in between being at an epic 80's rock concert and hanging on to the top of a semi truck driving through the fiery depths of hell. You will honestly be hard pressed to find a better soundtrack in another fighting game, especially if you have a nostalgic appreciation for classic heavy metal. Sound effects are fine, nothing spectacular, but are always crisp and appropriate. Character dialogue is passable at best, and you'd be wise to do yourself the favor of switching the voices to Japanese, as the English voice acting is, as usual, pretty bad.
Features
Most of the game features are pretty typical. There is an arcade and battle mode in which you'll be spending most of your time, a place to unlock a few pictures and music, and a place to train. As should be expected of all fighting games in this age, you have the ability to test your skills online should you get tired of mercilessly beating your local friends. The library contains a good amount of unlockable lore that helps flesh out the crazy world and even crazier characters of the Guilty Gear series. Ultimately, the unlockable art and music feels awfully shallow, with little incentive to spend time on unless you are a die hard completionist. Interestingly enough, one of the best features is the tutorial, which help introduce you to the game's unique elements, and guide you through each character's move sets and a sample of their combos.
Gameplay
Although not a newbie to 2D fighters, I was shocked by the depth and complexity of the game. If you are new to the series, the tutorial will effectively teach you about all the game mechanics that are unique to Xrd. The rather complicated roman cancelling system gives you the ability to cancel out of any attack or special attack which really opens up the game to a seemingly infinite amount of combos, and mix ups in order to crush your opponent. Further, psych bursts allow you to explode out of trouble with a brief moment of invulnerability. Although the game is quite easy to pick up, mastering these features is absolutely essential for competitive play. The depth of combat makes for a really rewarding experience when you're able to string together a lengthy combo or get out of a pummeling. Other gameplay mechanics like instant kill attacks, which are hard to land but devastating, are incredibly fun. If two fighters hit each other at the same time with the same attack, they will clash, occasionally producing an alternate state of gameplay where both fighters are faster, and stronger. These types of mechanics really make each fight feel fresh and exciting. Guilty Gear Xrd -SIGN- is both welcoming and easy to pick up by new players to the series, and for professional competitive play.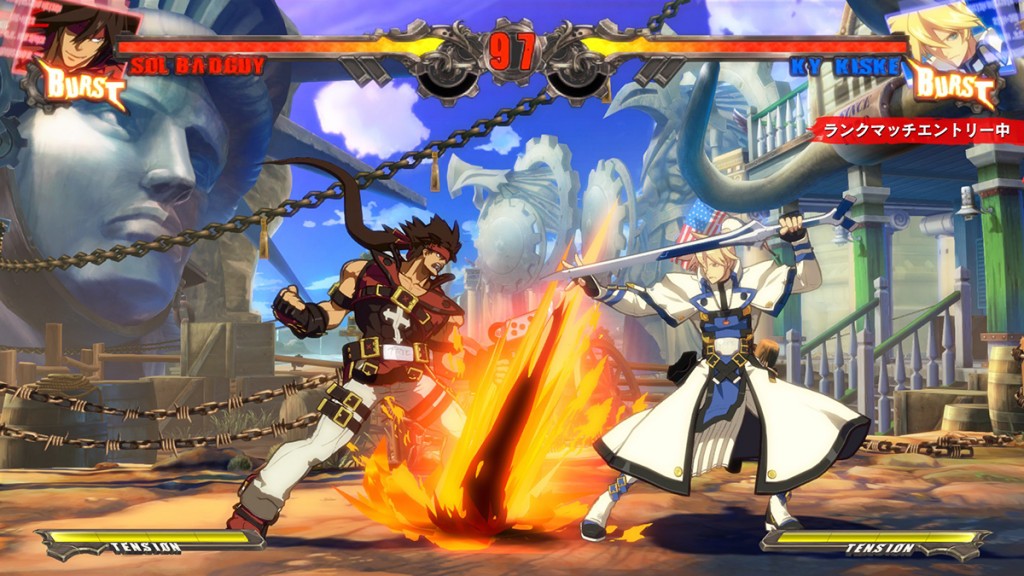 Story
If having a deep, intricate plot is the most important part of a game for you, you probably aren't playing too many fighting games. It's not to say it hasn't been done or shouldn't be, but it certainly isn't the norm. Although there is a storyline in Xrd, it's not the game's strongpoint. The plot is filled with tired clichés, and to put it bluntly, is pretty forgettable. Fortunately, the main story never distracts from the amazing gameplay and phenomenal visual and auditory design of the game.
Conclusion
If you're a fan of the series, you're definitely going to want to pick up Xrd. It is a brilliant addition that will not disappoint. For those of you new to Guilty Gear, this is a wonderful place to jump in. The tutorial system is incredibly robust and will have you hacking away at competitors in no time. With such a strong soundtrack, gorgeous visuals, and complex gameplay, Guilty Gear Xrd -SIGN- is a must have.
Pros
+ Beautiful visuals
+ Unique and memorable characters
+ One of the best soundtracks around
+ Deep gameplay mechanics
+ Good for newcomers and professional players
Cons
– Laughable story
– Shallow unlockables
– Limited amount of fighters