December's Nintendo Direct featured news and updates regarding game titles for both the Wii U and the 3DS including a lot of cross-over madness.
December's Nintendo Direct featured news and updates regarding game titles for both the Wii U and the 3DS including a lot of cross-over madness.
Recap
Hyrule Warriors (Wii U, 2014)
Right off the bat, Nintendo teased a trailer for Hyrule Warriors (Working Title). It appears that Link will be making some sort of playable appearance in the next edition of Tecmo Koei's Dynasty Warriors. Satori Iwata made it clear that this isn't the next game in the Zelda series that will come out on Wii U later on.
This is not the first time that Dynasty Warriors has taken on another franchise. The popular anime series Gundam and One Piece have had games based on their shows.
Kirby Triple Deluxe (3DS, 2014)
The next entry in the Kirby series was given it's official name. The game will be a platformer but will make innovative use of the 3D visuals that the system provides. Kirby will travel on paths both in the front and background and may not always be traveling left to right.
Kirby will have access to over 20 copy abilities, including 4 new ones. Kirby will also gain "Hyper Nova" abilities which will grant him special powers such as the ability to inhale enemies and object with great force.
Like most Kirby games, there will be many game modes along side the standard story mode. Kirby Fighters is a 4 way battle between 4 Kirby's who are each granted only 1 copy ability to fight with. Dedede's Drum Dash plays more like a large mini game in that it is a Rhythm game where progress is made via button presses in time with music.
Yoshi's New Island (3DS, Spring 2014)
Yoshi's New Island reimagines the original Yoshi's Island 2D platformer with new levels and 3D character models. Yoshi will have abilities and new types of eggs to throw. The game also brings the art style of the previous games into a higher definition.
Chibi-Robo Photo Finder (3DS January 9 2013)

Chibi-Robo is a small robot who first appeared on the Nintendo GameCube and later fround Sequels on the Nintendo DS. Now Nintendo is bringing him to the 3DS. The game will feature game mechanics found in previous titles such as performing tasks against a time limit. The new focus of the game will be to find items in order to help a detective. This will use the game's new mechanic – taking photos using the Nintendo 3DS in real that will fulfill the requirements of the game.
Pokémon Bank/Poké Transporter (December 27, 2013)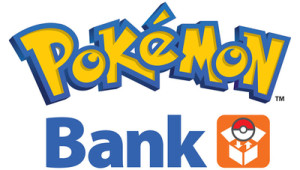 Nintendo announced the launch date for the the online features will go live after Christmas this year. Pokémon Bank will allow Pokémon X and Y owners to store up to 3000 Pokémon on a cloud service. A free 30-day trial will be available at launch and players will be able to pay for the full service for $4.99 annual fee.
The Poké-Transporter will allow players to migrate Pokémon from Black and White Versions (as well as Black 2 and White 2) to Pokémon X and Y. Those who sign up by September 20, 2014 will also receive the legendary Pokémon Celebi as a gift.
Bravely Default (3DS, Feb 7, 2014)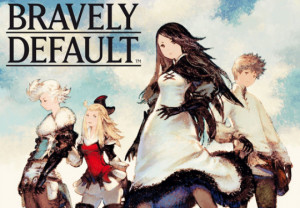 Bravely Default was given a full release date and new features were announced. The concept of "Sleep Points (SP)" has been added. They can be used to power up characters and unlock new abilities. With a maximum of 3 SP to be held at any time, new ones can be earned for every 8 hours that game is left running with the 3DS closed on sleep mode. SP potions can be purchased from Nintendo eShop as an in game purchase.
3DS interactions via Street Pass with other game owners will allow players to summon allies in battle to help out.
A free demo in the form of a side story will be available  January 2 from the eShop. The demo story is separate from the main quest and anything collected will transfer over to the main game if one buys it.
Donkey Kong Country: Tropical Freeze (Feb 21 2014)
A new trailer for the next installment of DKC was shown displaying what is perhaps the opening scene of the game. The trailer reconfirms what Nintendo announced at VGX – that Cranky Kong will make his first playable appearance in a Donkey Kong Country game as a partner of Donkey Kong, along side Dixie Kong and Diddy Kong. Cranky Kong will lend the powers of his cane when chosen (much to a similar performance to Scrooge McDuck in Ducktales). The  trailer also shows new game play footage.
Sonic Lost World DLCs (WiiU/3DS, First one available now)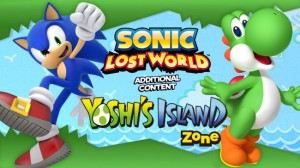 Consider that Sonic Lost World is a Nintendo exclusive and can be compared to Super Mario Galaxy, its not a huge surprise that two new DLC levels will feature levels based on Nintendo "Fan-Favorite Levels". The first of the two add-ons is Yoshi's Island Zone. Sonic will play though levels based on the art style of Yoshi's Island and face enemies of the Yoshi  universe. The second one was not shown or mentioned by name because it is still indevelopment. But a teaser image was revealed suggesting a Zelda inspired DLC.  Both will be free downloads for both 3DS and Wii U versions.
Wii Sports Club (Wii U,  available now)
The next Wii U update will add content to owners of Wii Sports Club. Golf has been added to the list of sports and for those who do not own the game, they will be allowed to download a 30-day trial from the e-Shop (even if they had downloaded the previous trail).
Mario and Luigi themed Wii Remotes
Although they have been out in stores for a month now, Nintendo officially announced  the production of Mario and Luigi themed Wii-mote plus controllers. They are going for the same price as regular plus controllers and can be found at most retail stores.
NES Remix (Available Now)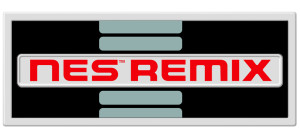 Nintendo announced that a free compilation of NES games will be available on the e-Shop for Wii U…but with a twist. Nintendo has taken 16 NES titles and reimagined them with new twists and challenges. Ever wondered what Link would look like in Donkey Kong? How about of Super Mario Bros. was played from right to left? Or perhaps Kirby running around the world of Metroid? The games will have special challenges and changes in difficulty as well as these huge cross overs.
Dr. Luigi (December 31th)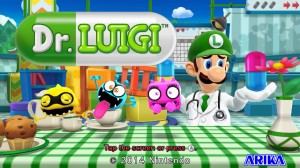 Rather than let the Year of Luigi go out quietly, Nintendo has decided to give the man in green a promotion before sending him on his way. Introducing Dr. Luigi. The game will feature special L-Shaped pill Capsules – to pills thrown out together combined at right angles to make an L shape. Considering that this arragement does make gameplay easier, the game mode can be changed to Dr. Mario rules. The game has both local and online multiplayer where two people will compete to get rid of all of their viruses before the other.
Rosalina Announced in Super Smash Bros.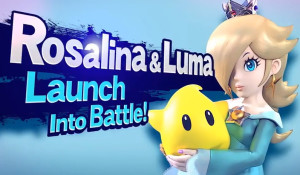 By using a cinematic trailer involving Mario Kart 8's Rainbow Road and an appearance of Kirby on a warp star, Nintendo announced the addition of space guardian and princess Rosalina to the roster of the next Super Smash Bros. Game play footage shows that she will fight alongside different colored Lumas in a style similar to Captain Olimar and The Ice Climbers. The addition Rosilina was preceded by the announcement of a stage based on Super Mario Galaxy. This brings the total of Mario characters (not including Yoshi, DK, or Wario) to a count of 5.
Mario Kart 8 (Wii U, Spring 2014)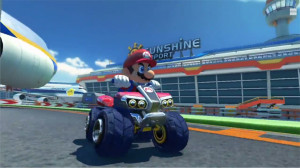 Nintendo showed a new gameplay trailer for Mario Kart 8. New levels shown include "Sunshine Airport", a level based ondesserts, a level that appears to be an ancient Thawmp temple, a Dry Desert level and a level raced in the clouds.