A quick hands on review of the Xbox One and a few of its launch titles.
On Wednesday morning, an Xbox One truck parked itself in the middle of campus at the University of Massachusetts Amherst. Being a student of UMASS, I was fortunate enough to get a hands-on experience with the system a whole week before its November 21 launch. The Xbox One still has a few more stops left on its cross country journey, which you can find details for on their site.

Controller Review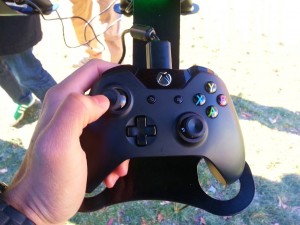 The new Xbox One controller has a more natural grip than the 360 controller. To me, it felt that the controller wasn't as wide, but there was more than enough space for my hands to grip onto. Visually, the controller doesn't look much different from its predecessor, however one noticeable change is the new D-Pad. This one looks and feels very similar to a cross-shaped Nintendo D-Pad (whose patent over that style of D-pad expired in 2005) rather than being circular. The other buttons have also received a sleek redesign and feel comfortable when pressing. Considering that it was about 20 degrees out, being able to play games in mittens was a positive.
Game Reviews
The "Test Drive" provided stations that housed demos of 3 anticipated games that will be available at launch – Killer Instinct, Forza Motorsport 5, and Fifa 2014. Two Xbox One controllers were set up for 2-player or 1-player gaming, and although there was a Kinect in view, it was only on display and not for use. I was able to briefly play a few rounds of each game and I'll share my thoughts below.
Killer Instinct
I first went head-to-head with a representative in a couple matches of Killer Instinct. Although I had never played the original and my Nintendo sculpted hands weren't used to the Xbox controller, I quickly got the hang of the game and found it to be a solid fighting game. This Xbox One exclusive will be digitally available for free the moment you hook up the system and features Jago as the playable character. For those who wish to play as other characters, DLC packages will be available for different prices depending on how much extra content you wish to get.
Forza Motorsport 5
This game's demo featured a handful of cars to race with on a 1-lap track. From the moment I pressed the A button, I could see that one of its best selling point – the graphics – was no lie. Seated in the driver's seat, the game's view puts you right in the race with fluid graphics and realistic driving mechanics. I was also informed by the attendant that the controller features three separate rumble motors to localize vibrations of the controller. And like he said, once I ran the right side of my car into another, I felt the right side of the controller shake in my grip. Having never played a racing game on the Xbox before (and preferring Mario Kart to simulated racers), I was pretty terrible at the game, but I found it enjoyable.
Fifa 2014
I don't have much to say about soccer games so I can't really comment on the mechanics, but the graphics looked stellar and from what I could hear, the audio and commentary kept the game interesting while I was continuously scored on.
Overall
With the 8th generation of games about to come into full bloom, it was great to see what Microsoft has in store. With both the Xbox One and the PS4 releasing this month, console fans will be having one heck of a holiday season.