Is Comcept's Mighty No. 9 the "Mega Man" game we've been waiting for?
Source: Kickstarter
Is Comcept's Mighty No. 9 the "Mega Man" game we've been waiting for?
It's only been running for a short time, but the man behind the Blue Bomber has already raised way more than enough to meet preliminary goals to begin production of Mighty No. 9 – which is, noticeably, more than inspired by the heart and soul (and gameplay) of his first creation, Mega Man. But it gets deeper than that. The similarities between Mighty No. 9 and Mega Man could reflect why Inafune left Capcom in the first place.
Fans of all Mega Man series are supporting this project and the amount of backers is climbing each day, with some confirmed pledges of over $10,000.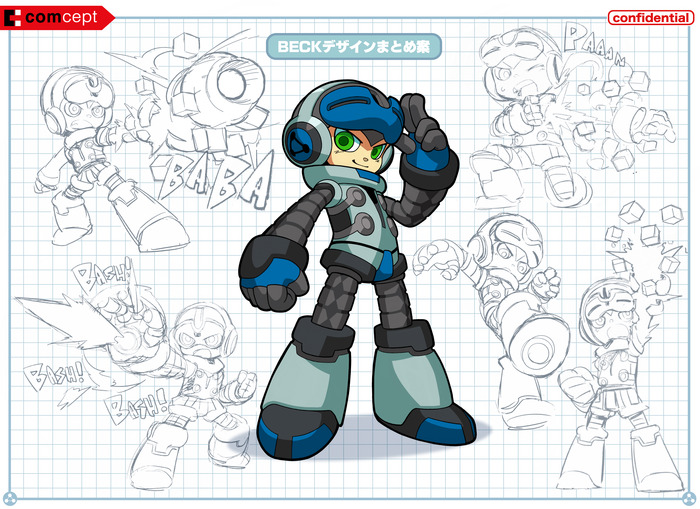 From the information on Comcept's Kickstarter, you can see that the game is a side-scrolling platformer that takes elements from both 8-bit and 16-bit iterations of Mega Man while adding in some modern twists. But once you read some of the plot and comments made by the developer, it sounds like Inafune is making the most "legal" sequel to Mega Man that he can possibly make.
The Plot
"You play as Beck, the 9th in a line of powerful robots, and the only one not infected by a mysterious computer virus that has caused mechanized creatures the world over to go berserk. Run, jump, blast, and transform your way through six stages (or more, via stretch goals) you can tackle in any order you choose, using weapons and abilities stolen from your enemies to take down your fellow Mighty Number robots and confront the final evil that threatens the planet!"

Anyone who knows anything about classic Mega Man knows that this follows the same formula that every Mega Man game has followed. Yes, there are new abilities and things that haven't been seen in previous iterations of Mega Man, but the fundamentals are all right there.The plot also appears to be a mash-up between those of Mega Man 1 and Mega Man 10; Beck's quest is to stop 8 other robots (as of the 2nd stretch goal) made by the same creator (A.K.A. MegaMan 1) and those robots are suffering from a virus that's causing them to go berserk (smells like Mega Man 10's "Roboenza" virus to me). Heck, No. 9's Beck is even blue for crying out loud.
Reading further into the details, Beck will also have a companion bot by the name of Call. And just like the Japanese originals, names follow a theme : Rock(Man), Roll, Blues, etc… and in this case, "Beck" (as in beckoning) and "Call" fit like a hand in a glove.
How Will Capcom Respond to this?
In response to backers asking if the project was affiliated with Capcom or the Mega Man franchise, the team had this for a response:
"No.  Mighty No. 9 is a side-scrolling action game inspired by titles like Mega Man, and it's being made by many developers who've worked on Mega Man games in the past, but it's 100%, top-to-bottom an all-new property that shares no characters, code, fiction, or anything else besides its genre with Mega Man. So while some of us are ex-employees of Capcom, and all of us are big fans of their games, this project has nothing to do with Capcom or Mega Man."
So despite the similarities, Mighty No. 9 appears to be safe from any courtroom battles from Capcom. Since legal action can't shut this down, will Capcom rush to the drawing board to release their own Mega Man game? Comcept is a smaller team and, though dedicated, has set the release date of the game for April 2015. Capcom certainly has more resources at its disposal and over 3 highly demanded cancelled Mega Man games that could suddenly make their way back into the development room.
What if Capcom can't beat 'em? Can they get Inafune to come back and make this a joint effort (like when Capcom took over Street Fighter X Mega Man)? Could Beck become an official Mega Man character who will eventually earn that title? (The name Mega Man is currently given to 6 different Capcom characters that span over 8 series). Comcept even stated that "our plan is to publish the game ourselves, but we wouldn't completely rule out working with a publisher or distributor under a very specific set of conditions." Offers might be made, but is there already bad blood between Capcom and these ex-developers?
Inafune left Capcom in 2010 and on his blog stated that he was "starting his life over" when Comcept, his own independent team, was formed. Now it looks like he's also starting Mega Man all over. His departure from Capcom was his own decision, however, he had to leave behind the Mega Man IP since it is the company, and not him, that owns the rights. But considering how little Capcom has done with the Mega Man franchise in the last few years, it's interesting to see that Inafune is not willing to let him, or at least his spirit…. die.