The next release in the DC Animated Universe series has been announced for release on July 30, 2013.
The next release in the DC Universe Animated series has been announced. Based on the miniseries by Geoff Johns and Andy Kubert, Justice League: The Flashpoint Paradox will be released on July 30, 2013.
The world is turned upside down as one of earth's greatest super heroes – Flash – wakes up devoid of his super powers in the all-new Justice League: The Flashpoint Paradox – the next entry in the popular, ongoing series of DC Universe Original Animated Movies. Produced by DC Entertainment and Warner Bros. Animation, this all-new, PG-13 rated film arrives July 30, 2013 from Warner Bros. Home Entertainment on Blu-Ray Combo Pack, DVD, and Digital Download. The Blu-ray Combo Pack will include UltraViolet.

When time travel allows a past wrong to be righted for Flash and his family, the event's temporal ripples prove disastrous, creating a fractured, alternate reality where the Justice League never formed, and even Superman is nowhere to be found. Amidst a new world being ravaged by a fierce war between Wonder Woman's Amazons and Aquaman's Atlanteans, Flash must team with a grittier, more violent Batman and government agent Cyborg to restore the continuity of Flash's original timeline.
The voice cast consists of:
Justin Chambers (Grey's Anatomy) as Barry Allen/Flash
Kevin McKidd (Grey's Anatomy) as Thomas Wayne/Flashpoint Batman
Michael B. Jordan (Fruitvale, Friday Night Lights, Chronicle) as Cyborg
C. Thomas Howell (Southland, The Outsiders) as Thawne/Professor Zoom
Nathan Fillion (Castle) as Hal Jordan/Green Lantern
Ron Perlman (Hellboy) as Slade and Deathstroke
Dana Delany (Body of Proof, Superman: The Animated Series) as Lois Lane
Cary Elwes (The Princess Bride) as Aquaman
Danny Huston (Magic City) as General Lane
Sam Daly (The Office, The Daly Show) as Superman
Kevin Conroy (Batman: The Animated Series) as Batman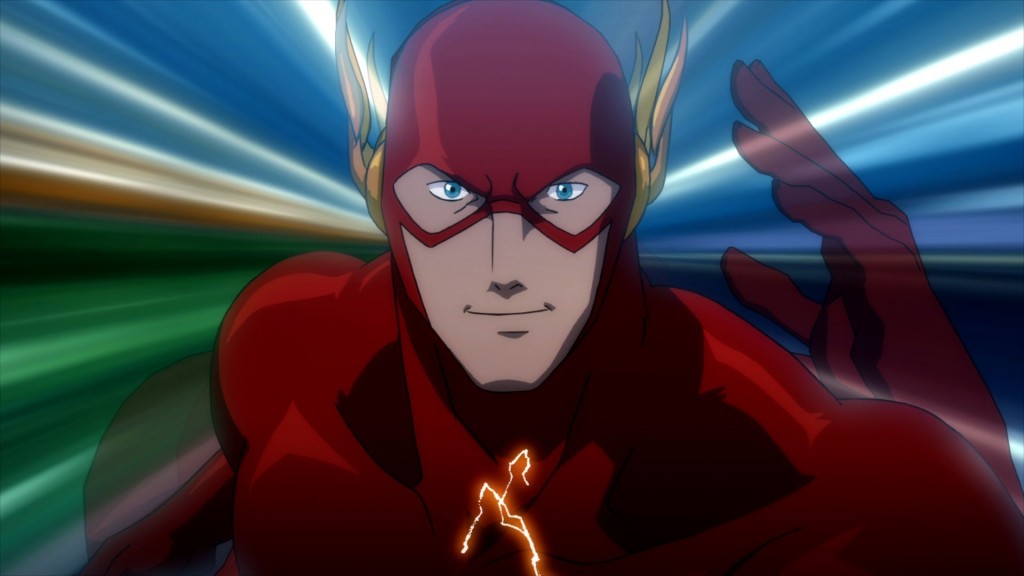 Justice League: The Flashpoint Paradox Blu-ray has over three hours of extra content, including:
A Flash in Time: Are there other dimensions? Can time travel get us there? And if The Flash existed, could he really travel through time? Interviews with experts in mythology, theoretical physics and top DC writers will examine the science and legacy of the storytelling behind the fiction.
My Favorite Villains! The Flash Bad Guys: Acclaimed DC Comics writer Geoff Johns and others share their favorite Flash villains in this short film that gives viewers a glimpse into the Flash's world through the eyes of some of the nefarious characters he has encountered over the past 70 years!
A Sneak Peek at the next DC Universe animated movie:. An in-depth look into the next DC Animated feature film, spotlighting the cast and crew.
From the DC Comics Vault: Bonus cartoon episodes
The Flashpoint Paradox Audio Commentary