Time to find out "How U Will Play Next."
 At 10am on September 13, Nintendo of America went live online to a selected audience in New York City to reveal more about its current project, the Nintendo Wii U. Various individuals, including 3rd party publishers took the stage to talk about the system, its capabilities, and most importantly the games that will be available.
Right off the bat, Reggie Fils-Aime, president of Nintendo of America revealed the launch details for the Wii U for the first time. The console will hit the stores on Sunday, November 18, 2012. Interestingly enough, the Wii U will be released in two configurations:
Basic – An 8GB system, a Wii U Game Pad and an HDMI cable. Available only in white at a price of $299.99
Deluxe – Includes everything in the basic set but has a 32GB system and includes a Game Pad Charging stand and a copy of the game Nintendo Land. Available only in Black for $349.99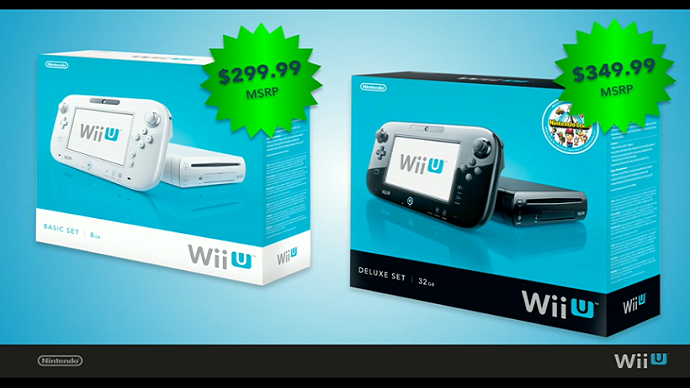 Nintendo went deeper than they had done at E3 in exposing the various features that the Wii U and Game Pad provided. Aside from dual screen gaming, the Wii U will also shine in the online world where the Wii was lacking. Friend Codes have been done away with and companies including Netflix, Hulu, and Amazon will allow subscribers to stream video and television directly onto the systems and play them on the TV. The Wii U GamePad also acts as a universal remote and can be used to adjust TV volumes, turn it on and off and change the channel. Nintendo dubs the whole concept as Nintendo TVii. Standard Internet surfing, like YouTube, will still be of no charge to use.
After E3 2012, the general response to Nintendo's line up was that it was lacking. To this, Nintendo promises to release more than 50 major games from November to next March. Reggie Fils-Aime also claims that the Wii U will have the "Strongest gaming library at launch for any Nintendo system in history." Aside from the already anticipated New Super Mario Bros. U and Nintendo Land, some discussed third-party games that are guaranteed to be available at or soon after launch include:
Platinum Games — Bayonetta 2
Platinum Games — The Wonderful 101
Campcom — Monster Hunter 3 Ultimate

Wii U (online multiplayer and local co-op) and 3DS. Connectivity

Activision — Skylanders Giants
Activision — Wipe Out 3
Activision — 007 Legends

 Celebrates 50 years of James Bond

Activision — Transformers Prime
Activision — Call of Duty Black Ops II

Can be played on TV screen and Game Pad screen – no more split screen for multiplayer if desired
60fps and HD graphics
Support on all controllers
Can be played directly on Game Pad without TV
The sheer mass of information unveiled at the conference is way too much to be slimmed down into one article. For more trailers, definitely check out Nintendo's Facebook and YouTube pages. The entire conference can also be viewed on YouTube. It is "How U Will Play Next."