The lovable pink puffball, Kirby, has reached a major milestone this year.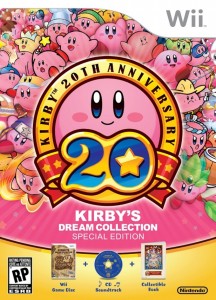 Like many major Nintendo franchises have done in the past two years, the lovable pink puffball Kirby has reached a major milestone this year. The original Kirby's Dream Land was released in August of 1992 for the Game Boy. Since then Kirby has starred in over 20 video games across 10 systems and is playable in all Super Smash Bros. titles.
In celebration of Kirby's 20 years of success, Nintendo is bringing together Kirby's first six major adventures and porting them onto one disk for the Nintendo Wii. American release of Kirby's Dream Collection is scheduled for September 16, 2012.
The compiled games are:
Kirby's Dreamland – GameBoy
Kirby's Adventure – NES
Kirby's Dreamland 2 – GameBoy
Kirby Super Star – SNES
Kirby's Dreamland 3 – SNES
Kirby 64: The Crystal Shards – Nintendo 64
The game will also include a virtual gallery full of Kirby history and new challenge stages from Kirby's most recent game, Kirby's Return to Dreamland (although no other gameplay from that game is involved in the collection). The game will retail for $39.99 which is cheaper than purchasing each game separately via the Nintendo e-Shop.
Much like Mario's 25 anniversary version of Super Mario All-Stars, the game will come packed with a Special Edition Soundtrack and a physical history book – a must-have for Kirby fans.