Legendary "60 Minutes" commentator known to generations for wry, humorous and contentious TV essays.
Source: CNN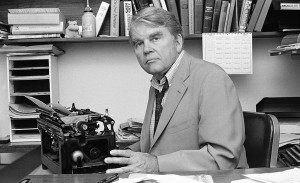 Legendary CBS News commentator Andy Rooney, known to millions for his witty essays on mundane topics, died Friday night in New York. He was 92.
He had been hospitalized after suffering complications following minor surgery last month.
"It's a sad day at '60 Minutes' and for everybody here at CBS News," said Jeff Fager, chairman of CBS News and the executive producer of '60 Minutes.' "It's hard to imagine not having Andy around. He loved his life and he lived it on his own terms. We will miss him very much."
Rooney made his last regular weekly appearance on 60 Minutes on Oct. 2. A few weeks later, CBS announced he was in a hospital.
Rooney's colleague and longtime 60 Minutes correspondent Morley Safer told CNN Saturday that Rooney worked to the very end and that he would not have wanted it any other way.
In his last regularly scheduled appearance on 60 Minutes, Andy Rooney says, "I've done a lot of complaining here, but of all the things I've complained about, I can't complain about my life."