Details and highlights from the Smallville panel at San Diego Comic Con.
Source: www.newsarama.com and www.eonline.com
Smallville Panel
Chief Creative Officer of DC Comics Geoff Johns, Tom Welling (Co-Executive Producer/Clark Kent), Justin Hartley (Oliver Queen/Green Arrow), Erica Durance (Lois Lane), Cassidy Freeman (Tess Mercer), and John Schnieder (Jonathan Kent) came out to start the panel.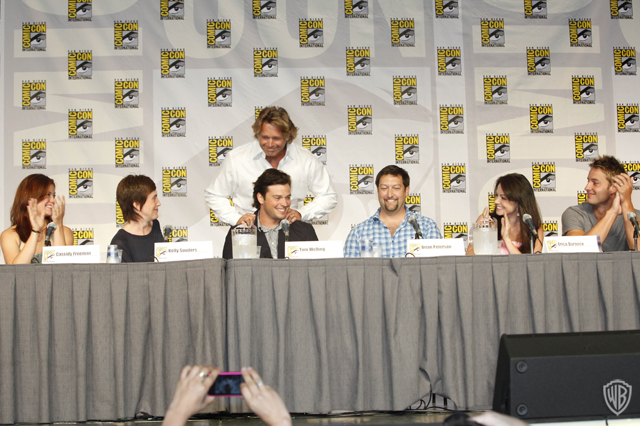 The Big News:
-Started off with a teaser for Season Ten (the final season)
A tease of the costume… and it looks like we have FLIGHT folks!  Lois calls the name "Superman!"  And a shot of the costume (modified Superman Returns looks like)
-Geoff Johns announces he is again writing an episode this season introducing Blue Beetle and Booster Gold to the Smallville universe!
-Darkseid will be the villain of the season. They want to go out with a bang. The ultimate villain. Although he will be changed slightly like Doomsday to fit that universe.
-Many returns of past characters: Jonathan Kent, Lionel Luthor, Parasite, Hawkman, Dr. Fate, Metallo, Brainiac, Mr. Mxyztplk, Supergirl, Suicide Squad and Bizarro.
-Tom Welling comments on Michael Rosenbaum (Lex Luthor) "I know he's thinking about it," Tom tells us. "I know he knows that we want him and we don't feel like we can end it without him."
-Episode 2 will feature the return of Carter Hall (Hawkman) and will introduce Hawkgirl. Also Cat Grant will appear for the first time.
-Green Arrow will be in 17 out of the 22 episodes.
-They are really playing it up like Clark will be the hero we all know from the comics from the beginning of the season… not just at the end.
-Episode 4 is the 200th Episode and is titled "Homecoming" and will feature many surprises and make Smallville the longest running Science Fiction show of all time.
Below is the best quality video I could find of the Season 10 teaser. TheWB.com has promised to have the full trailer out by the end of this week!!