Details and highlights from the Walking Dead panel at San Diego Comic Con.
Source: www.comicbookresources.com
Walking Dead Panel
[WARNING: Spoilers on the 5 min clip they showed]
One of the most anticipated panels of SDCC got under way on Friday Afternoon. On hand were AMC's Senior Vice President of Original Programming, Production and Digital Content Joel Stillerman, special effects guru Greg Nicotero, Walking Dead writer Robert Kirkman, producer Gale Anne Hurd and director, writer and producer Frank Darabont.
Here are the nuts and bolts of the panel:
-Gale Anne Hurd started out by answering how she found out about "The Walking Dead" "Like most of us here, 'The Walking Dead' found us," she replied. "If you're a zombie fan, look no further than 'The Walking Dead.' What Robert Kirkman created is one of the seminal continuing series of our time. As you may know, it's up this year for an Eisner for Best Continuing Series. So you go for the best, and Frank and I felt really honored to collaborate with Robert and keep him as involved as possible in the series." She added that Kirkman is so involved that he actually wrote the fourth episode of the series.
-Darabont said that he had long been searching for the right project through which to explore the zombie genre, ultimately arriving on "The Walking Dead" thanks to a trip to his local comic book store. "I snatched it off the shelf, took it home, read it and it was the venue to tell a zombie story I'd been looking for," he said. "So many zombie movies have been made really well and I didn't see the point of trying to figure that out. Robert had something that was going to be an expanded saga of character-driven stuff, which is right up my alley. I loved the idea of doing something bold for television that reaches back into the genre of something I love, but it's a really character based thing. That's what Robert did that really turned me on."
-"The Walking Dead" is scheduled to debut in October as part of AMC's annual Fearfest, with this year marking the 14th anniversary of the horror programming event. "We're in partnership with Fox on the global launch of 'The Walking Dead.' It's going to launch in 250 million households, 120 countries and over 30 languages almost simultaneously," said Stillerman. "I think the world will know 'The Walking Dead' is out there come October."
-Kirkman confessed his surprise at the fact that "The Walking Dead" is coming to television. "Working on 'The Walking Dead,' I never really expected it to be adapted at all. I didn't want to do a movie for the obvious reasons — you can't do a zombie movie that never ends. It doesn't make sense," he said, adding that pursuing the television series absolutely made sense given the level of talent attached and the support from executives at AMC. "It's remarkable. You hear horror stories about adaptations, but every step along the way has been perfect. It's bizarre. I feel blessed, I guess."
-As a longtime Hollywood producer, Hurd said that television was the best medium possible to match Kirkman's vision, though the six-episode first season almost feels more like a six hour movie. "You hear every TV series say they're doing six one hour movies, but we really are doing six one hour movies," she said. "When you've got hundreds of zombies, when you have a cast of what feels like thousands but it's really a terrific ensemble cast, just like Robert, Tony and Charlie created in the comic book, it doesn't feel small. This is big. It delivers on a dramatic level as well, which is the benefit of doing television. At times you have to cut back on character and stories in movies, but in television, you get to delve very deeply into the characters."
-Although Darabont and his creative partners plan to stick closely to Kirkman's story as written in the comics, the television series will veer away from the comic book at certain points. "I've always said that the template, the path and the breadcrumbs left by Mr. Kirkman is a good one. It's a very, very strong template," said Darabont. "But I've also said that we should take every single interesting detour we feel like taking, as long as we're still following what Robert has done, but I don't see why we shouldn't bring every other good idea to the table and expand the path and veer off the path as long as we get back onto it – which led to some really cool ideas that are going to surprise the fans of the comic. But the stuff they do know will be there too. If they have patience we'll eventually catch up to what Robert is doing, which is an exciting thing. But we're not locked slavishly into something familiar to the fanbase. They'll get that, but they'll get new stuff, too." Kirkman agreed with Darabont's position.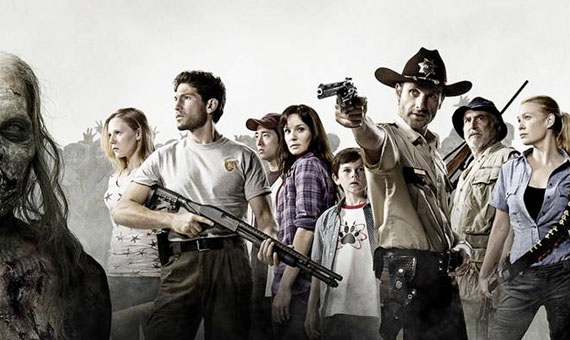 [SPOILERS]
The panelists premiered a five minute teaser created specifically for the Comic-Con crowd. The footage began with Rick Grimes (Andrew Lincoln) and his partner Shane (Jon Bernthal) in the midst of a gun fight with two out-of-control killers, as seen in the first scene of the "Walking Dead" comics. Rick is shot in the chest and wakes up some time later in an abandoned hospital, only to discover legions of dead bodies strewn about alongside a spraypainted door that reads: "Don't open, dead inside." Rick eventually encounters Morgan (Lenny James), who gives Rick the lowdown on the titular walking dead. On learning that some survivors of the zombie plague fled to Atlanta, Rick travels to the city to search for his wife Lori (Sarah Wayne Callies) and his son Carl (Chandler Riggs). As he's riding around, Rick establishes brief contact with the familiar survivors camp based outside of Atlanta. Quickly edited shots reveal other characters including the recently announced Michael Rooker as Merle Dixon, with Rick holding a gun to his head and warning him: "I'm a man looking for his wife and son. Anyone who gets in the way of that is going to lose." The footage ended with The Walker Brothers' rendition of "The Sun Ain't Gonna Shine Anymore" blaring as hordes of the living dead surround Rick in the heart of Atlanta, forcing the law man to seek shelter inside of a tank.
[END SPOILERS]
-At this point the group of actors promptly took center stage: Andrew Lincoln (Rick), Sarah Wayne Callies (Lori), Jon Bernthal (Shane), Laurie Holden (Andrea) and Emma Bell (Amy). Lincoln spoke about his character: "Rick is, as you all know, a sherrif deputy and he works in a rural district of Georgia and he's married to Lori and has a son called Carl. He's a decent, honorable man and he gets shot and he wakes up in a zombie apocalypse, as you do. Throughout the course of it, he gets eroded and it's one of the most exciting characters to play because he changes morally. I'll leave it there."
-Asked about the level of violence on the show, Hurd said that they actually had to scale back the gore in the teaser footage because it was deemed too hardcore for the SDCC audience. "This will just give you a taste of what you'll be seeing in the series," said Darabont, who referenced a scene from the teaser where Morgan is about to shoot a zombie in the head. "We don't cut away [from that shot]. There's a big George Romero spat of blood but we couldn't show it here because Comic-Con said no."
-A fan asked whether or not AMC had ever considered shooting the series in black and white or grayscale as seen in the comic books. Darabont, Hurd and the others asked the audience if they would like to see a grayscale feature on the eventual DVD, with the notion unanimously endorsed by the packed crowd. "Two thousand people can't be wrong," said Hurd.
-Another audience member asked how music would be incorporated into the series, prompting Darabont to invite freshly announced composer Bear McCreary ("Battlestar Galactica") onto the stage to field the question. "What always drew me to the story is because it's a character drama that happens to be set in a zombie apocalypse, even from our earliest meetings we were talking about character arcs and not obvious horror cliches and scares," said McCreary. "What you're going to hear is I'm scoring it like a drama but there are sometimes when you have to do the obvious thing once in a while, [but not in an obvious way]. I think you guys are going to really dig what we come up with. It's a beautiful sound and not a sound that's been associated with zombie movies in the past."
An attendee at the panel recorded the trailer which you can watch here. (provided YouTube doesn't take it down)