It has been reported that Ryan Reynold's will be sporting a CG suit in the upcoming 'Green Lantern' movie.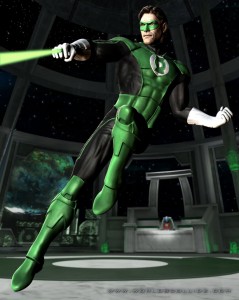 According to /Film, fans have been clamoring to see leaked photos of Ryan Reynolds on the set of Green Lantern sporting Hal Jordan's classic duds. This has proven to be a bit of a problem, and it's certainly not for lack of leaking efforts.
The problem is that Ryan Reynolds has only been spotted in a grey motion-capture suit. The reason being is that there is NO actual Green Lantern suit. Once the film is shot, the suit will be added via computer generated means. The initial instinct for the cynical fanboys is to grab pitchforks and storm the set, but I personally think this is an acceptable departure from the norm. As we all know (I'm making that assumption because you're on a site called The Geek Generation), Green Lantern suits are not actually composed of fabric and thread, but generated by the energy from a Lantern's ring. To create that unique look, CG is an understandable choice. The technology has certainly gotten to a level where this could end up being spectacular. I'm very excited to see what the final result will be.