In movies, artificial intelligence doesn't seem to be that intelligent at all.
It goes without saying that action movies aren't really credible. Heck, even most romantic comedies aren't really credible. Fiction, whether it's on the page, stage, or screen relies on suspension of disbelief.
Of course, this is The Geek Generation, which means we're going to pick apart everything, which is what this feature is all about. There are a lot of elements in Science Fiction and Fantasy fiction that don't really hold up under closer review. An old hobby horse of mine is the depiction of robots, specifically artificial intelligence, in Science Fiction, so that's where I'm starting this feature. I have a few more ideas, and if you have suggestions, please add them to the comments section.
For this inaugural article, I'm taking an admittedly scatter shot approach.  If I missed any prime examples, I can expand on this article at a later time. Again, to the comments section, people!
So, robots. And artificial intelligence. Yeah, I got a problem.
The major offenders I want to take to task are The Matrix and Terminator franchises. Yeah, I'm picking pretty easy targets, but they're the ones that spring immediately to mind and this is my article, so there.
Admittedly, it's been awhile since I've seen The Matrix sequels, and I still haven't seen Terminator: Salvation (for sure a future "Why Did I Rent This?" entry), so I'm going to be making some generalizations here. I'm okay with this because the problem I have with these movies isn't in the particulars, it's in the generalizations.
Both of these movie franchises present us with horrific visions of the future in which humankind is victimized by evil artificial intelligence that's dedicated to hunting down and eradicating organic life.
On the surface, there's nothing wrong with this. Science Fiction relies heavily on our fears about technology, and both of these franchises tap into that. The central metaphor, that the technology we rely on so heavily could turn on us is a solid one.
That's not my problem.
Here's my problem:
Other than, "Death to all humans," what do the AI in these franchises actually want? I mean, is there machine art, and culture, and love? If the machines in these movies actually succeeded in eradicating human life, what would they do with themselves then?
That's where the premise falls apart for me. Yes, I'm taking this to a logical extreme that spoils all the fun, but that's the point of this feature. If the machines win, where do they go from there?
The Matrix trilogy ends with a big confrontation at "Machine City". So great, they have a whole city devoted to machines, but what do they do there? So help me I will beat this art/culture/love theme into the ground, because if the whole purpose behind machine city is to, y'know, build more machines to kill humans, well that's just stupid.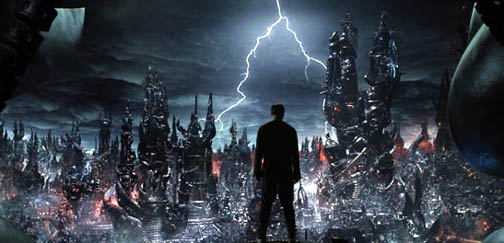 I will admit that I don't have a great alternative here. I mean, I could spend my time coming up with the most awesome Matrix fan fiction ever that answers the questions I'm asking, but then I wouldn't have the time to write rants like this for The Geek Generation.
As a counterpoint to this, I present Ultron in The Young Avengers, the Sentinels in the Days of Future Past storyline in the X-Men cartoon, and the Cybermen on Dr. Who. In The Young Avengers, Ultron is an evil robot built by Tony Stark, a.k.a. Iron Man (and not Dr. Henry Pym a.k.a Ant Man, a.k.a Giant Man a.k.a whatever the hell they changed his powers to that month) who is programmed as the ultimate policeman. Same with the Sentinels in The Days of Future Past. These are robots who take their base programming (save the world) and take it to the extreme of taking over the world, cuz that's the way they can keep it the safest, duh.
In Dr. Who, the Cybermen are cyborgs with human brains that have had their emotions removed and who want to convert the entire sentient universe to emotionless drones. In those cases, they're the result of misguided programming. There isn't an intimation of artificial intelligence, they're oppressors by design.
Not to pull an, "Oh yeah, but another thing…" but, oh yeah, and another thing…
Something that all five of these examples are guilty of is that they all end up having this major league headquarters that if the heroes can get to it, they… just… might… be able to stop the machines once and for all. For most of them, there's a place where a central intelligence resides/where all the machines are constructed and blowing that up equals problem solved.
About 15-20 years ago, Marvel introduced Shiva – a nearly indestructible robot that was designed to hunt down and kill Weapon X subjects. Because an indestructible robot presents a problem for heroes, Wolverine (or whoever) would find a way to stop the robot. The cool twist was that Shiva wasn't just a robot, it was a computer program, which meant that it could just animate another body and go about its business. This is actually an extremely prescient metaphor, as it mimics the problem the US military has today with terrorist cells hiding in caves and whatnot. It isn't enough to just blow something up real good, there's a malevolent intelligence that persists beyond conventional means of destruction. In the instances I've cited, one big explosion solves everything, which shows a lack of imagination.
What I'm getting at is that I'm insulted by The Matrix and Terminator franchises because they posit "Artificial Intelligence", but haven't advanced beyond a "Hulk smash" level of intelligence. The X-Men franchise taps into the fear that regular humans will be replaced by the next step in genetic evolution. The Ultimate X-Men books present Magneto as an L. Ron Hubbard-type who has a very specific vision of how a new, mutant-centric society will develop. The problem with robots is that they haven't advanced beyond a desire to wipe out humans. When we get an AI story that shows the machines as successors to the human race, not just predators, then we'll get something that represents a next step for the population of earth.