Doug takes a look at the roller-coaster career of John Travolta.
Previews for From Paris with Love have been all over the TV lately. It's not a movie that I have any desire to see, and like The Taking of Pelham 1-2-3, it hits me as the latest example of why any movie starring John Travolta is instantly dismissible these days.
What caught my attention in the preview was a moment where John Travolta utters the line, "Royale with cheese." Now, if this was 1994 and John Travolta was name-checking the Royale with cheese, well, I'd be all about that movie, because that movie would be Pulp Fiction. Sadly, it isn't 1994 anymore, so the fact that the filmmakers threw in a callback to one of Travolta's most iconic performances to add credibility to what looks like another forgettable action movie got my attention.
In 1994, Travolta resurrected his floundering film career with Pulp Fiction and made himself a bankable star again. Shockingly, he's still a bankable star, even though he's put together a long string of duds in the wake of his comeback.
On the plus side, he did inspire this new feature – the IMDB page of the week. When this idea came together, I printed out his IMDB page as a reference for writing this article. Since it's a printout, that means I can't click on any of the movie titles for more information, so I'm just relying on what I already know about these movies when I look at the list. As a result, my assessment is what I can draw from my memory, and Travolta can't be saved if I were to drill down through a series of links.
Travolta's comeback in Pulp Fiction coincided with my development as a film geek. I was psyched when Get Shorty came out (as a side benefit, that flick also got me into Elmore Leonard) and Travolta did not disappoint. He oozed an effortless cool throughout the movie, and I was incredulous when he wasn't nominated for an Oscar that year. Of course, at the time it didn't matter, because the guy was on top of the world and was only going to get better, right?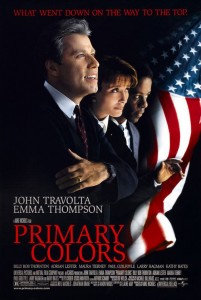 The first thing that struck me about Travolta's IMDB page was Primary Colors. Since IMDB lists credits backwards, an actor's most recent film (in this case, next year's Wild Hogs 2: Bachelor Ride) is listed first, and counts upwards to their earlier credits. Primary Colors is #25 on the list and came out in 1998. Other than #24 on the list (The Thin Red Line, in which he has a glorified cameo), I haven't seen any of the 22 movies that Travolta has made in the last 12 years, with Primary Colors being the last one I saw in the theater. If you talked to my 19 year old self and told him that I would completely give up on Travolta over the next decade, I would have made some withering pop culture remark and ended the conversation.
Before I get into the post-Pulp Fiction years, I want to go back to the beginning. In the mid-to-late 70s, Travolta became a star with a wicked turn in Carrie, as a lovable lunkhead on Welcome Back, Kotter, and in career-defining roles in Saturday Night Fever, Grease, and Urban Cowboy. Dude could sing, dance, play drama and comedy, and absolutely oozed charisma. In other words, he was a can't-miss star.
There were cracks in his armor early. As a teenage hipster (as opposed to a thirty year old hipster – I guess you really are who you are at sixteen), I faithfully watched Welcome Back, Kotter reruns on TV Land. It's a pretty gruesome show to watch. It makes Saved by the Bell look like The Wire. But whatever, that's what TV was in the late-70s, and considering Travolta's turns in the movies he made at that time, it's forgivable.
After his moody turn in Urban Cowboy though? Not so much. There's a bad Brian DePalma movie (Blow Out), an opportunistic Saturday Night Fever sequel (Staying Alive), and then a a handful of forgettable performances to round out the '80s. By all accounts, Travolta tired of being a movie star and took up flying, and then there's the whole Scientology thing, so at that point he can be forgiven for his lack of attention to his career.
Then came the talking baby movies. Look Who's Talking was the most inexplicable trilogy until George Lucas decided the world needed three movies of Darth Vader as an obnoxious kid. There's a lot of discussion about how Quentin Tarantino ignored those movies when he cast Travolta in Pulp Fiction, but it is pretty damaging that the last movie in the franchise (Look Who's Talking Now) came out in 1993, only a year before Pulp Fiction.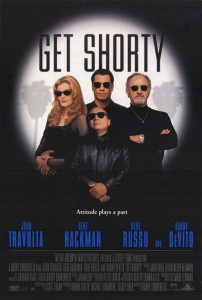 After the 1-2 punch of Pulp Fiction and Get Shorty, Travolta played villains in a couple of decent-for-the-time action movies (Broken Arrow and Face/Off) intermingled with a bunch of Oscar-bait movies (Phenomenon, Michael, She's So Lovely, Mad City, Primary Colors). None of it really worked out for him, but his career still seemed to be on track. As late as 1998 he starred in A Civil Action, which seemed like an Oscar nomination slam dunk.
But a funny thing happened on the road to credibility. None of it worked. And then Travolta blew himself up.
Not literally, of course, but when the Scientology-centric Battlefield Earth (finally reuniting him with Phenomenon co-star Forrest Whitaker, which of course everyone was clamoring for) came out in 2000, it was clear that while he cared about his movie star career, he was making all the wrong decisions.
I've only seen bits and pieces of Swordfish, but other than Halle Berry fan service, I'm comfortable with dismissing that movie. Same with 2004's The Punisher, though without the fan service.
In 2005, he reprised the role of Chili Palmer (which he'd played in Get Shorty) in Be Cool, which reunited him with Pulp Fiction co-star Uma Thurman. Now, I've read both Get Shorty and Be Cool. Based on Get Shorty the novel, there's no way you would've seen John Travolta in that part. The movie was way more stylish than the book (thanks to screenwriter Scott Frank and director Barry Sonnenfeld), which suited Travolta. Elmore Leonard was so impressed with Travolta's performance that he wrote Be Cool with Travolta in mind. A sequel in the late 90s seemed imminent.
For whatever reason, Travolta deferred until 2005. By all accounts, the movie stank. When Dwayne "The Rock" Johnson is considered to have given the best performance in a flick, you probably did something wrong.  This was a movie that should've been made ten years ago, not five.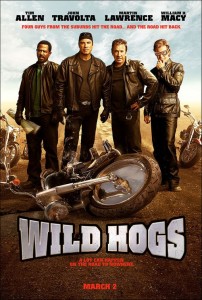 Since then, Travolta has limped his way through garbage like Wild Hogs, Old Dogs, and The Taking of Pelham 1-2-3. His campy turn as Edna Turnblad in Hairspray had the potential to reverse his career free fall, but by all accounts his performance was too campy and lacked the commitment that the role demanded.
In the past year, Travolta has weathered genuine tragedy (the death of his son), so I don't want to make too much of the mess he's made of his career. As it stands, he's like a professional athlete with all the tools to become a mega-star, but who lacks the skills to make the most of them.
Do you have recommendations for a future "IMDB Page of the Week"? Let me know in the comments section below. Actors and actresses aren't the only ones eligible for this feature – I'll consider writers and directors as well. The main criteria is that the subject has an interesting career arc.  Someone who started great and then kept churning out greatness wouldn't make for a very interesting subject.