A wonderful movie that will leave you thinking about what you really want out of life.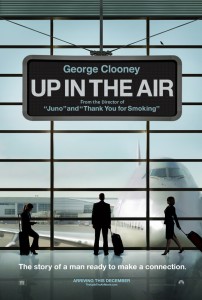 Directed by: Jason Reitman
Starring: George Clooney, Vera Farmiga, Anna Kendrick
Rating: R
Genre: Comedy / Drama / Romance
Ryan Bingham (Clooney) works for a company where his job is to fly around the country and fire people on behalf of their cowardly employers who can't do it themselves. He has very few attachments and lives virtually out of his suitcase. He even gives motivational speeches on avoiding commitment using the metaphor of an empty backpack. Bingham's life changes when young college grad Natalie Keener (Kendrick) comes into the company and implements a new travel-less method to get the job done, essentially grounding him and his peers. Not wanting to be tied down, Bingham takes Keener out on one last trip in an attempt to prove to her that his way is the right way to get it done.
Up in the Air is a wonderful movie about making connections and decisions about how you want to live your life. This is seen primarily through Bingham's satisfying, solitary lifestyle and his relationship with fellow traveler Alex Goran (Farmiga). The point is also hit home by portraying the opposite end of the spectrum with the curious and goal-oriented character portrayed fantastically by Anna Kendrick. Fortunately, this movie shows her true acting potential beyond the opportunity she received with her minor role in the Twilight series. A fairly new face in Hollywood, I expect to see great things from her in the future. She also has a great chemistry with Clooney, who's character goes beyond the confines of his usual calm and charming exterior. While those elements are still present, he portrays a vulnerability his characters seldom possess. The choice of profession for Clooney's character was certainly a wise one as well. The metaphor of severing a long-standing connection such as one's attachment and familiarity to their career only emphasizes the underlying messages.
Jason Reitman continues an impressive run as both a director and screenwriter. His previous two directorial entries include Juno and Thank You for Smoking, the latter of which was also a screenplay of his. He succeeds in both aspects again as Up in the Air is captured in a very realistic and stylized manner. There are several quick-moving, concise, and almost voyeuristic montages which Reitman uses to sum up events and keep the movie flowing in a very organic manner. The subject matter is also extremely relevant as we live in an economically challenged society. To quote Roger Ebert's opinion of Reitman, "He makes smart, edgy mainstream films. That's harder than making smart, edgy indies." I couldn't agree more and can't wait to see more.
Bottom Line: A wonderful movie that will leave you thinking about what you really want out of life.
[xrr rating=10/10]