A very innovative game that will supply hours of fun.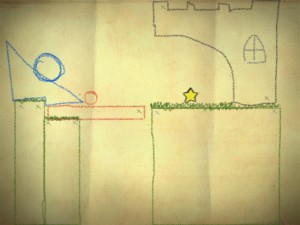 Crayon Physics Deluxe is an incredibly innovative game that involves the simplest of concepts: Get the ball to the star. And yes, as the 2008 Grand Prize Winner at the Independent Games Festival, they were doing this before Scribblenauts borrowed some of their concepts. The game can be both relaxing and insanely frustrating at the same time. The music is soothing and easier levels reward you with a great sense of accomplishment. However, trying to find a solution to some of the more difficult puzzles can make you want to tear your hair out, especially when there are no predefined solutions. The beauty of Crayon Physics Deluxe is that your solutions are only limited by your imagination and ability to execute your ideas.
The visuals are simple (sometimes complex) scribbles on paper-like backgrounds, but they're exactly what you would expect. The more it looks like you're drawing on paper, the more cool it feels when you start to bring that drawing to life. The game can certainly be played with a mouse, but having a tablet really makes the experience more genuine.
In addition to the 70+ levels in the game, there is also a level editor and an online community supplying additional content to help stretch out the amount of play time this game can really get. Check out the video below to see a demo of the game being played on a tablet PC.
Note: This game is currently on sale on its official website until January 15th, 2010. Instead of the normal $20 price tag, you may purchase the game by making a donation of any amount you wish. I got it for $5. Good deal!!
Bottom Line: A very innovative game that will supply hours of fun.
[xrr rating=8/10]