Rob, Volpe, and Paul discuss all the news from San Diego Comic Con and D23 Expo, including Marvel's Phase 4, The CW's Crisis on Infinite Earths, an Obi-Wan series, The Orville's move, and Disney's newest animated feature.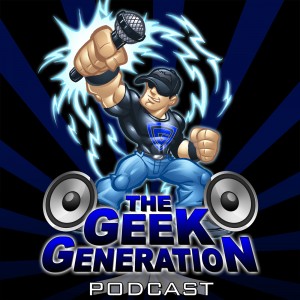 Host: Rob Logan
Co-hosts: Mike Volpe and Paul O
The Geek Generation – #315 – San Diego Comic Con and D23 Expo 2019

[download] [RSS] [Apple Podcasts] [Spotify] [SoundCloud] [Google Play] [Stitcher] [TuneIn]
Show notes:
News/discussion:
Phase 4 of the Marvel Cinematic Universe has been revealed
The Marvel Studios panel at San Diego Comic Con delivered in a major way with announcements for the bulk of Phase 4, including release dates and casting.
D23 Expo reveals more details about upcoming Marvel projects
Additional announcements included Eternals, The Falcon and The Winter Soldier, WandaVision, Ms. Marvel, Moon Knight, She-Hulk, and Black Panther 2.
CW's Crisis on Infinite Earths gets even bigger with casting announcements
Guest stars include Tyler Hoechlin, Elizabeth Tulloch, and Jon Cryer reprising their roles as Superman, Lois Lane, and Lex Luthor, LaMonica Garret as the Monitor and Anti-Monitor, Tom Cavanagh as Pariah, Brandon Routh as the Kingdom Come version of Superman, Cress Williams as Black Lightning, Burt Ward in an unspecified role, and Kevin Conroy as Bruce Wayne from the future.
Ewan McGregor confirmed for Obi-Wan series on Disney+
Ewan McGregor has confirmed that he will be reprising the role of Obi-Wan Kenobi for a Disney+ series centered around the iconic Jedi. While shooting is set to begin in 2020, no release date has yet been set for its premiere.
Season three of The Orville to stream exclusively on Hulu in 2020
Seth MacFarlane's homage to Star Trek, The Orville, will make the jump from traditional television to Hulu for the show's upcoming third season. MacFarlane explained that as the show has evolved and become more ambitious, he wouldn't be able to deliver the third season until 2020, which was inconvenient for FOX.
DC Universe renews Young Justice and Doom Patrol
The live-action series Doom Patrol has been renewed for a second season on DC Universe, but will also simultaneously release on WarnerMedia's forthcoming streaming service, HBO Max. Young Justice has also been renewed, with the fourth season to release exclusively on DC Universe.
Season 4 of The Expanse will premiere on December 13th
Amazon has revealed that Season 4 of The Expanse, the first since acquiring the show from Syfy, will premiere on Prime Video on December 13th, 2019. Additionally, it was announced during the Television Critics Association summer press tour that the show has already been renewed for Season 5.
Garfield getting a new series on December 13th
Following the acquisition of Paws, Inc., the rightsholder to the beloved lasagna-eating cat, Viacom has announced that a new series surrounding the long-running comic strip character Garfield is in the works at Nickelodeon.
Originally created by Jim Davis in 1978 as a comic strip in newspapers, the orange cat has become a media phenomenon in the years since, with numerous TV series and specials being spawned featuring Lorenzo Music voicing the titular character, as well as two live-action/CGI hybrid films with Bill Murray lending his voice. While the animated series is in the works, Davis will continue to produce the syndicated comic strip.
Disney reveals Raya and the Last Dragon
Walt Disney Animation Studios has revealed their next feature film as Raya and the Last Dragon, a new story inspired by the culture of Southeast Asia and regions including Thailand, Vietnam, Cambodia, Malaysia, Indonesia, and Laos. Directed by Paul Briggs & Dean Wellins and written by Crazy Rich Asians screenwriter Adele Lim, the film stars Cassie Steele as the voice of Raya with Awkwafina voicing the dragon Sisu.
In the film, a lone warrior from the fantasy kingdom of Kumandra teams up with a crew of misfits in her quest to find the Last Dragon and bring light and unity back to their world. Raya and the Last Dragon will be released in theaters on November 26, 2020.