Rob and Paul talk about Hobbs and Shaw, season 3 of Jessica Jones, South Park: The Fractured But Whole, Alita: Battle Angel, anime, E3, and then step into The Spoiler Room to discuss the final season of Game of Thrones.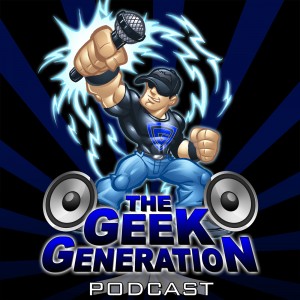 Host: Rob Logan
Co-host: Paul O
The Geek Generation – #314 – Jonesing for the Fractured Throne
[download] [RSS] [Apple Podcasts] [Spotify] [SoundCloud] [Google Play] [Stitcher] [TuneIn]
Show notes:
Got feedback??
Geek Outs:

Hobbs and Shaw final trailer
Logic & Eminem's video for Homicide
Kimetsu no Yaiba: Demon Slayer
Jessica Jones: Season 3
South Park: The Fractured But Whole
Alita: Battle Angel

Freak Outs:
The Spoiler Room

Game of Thrones: Season 8
News/discussion:
Batman to receive a star on the Hollywood Walk of Fame
Getting a star on the legendary Hollywood Walk of Fame is one of the highest honors that someone in the entertainment industry can achieve. Even fictional characters can be recognized for their contributions to pop culture. Current stars in this category belong to Snoopy, Godzilla, Kermit the Frog, and The Simpsons. Next year, on the heels of his 80th anniversary, Batman will be the first comic book superhero to receive a star. He'll join other 2020 inductees like Julia Roberts, Spike Lee, Chris Hemsworth, Laurence Fishburne, and Andy Kaufman, among others.
Paul Rudd joins the cast of Jason Reitman's Ghostbusters
Sony Pictures has announced that Paul Rudd will star in Jason Reitman's upcoming Ghostbusters movie. Official plot details have not yet been released, but according to Variety, the story will be an extension of the original Ghostbusters and focus on a single mom and her family, with Carrie Coon as the mother, Finn Wolfhard playing her son, and McKenna Grace playing her daughter.
Additionally, Sigourney Weaver recently said that she would be reprising her role of Dana Barrett, and the original cast would also return for the sequel, though it's unknown how prominent their roles will be.
Tom Holland's Uncharted movie set for December 2020 release
Uncharted, the movie adaptation of the hit video game franchise starring Tom Holland as Nathan Drake, has been given a December 18, 2020 release date. The movie will serve as a prequel to the game series, taking its basis from the sequence in Uncharted 3: Drake's Deception wherein the young thief first encounters his partner Victor Sullivan and, in essence, sets up the events of the entire game franchise.
Pixar announces new animated feature titled Soul
Pixar has announced their next animated feature, titled Soul. Set to hit theaters in June of 2020, the official tagline reads, "Ever wonder where your passion, your dreams, and your interests come from? What is it that makes you… YOU? In 2020, Pixar Animation Studios takes you on a journey from the streets of New York City to the cosmic realms to discover the answers to life's most important questions."
Soul will be hitting theaters just four months after the next Pixar release, Onward, which is due out March 6, 2020 and is the studios first original film since 2017's Coco. Onward stars Tom Holland and Chris Pratt, who play teenage elf brothers who embark on a quest to find the last remaining magic in the world in the hopes of spending time with their dead father.
John Cena joins the cast of Fast and Furious 9
Universal has officially announced that John Cena has been cast to join Fast & Furious 9. While character details are currently under wraps, the only word is that he'll be playing "a badass." The film is set for release on May 22, 2020.
Final Fantasy being adapted for television
The long-running, role-playing video game franchise Final Fantasy is being developed for television. Sony Pictures Television, Square Enix, and production company Hivemind will produce the live-action TV series, which will center on an original story set in the world of Eorzea, first introduced in the online game Final Fantasy 14. Hivemind produces The Expance for Amazon and is currently working on Netflix's upcoming series The Witcher.
The new show will incorporate characters and elements from across the Final Fantasy franchise, which spans 32 years, 15 numbered entries in the main series, and over three dozen individual titles. While specific details about the plot remain under lock and key, it will explore "the struggle between magic and technology in a quest to bring peace to a land in conflict." Final Fantasy hallmarks such as magic, airships and, of course, Chocobos, will all be included in the upcoming series. Familiar faces and names (including a version of Cid) will make appearances.
Punky Brewster sequel series in development
Universal is currently developing a sequel series to the 80's television hit Punky Brewster, with Soleil Moon Frye on board to reprise the title role. The original series ran from 1984 to 1988 and starred Frye as a young girl growing up with foster father Henry Warnimont. In the potential follow-up series, Punky is now a single mother of three trying to get her life back on track when she meets a young girl who reminds her a lot of her younger self.