Rob and Volpe discuss Venom, Manifest, season 3 of Daredevil, the new season of Doctor Who, viral tweets, Titans, and the cancellations of both Iron Fist and Luke Cage.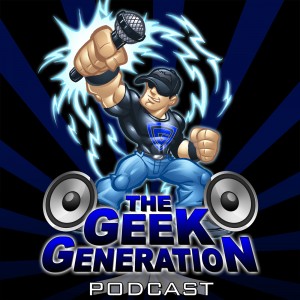 Host: Rob Logan
Co-host: Mike Volpe
The Geek Generation – #308 – Venomous Titans

Show notes:
Got feedback??
Geek Outs:

Adult superhero coloring books
Good Mythical Morning
Outwitting the Devil
Venom
Manifest
Daredevil: Season 3
Doctor Who

Freak Outs:

Venom
Titans
Iron Fist and Luke Cage cancelled at Netflix
News/discussion:
Mary Elizabeth Winstead and Jurnee Smollett-Bell join Birds of Prey
Mary Elizabeth Winstead and Jurnee Smollett-Bell have joined the cast of Warner Bros. Pictures' Birds of Prey movie. Winstead has been cast as Huntress, while Smollet-Bell will play Black Canary. The two join Margot Robbie, who is set to reprise her role of Harley Quinn as the film's antagonist. Birds of Prey is currently scheduled for a release on February 7, 2020.
Boba Fett film cancelled by Lucasfilm
According to Critics Choice Association reporter Erick Weber, Lucasfilm President Kathleen Kennedy has confirmed that there are no longer plans to move forward with the Boba Fett movie. Rumored to be a result of the underwhelming box office for Solo, efforts are shifting to focus on Jon Favreau's upcoming series The Mandalorian, which is set to hit Disney's streaming service in 2019.
CBS All Access orders Star Trek: Lower Decks cartoon
CBS All Access has given a two season order to Star Trek: Lower Decks, a half-hour cartoon series from Mike McMahan. The series will focus on the support crew serving one of Starfleet's least important ships. Executive Producer Alex Kurtzman said of McMahon, "Mike won our hearts with his first sentence: "I want to do a show about the people who put the yellow cartridge in the food replicator so a banana can come out the other end." McMahon said of the announcement: "As a life-long Trekkie, it's a surreal and wonderful dream come true to be a part of this new era of 'Star Trek. 'While 'Star Trek: Lower Decks' is a half-hour, animated show at its core, it's undeniably 'Trek' — and I promise not to add an episode at the very end that reveals the whole thing took place in a training program."
Teen Titans Go! vs. Teen Titans will bring back the original animated team
A mid-credits scene in Teen Titans Go! To the Movies hinted at the return of the original animated incarnation of the team, leading many to wonder if a resurgence of the beloved series was on the way. That may or may not be the case, but what we do know is that they'll at least be back for the upcoming project titled Teen Titans Go! vs. Teen Titans. Earlier this week, a brief teaser trailer leaked and made the rounds on the internet, purporting to be from the upcoming Blu-ray and DVD release of Go! To the Movies. io9 confirmed with Warner Bros. that Teen Titans Go! vs. Teen Titans will launch in 2019, though we don't know what form that will take – whether it's a second animated movie, a crossover episode of Go!, a direct-to-video release, or something else entirely.
Michael B. Jordan to star in Tom Clancy film series
Michael B. Jordan has signed on for a leading role in Paramount Pictures' upcoming film adaptations of Tom Clancy's thriller novels Rainbow Six and Without Remorse. Also set to serve as a producer, Jordan will play the role of Clancy hero John Clark, a recurring character in Clancy's novels. Clark is an ex-Navy Seal who became a CIA operations officer. At first, he was a secondary character who helped Jack Ryan's missions, but the novel Without Remorse made him the lead and told his origin. Clark has since appeared in over 17 novels."
Brec Bassinger cast as Stargirl for the DC Universe series
Brec Bassinger, best known for her role in School of Rock, has been cast as Courtney Whitmore, aka Stargirl, for the forthcoming Stargirl series on DC Universe. Executive produced by Geoff Johns – who created the character in 1999 and based her on his sister, who died in a plane crash in 1996 – the series follows Courtney, a high school sophomore, as she inspires a group of young heroes to fight villains from the past.
The character description for the series is as follows: "Courtney Whitmore is smart, athletic and above all else kind. This high school teenager's seemingly perfect life hits a major speedbump when her mother gets married and her new family moves from Los Angeles, California to Blue Valley, Nebraska. Struggling to adapt to a new school, make new friends and deal with a new step-family, Courtney discovers her step-father has a secret; he used to be the sidekick to a superhero. "Borrowing" the long-lost hero's cosmic staff, Courtney becomes the unlikely inspiration for an entirely new generation of superheroes."
Clueless remake in development
A remake of Clueless is in the works at Paramount with Glow writer Marquita Robinson penning the script. With the movie in early development, details are minimal in regards to the direction it will take and whether cast members from the original will make an appearance. The 1995 film is a cult Gen X classic that provided a satirical window into the Beverly Hills high school scene of the day. The movie put a number of young actors on the map, including Alicia Silverstone, Paul Rudd, Breckin Meyer, Jeremy Sisto, Stacey Dash, and Brittany Murphy. In the past, the movie had spawned a TV series that initially launched on ABC for one season before moving over to Paramount's former UPN network for two seasons.
The news follows the recent headlines about the Clueless musical making its debut on Off Broadway. Previews of the musical begin on November 20th and it opens shortly after on December 11th.
Friday the 13th reboot in development from Lebron James
Friday the 13th is up next on the chopping block for potential rebooting, with Vertigo Entertainment and LeBron James' SpringHill Entertainment producing the new iteration. There are a number of potential problems however, as a recent legal decision returned rights of the original screenplay to Victor Miller. Miller successfully retained all the elements to his original screenplay, save for one scene involving a motorcycle police officer. There were also some legal hiccups involving ownership of the Jason Vorhees character who appeared in the sequels, but was absent from the original film. In any event, Miller will control the rights in the U.S. while the producers of the series and Warner Bros. control certain international territories. No writer or director is currently on board.
Pokemon Go will track your activity without launching the app
Niantic is launching a feature for Pokemon Go called Adventure Sync, which will allow users to sync with Google Fit and iOS's HealthKit to translate steps into game progress without having the Pokemon Go app open or using a smartwatch. The feature will be available soon, allowing players to get more Pokemon candy, see more efficient egg hatching, and earn weekly milestones.