Rob and Volpe geek out about some of the games shown at E3, Firewatch, The Expanse, and Jones Soda, then review The Incredibles 2 and DONTNOD's latest game, Vampyr.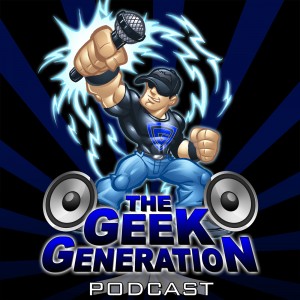 Host: Rob Logan
Co-host: Mike Volpe
The Geek Generation – #304 – Don't Nod at the Incredible Fallout
[download] [subscribe in iTunes]
Show notes:
Got feedback??
Geek Outs:

Halo: Infinite
Jones Soda monthly subscription
Twin Mirror
San Diego Comic Con

Freak Outs:

Broke more teeth
iPhone issues

Reviews:
News/discussion:
Steve Ditko passes at 90-years-old
Artist Steve Ditko, an iconic name in the comic book industry, has passed away at 90 years old. Ditko began drawing and publishing comics in the 1950s, working alongside Joe Simon and Jack Kirby. Ditko was eventually enlisted by Stan Lee to help him create a new superhero character, who would become Spider-Man. Spidey made his debut in Amazing Fantasy #15 in August 1962, and he continued to draw the webslinger from issues #1 through #38. Along the way, Ditko co-created many fan favorite villains including Doctor Ocotopus, Vulture, Electro, Scorpion, Kraven the Hunter, The Lizard, Mysterio, Sandman, and The Green Goblin. Other characters within the Spider-verse created by Ditko include Aunt May, J. Jonah Jameson, Flash Thompson, Betty Brant, Harry Osborn, and Mary Jane Watson.
Ditko's fingerprints are all over other Marvel Comics characters as well, as he also co-created Doctor Strange with Stan Lee, along with him villains Dormammu and Baron Mordo.
Later in his career, Ditko moved to DC Comics, where he co-created characters like The Creeper, Hawk and Dove, the Ted Kord version of Blue Beetle, Captain Atom, and The Question.
Idris Elba cast as villain in Hobbs and Shaw
Golden Globe winner Idris Elba is joining the cast of the Fast & Furious spin-off titled Hobbs and Shaw, which pairs Dwayne "The Rock" Johnson with Jason Statham. Elba is set to appear as the villain of the film, which is set for release on August 2, 2019.
Miles Teller joins Top Gun sequel as Goose's Son
Miles Teller has joined the cast of Top Gun 2 to play the role of Goose's adult son. Those who have seen Top Gun remember Goose as being best friends and wingman to Tom Cruise's Maverick. Top Gun 2 is said to be set in a world of drone technology and fifth generation fighters along with exploring the end of the era of dogfighting.
Jim Carrey set to play Robotnik in Sonic the Hedgehog movie
Deadline is reporting that the Sonic the Hedgehog movie has found its villain with the addition of comedian Jim Carrey, who will play Robotnik in the film. Carrey joins a cast for the live action/animation hybrid that includes Tika Sumpter and James Marsden.
Jared Leto to star in Sony's Morbius the Living Vampire movie
According to Heat Vision, Oscar-winner Jared Leto has signed on with Sony to star in a Morbius the Living Vampire movie. Originally Dr. Michael Morbius, the scientist tried to cure his rare blood disease only to become afflicted with a form of vampirism that gave him superior strength, fangs, and a taste for plasma. The character fought Spider-Man several times, though eventually earned several of his own books where he had a more heroic arc. In the comics, he also has an ongoing feud with Blade the Vampire Hunter.
Life is Strange 2 to debut on September 27th
Studio DONTNOD has revealed that the first episode of their highly anticipated sequel to Life is Strange is set to debut on September 27th, 2018, with four more episodes to follow. In the meantime, you can play a free game released by the studio entitled The Awesome Adventures of Captain Spirit, which was announced at E3 and takes place in the Life is Strange universe.