Rob and Matt talk about an adventure in pro wrestling production and analyze The OA, then review The LEGO Batman Movie and Don't Think Twice. Plus, Rob interviews actor Chin Han from the upcoming Ghost In The Shell.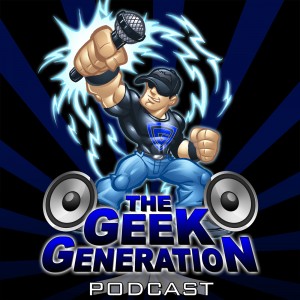 Host: Rob Logan
Co-host: Matt West
Special Guest: Chin Han (Ghost in the Shell)
The Geek Generation – #287 – Chin Han, Ghost in the Shell

[download] [subscribe in iTunes]
Show notes:
Got feedback??
Geek Outs:
Freak Outs:

ebay
iPhone 5 lightning port

Reviews:
News/discussion:
FOX's X-Men series casting news
FOX's X-Men series has announced several cast members joining the pilot. The series will focus on two ordinary parents who discover their children possess mutant powers. Forced to go on the run from a hostile government, the family joins up with an underground network of mutants and must fight to survive.
Stephen Moyer, star of the HBO series True Blood, is set to play the character Reed Stewart, who is described as an ambitious attorney trying to balance the demands of his job at the DA's office with his responsibilities to his family.
Amy Acker will play the female lead in the role of Kate Stewart, a woman who is struggling with her separation from her husband Reed, and her increasingly challenging teenage children. When her family situation takes a dark turn, she finds that she's stronger than she thinks.
Blair Redford will play Sam, who is described as the strong-headed Native American leader of the underground network.
Jamie Chung will play Clarice Fong, better known as the mutant Blink, a sarcastic and lively tomboy with the power of teleportation. Clarice's naturally strong exuberance has taken a hit after a sudden and traumatic upheaval of her life. As she adjusts to the new people and places that are suddenly 'home,' Clarice is slowly becoming herself again.
Sean Teale will play Marcos Diaz, also known as Eclipse, a new mutant to the X-Men universe who can absorb and manipulate photons. A natural rebel compelled by circumstances to cooperate with others, Marcos is a passionate and strong-willed fighter who sometimes lets his emotions overrule reason.
Finally, Natalie Alyn Lind will play Lauren, one of the family's children, who is described as smart, pretty, popular, organized, and already ahead on her college applications – essentially the model of a perfect kid.
Alexander Siddig joins Gotham as Ra's al Ghul
Warner Bros. Television has announced that Alexander Siddig has been cast on Gotham in the role of one of Batman's greatest foes, Ra's al Ghul. Gotham's take on the classic villain has a connection to another recent adversary. As Bruce pulls the veil off the Court of Owls, he finds Ra's al Ghul is the enigmatic and powerful man pulling the strings. With his past shrouded in mystery, Ra's uses cunning and deception to lay waste to his foes. As the leader of an international criminal organization known as the League of Shadows, the Demon's Head will prove himself to be Bruce's most dangerous adversary yet.
Fans may recognize Alexander Siddig as the man who portrayed Dr. Julian Bashir on all seven seasons of Star Trek: Deep Space Nine and Doran Martell on HBO's Game of Thrones
Twitch is getting into direct game sales
It looks like Steam is getting some competition, as the Amazon-owned company Twitch is about to jump into direct game sales. Starting this spring, you'll be able to purchase games directly from Twitch. Below a channel you're watching, you'll see the option to purchase the game the streamer is playing if that content is available from Twitch. You can then download and play the game via the existing Twitch launcher desktop app or publishers' services like Uplay.
When you buy, if the streamer is a partner who has opted into the program, they'll get a 5% share of the revenue. So now you'll be able to support your favorite partnered streamers just by getting a game on their channel. Also, purchases will come with a special Twitch Crate filled with random surprises. Any purchase over $4.99 will earn you one of these digital loot boxes, which will contain a special reward like a game-specific emote, a chat badge, or some Bits. The contents of each Crate are randomly generated so you never know what will be inside