While it's not without its missteps, GameLoading: Rise of the Indies does feature some important messages and can serve as a strong educational tool for students looking to get into the game industry.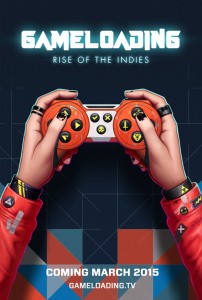 Directed by: Anna Brady, Lester Francois
Starring: A ton of indie game developers
Genre: Documentary
The indie game market has exploded in recent years, earning the attention of not only the gaming community, but filmmakers looking to chronicle the subculture of independent game developers. The most notable film to do so was 2012's Indie Game: The Movie, which captured the process of indie game development in such an impressive way that comparisons are inevitable.
GameLoading: Rise of the Indies is the newest documentary to explore the subject, and with the explosion of the indie game scene, this film has the benefit of hearing from an even larger pool of developers. However, "benefit" might not be the right word choice. While GameLoading introduces us to more developers than Indie Game: The Movie (IGTM) did, they also don't dig as deep. We're never allowed the intimate access to the lives, stories, and struggles of these developers in the same way that IGTM presented us with.
The main element missing from GameLoading is the narrative of any one developer. While it follows a similar format to IGTM by jumping from one developer (or group of) to another, the individual stories being presented simply aren't as compelling. After watching IGTM, I felt like I lived a portion of the lives of the three highlighted developers, while in GameLoading I felt as though I only got to scratch the surface.
GameLoading does manage to accomplish several goals though, all of which are of great benefit to the indie game community and to young programmers and creators who have an interest in entering the field. The documentary is a celebration of indie games and for the most part displays the profession in a very positive light. While it does spend some time with developers stating how competitive the market is and how much you have to love the process to stand any chance, there isn't a lot of failure shown on screen. Most of the developers shown all have success stories to share in one form or another.
Another success of the film that must be applauded is how it shines a light on how personal indie gaming can be for the developers who often incorporate their own personalities and struggles into their games. One developer speaks about how her game, while initially geared toward adolescent lesbians, can be widely enjoyed by anybody. Another created a game about her ongoing battle with depression and opened up about the bullying she had to endure by daring to create something new and different. Another spoke about his game that was heavily influenced by struggling with the difficulties of having a son with terminal cancer, hoping to educate others and inspire those who might be dealing with a similar issue.
While it's not without its missteps and perhaps could have undergone some further editing, GameLoading: Rise of the Indies does feature some important messages and serves as a strong educational tool for students looking to pursue a career in the video game industry. In fact, it should be noted that a purchase of the movie allows for not only a download of the full version, but also a family-friendly edit that I highly recommend for teachers to use in the classroom.
The film is currently available to purchase from Steam, iTunes, PlayStation Network, Xbox Live, the Humble Store, and Gameloading.tv.