FOX has unveiled its 2013-2014 primetime schedule, and we've got the video previews here.
FOX has announced its primetime schedule for the 2013 – 2014 season which includes six new comedies (Dads, Brooklyn Nine-Nine, Enlisted, Surviving Jack, Us & Them, Murder Police) and four new dramas (Almost Human, Sleepy Hollow, Rake, Gang Related), and their first ever event series (Wayward Pines).
BROOKLYN NINE-NINE

From Emmy Award-winning writer/producers Dan Goor and Michael Schur ("Parks and Recreation"), and starring Emmy Award winners Andy Samberg ("Saturday Night Live") and Andre Braugher ("Men of a Certain Age," "Homicide: Life on the Street"), BROOKLYN NINE-NINE is a new single-camera ensemble comedy about what happens when a talented, but carefree, detective gets a new captain with a lot to prove. Detective JAKE PERALTA (Samberg) is a good enough cop that he's never had to work that hard or follow the rules too closely. Perhaps because he has the best arrest record among his colleagues, he's been enabled – if not indulged – throughout his entire career. That is, until the precinct gets a new commanding officer, Captain RAY HOLT (Braugher), who reminds this hotshot cop to respect the badge. Jake may have collared more criminals, but Detective AMY SANTIAGO (Melissa Fumero, "One Life to Live," "Gossip Girl") is close behind, and she's keenly aware of how many arrests she needs to close the gap. Amy grew up with seven brothers who were all cops. She's the first girl in the family to put on a police uniform, and suffice it to say: she's extremely competitive…about everything. Also working cases in Brooklyn's 99th precinct is Sergeant TERRY JEFFORDS (Terry Crews, "Bridesmaids," "Everybody Hates Chris"), a linebacker of a man who's lost his nerve, not because he's a wimp, but because a year ago, his wife had twin baby girls – Cagney and Lacey – and he can't imagine not seeing them grow up. Detective CHARLES BOYLE (Joe Lo Truglio, "Wreck-It Ralph," "Superbad"), who idolizes Jake, is the precinct's workhorse; he's not that brilliant, he's not physically gifted, but he tries harder than anyone else. Charles pines for Detective ROSA DIAZ (Stephanie Beatriz, "Modern Family," "The Closer"), with whom he stands no chance at all. Rosa is simultaneously tough, sexy and scary as hell. She's vocally opinionated about everything. Cleaning up everyone's mess is GINA LINETTI (Chelsea Peretti, "Parks and Recreation," "Kroll Show"), the eccentric, civilian office manager who somehow gets involved in everyone's business. Together, these tightly knit – or is it tightly wound? – cops interrogate suspects, arrest perps and solve murders. But, ultimately, BROOKLYN NINE-NINE is a workplace comedy that's not really about the job. It's about the men and women behind the badge – singing karaoke, grabbing a beer and hitting on each other – all while protecting the fine people of Brooklyn. BROOKLYN NINE-NINE is produced by Universal Television. The series is created and written by Dan Goor ("Late Night with Conan O'Brien," "Parks and Recreation") and Michael Schur ("The Office," "Parks and Recreation"). The series is executive-produced by Goor, Schur and David Miner ("30 Rock"). The pilot was directed by the team of Phil Lord and Chris Miller ("21 Jump Street," "Cloudy with a Chance of Meatballs").
DADS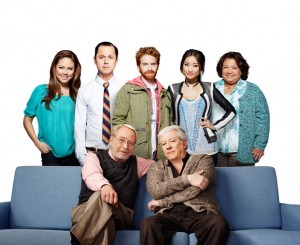 Honor thy father. Way easier said than done. Especially when your dad's broke, living in your house and ruining your life. From Seth MacFarlane, Alec Sulkin and Wellesley Wild, the creatively outrageous minds behind last year's highest-grossing feature comedy, "Ted," and FOX's hit animated series FAMILY GUY, DADS explores the often treacherous terrain of the father-son landscape. This new multi-camera comedy series follows two successful guys – and childhood best friends – now in their mid-30s whose relatively stable lives get turned upside down when their pain-in-the-neck patriarchs move in. ELI (Emmy Award winner Seth Green, FAMILY GUY, "Robot Chicken") and WARNER (Emmy Award nominee Giovanni Ribisi, "My Name is Earl," "Ted," "Avatar") are the co-founders of a successful video game company. Warner is married with two kids, two dogs and a beautiful home. Despite his success, he's a bundle of nerves, constantly worrying that his next paycheck will be his last. He and Eli came up with the idea for the company while stoned in college, and Eli has remained stoned ever since. In contrast to Warner's picture-perfect life, Eli's is a bit messier, with brief stabs at self-improvement. What he lacks in courage, he also lacks in moral fiber. Although Warner and Eli are at very different places in their lives, they are so close, their friendship is more like a marriage. And that relationship is more complicated now, as their dads invade their lives. Warner's neuroses likely stem from having grown up in a family whose fortunes fluctuated wildly from year to year, due to the failed get-rich-quick schemes of his father, CRAWFORD (Martin Mull, "Two and a Half Men," "'Til Death"). A self-described "businessman" (in wine-stained khakis) and a perpetual optimist, Crawford still firmly believes the next big opportunity is just around the corner. Now living with Warner and Warner's beautiful, hotheaded wife, CAMILA (Vanessa Lachey, "Wipeout," "True Beauty"), Crawford continues to spend beyond his means, making well-intentioned grand gestures that he can't afford and that Warner ends up paying for. Eli's dad, DAVID (Academy Award and Emmy Award nominee Peter Riegert, "The Good Wife," "The Sopranos"), is a towering monument to negativity. Equal parts cheap and cranky, David relishes disappointment and has always prepared his son for it, who in turn rebels by spending excessive amounts of money. After hitting hard times, David turns to Eli, who blames his dad for his own shortcomings, including his inability to settle down. In fact, his longest relationship with a woman remains the one with his cleaning lady, EDNA (Tonita Castro, "Go On," "Seeking a Friend for the End of the World"). Trying to help both Warner and Eli through their myriad life challenges is VERONICA (Brenda Song, NEW GIRL, "Scandal"), their witty and surprisingly entitled assistant, who is a force to be reckoned with. The invasion of the DADS will give these friends and business partners their biggest challenge yet. Between dubious schemes, passive-aggressive busy-bodying and light kissing-on-the-lips, will these beleaguered sons be able to hold the line in the face of two massive game-changers? DADS is produced by 20th Century Fox Television and Fuzzy Door Productions. The series is created and written by Emmy Award-nominated writer/producers Alec Sulkin ("Ted," FAMILY GUY) and Wellesley Wild ("Ted," FAMILY GUY). Seth MacFarlane ("Ted," FAMILY GUY), Sulkin and Wild are executive producers. Marc Cendrowski ("The Big Bang Theory") directed the pilot.
ENLISTED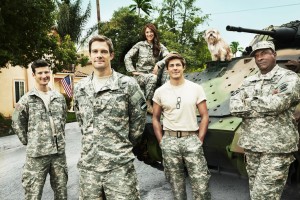 Three brothers, one Army, but absolutely no fighting! ENLISTED is an irreverent but heartfelt single-camera comedy about three brothers on a small Florida Army base and the group of misfits who surround them. Charming, funny and a natural-born leader, Sergeant PETE HILL (Geoff Stults, "Ben and Kate," "The Finder") was on a path for a huge military career until one mistake overseas got him booted stateside to Fort McGee, the base in Florida where his two younger brothers are stationed. Now, as head of their platoon, Pete must serve both as big brother and military boss. Corporal DERRICK HILL (Chris Lowell, "Private Practice," "Veronica Mars") is the middle brother – smart and sarcastic, he likes to stir up trouble and doesn't really care about being a soldier. Private RANDY HILL (Parker Young, "Suburgatory"), on the other hand, loves it. He's the hyper-enthusiastic, hyper-goofy – just hyper – youngest brother who wants to be the gung-ho "GI Joe" military ideal. The Hill brothers serve on the Rear Detachment (Rear D) unit, comprised of the soldiers left behind when everyone else is deployed, because they're not quite good enough to be sent overseas, yet not bad enough to be kicked out of the Army. These are the men and women who mow lawns at the base, sort mail, wash tanks, find lost dogs and maybe engage in a war game or two. But the Rear D's main job is taking care of deployed soldiers' families. Whatever they need, the Rear D soldiers do. And, in the event that something happens to a soldier overseas, the Rear D troops break the news to the family and become a supportive shoulder to cry on. It's a job that shifts each moment from the thrilling to the mundane to the emotional and back again. Fort McGee is run by Command Sergeant Major DONALD CODY (Emmy Award winner Keith David, "Cloud Atlas," "The Cape"), a firm but fair man who served with the brothers' late father. Major Cody promised to look out for them, so he brought all the brothers to the base to fulfill that promise. Cody has seen it all and lost a foot to prove it – which no one can forget, probably since he never misses an opportunity to bring it up. Confident, funny, tough and beautiful, Sergeant JILL PEREZ (Angelique Cabral, "Friends with Benefits") is the same rank as Pete and leads the other Rear D platoon on base. A military-set family comedy, ENLISTED centers on three brothers who, when the best of the best are sent overseas, stay behind to try to keep the base in order. Between hijacking tanks, inventing new drinking games and accidentally blowing up a fuel truck, they will inadvertently discover the key to strengthening their long-lost childhood bonds. ENLISTED is produced by 20th Century Fox Television, and written and created by Kevin Biegel ("Cougar Town," "Scrubs," "South Park"). The series is executive-produced by Biegel and Mike Royce ("Men of a Certain Age," "Everybody Loves Raymond"). The pilot was directed by Phil Traill ("Suburgatory," RAISING HOPE).
ALMOST HUMAN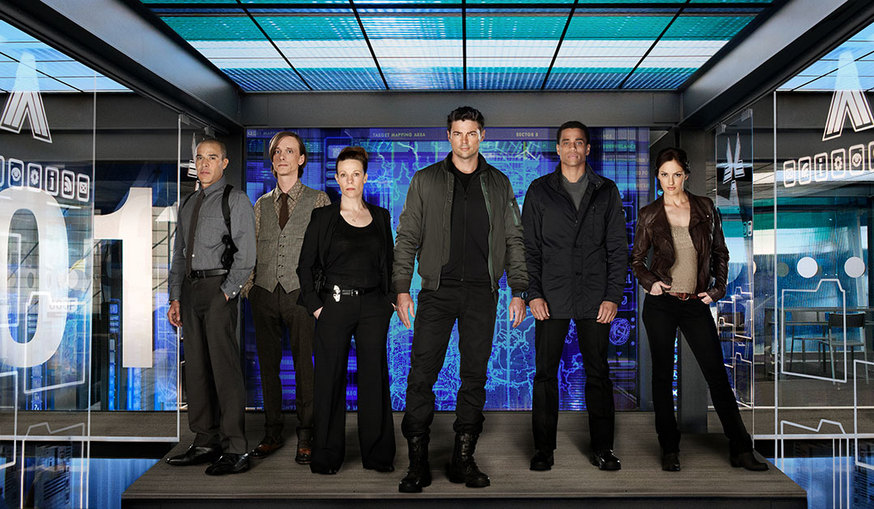 From Emmy Award-winning executive producer J.J. Abrams ("Fringe," "Lost," the "Star Trek" and "Mission: Impossible" franchises) and creator/executive producer J.H. Wyman ("Fringe," "The Mexican"), comes ALMOST HUMAN. Starring Karl Urban ("Star Trek") and Michael Ealy ("Sleeper Cell," "Common Law"), the new series is an action-packed police drama set 35 years in the future, when police officers are partnered with highly evolved human-like androids. The year is 2048. Meet JOHN KENNEX (Urban), a cop who survived one of the most catastrophic attacks ever made against the police department. After waking up from a 17-month coma, he can't remember much – except that his partner was killed; his girlfriend, ANNA MOORE (guest star Mekia Cox, "Crazy, Stupid, Love.," "Undercovers"), left him after the attack; and he lost one of his legs and is now outfitted with a highly sophisticated synthetic appendage. Suffering from depression, mental atrophy, trauma-onset OCD, PTSD and the "psychological rejection of his synthetic body part," John returns to work at the behest of longtime ally Captain SANDRA MALDONADO (Emmy Award nominee Lili Taylor, "Six Feet Under," "Ransom"). By mandate, every cop must partner with a robot. And despite his passionate aversion to androids, John is paired up with a battle-ready MX-43. But he abruptly terminates his partnership after the robot discovers incriminating information about him. So technician RUDY LOM (Mackenzie Crook, "Pirates of the Caribbean" franchise) introduces John to DORIAN (Ealy), a discontinued android with unexpected emotional responses. Although such responses were deemed flaws, it is in these "flaws" that John relates to Dorian most. After all, John is part-machine now, and Dorian is part-human. John and Dorian's understanding of each other not only complements them, it connects them. As he adjusts to working with his new partner, John also must learn to get along with his new colleagues, including the eager and somewhat starstruck Detective VALERIE STAHL (Minka Kelly, "Friday Night Lights," "(500) Days of Summer") and the distrustful Detective RICHARD PAUL (Michael Irby, "Law Abiding Citizen," "The Unit"), who does not welcome John back with open arms. ALMOST HUMAN will follow the week-to-week missions of John and Dorian, as they fight crime across this futuristic landscape, while the mysteries surrounding his attack and the larger mythology of this new world unfold. ALMOST HUMAN is produced by Bonanza Productions Inc. in association with Bad Robot Productions and Warner Bros. Television. The series is created by J.H. Wyman, who wrote the pilot. The series is executive-produced by J.J. Abrams, Bryan Burk and Wyman. Kathy Lingg ("Person of Interest," "Revolution," "Fringe") and Reid Shane ("Fringe") are co-executive producers. Brad Anderson ("Fringe," "The Killing") directed and served as co-executive producer on the pilot.
SLEEPY HOLLOW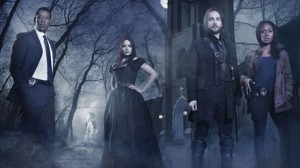 What if you suddenly woke up from the throes of death 250 years in the future to find the world is on the brink of destruction, caused by unimaginable events, and you are humanity's last hope? Welcome to SLEEPY HOLLOW, the thrilling new mystery-adventure drama from co-creators/executive producers Alex Kurtzman and Roberto Orci ("Star Trek" and "Transformers" franchises, "Fringe"). In this modern-day retelling of Washington Irving's classic, ICHABOD CRANE (Tom Mison, "Salmon Fishing in the Yemen") is resurrected and pulled two and a half centuries through time to unravel a mystery that dates all the way back to the founding fathers. Revived alongside Ichabod is the infamous Headless Horseman who is on a murderous rampage in present-day Sleepy Hollow. Bound to the Headless Horseman by a blood spell cast on the battlefield of the American Revolution, Ichabod quickly realizes that stopping Headless is just the beginning, as the resurrected rider is but the first of the Four Horsemen of the Apocalypse. As this re-invented Ichabod finds himself in present-day Sleepy Hollow, he discovers a town and a world he no longer recognizes. All that is brutally familiar are Headless and Ichabod's determination to annihilate this immortal being. It's a mission he must complete quickly, as Headless already has viciously slain Sheriff AUGUST CORBIN (guest star Clancy Brown, "Cowboys & Aliens," "Carnivale"). Grey served both as mentor and father figure to Detective ABBIE MILLS (Nicole Beharie, "Shame," "American Violet"), a young cop whose own supernatural experiences help her form an unlikely bond with Ichabod. But Sleepy Hollow's head of police, Captain FRANK IRVING (Orlando Jones, "The Chicago 8," "Drumline"), isn't buying any of this. In fact, the only person who is on Abbie's side is Ichabod. His extensive first-hand knowledge of our secret American history, coupled with her superior profiling and modern threat assessment skills, will make them a formidable duo as they work together to triumph over evil. The complex pasts of Ichabod and Abbie, from Ichabod's inclusion in the powerful and secretive Freemasons Society and the ghostly appearance of his late wife, KATRINA (Katia Winter, "Dexter"), to Abbie's childhood visions, will help them solve the intricate puzzles of Sleepy Hollow in order to protect its future. As history repeats itself, the oddly-linked pair will draw on the real stories and hallowed secrets this nation was founded on in their quest to stop an increasingly vicious cycle of evil. SLEEPY HOLLOW is from K/O Paper Products in association with 20th Century Fox Television. The series is co-created by Alex Kurtzman, Roberto Orci, Phillip Iscove and Len Wiseman ("Hawaii Five-0," "Underworld" and "Total Recall"). The series is executive-produced by Kurtzman, Orci, Wiseman and Heather Kadin. Iscove serves as supervising producer. Wiseman directed the pilot.
RAKE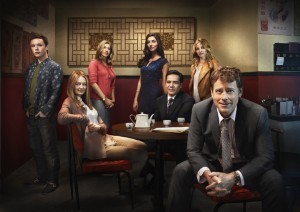 RAKE, a character-driven drama based on the Australian nominee for Best Television Drama series of the same name, follows the comedic and chaotic life of criminal defense lawyer KEEGAN DEANE (Academy Award nominee and Emmy Award winner Greg Kinnear, "Little Miss Sunshine," "The Kennedys"). On a single day, Keegan Deane is described as many things. His ex-wife-calls him "unreliable"; his son calls him a "pal"; most judges think he's "an outrage"; the IRS calls him a "defendant"; and to his former dealer, he's simply a "tragic loss." Brilliant, frustratingly charming and with zero filter, Keegan is one of life's great addicts. His staggering lack of discretion and inability to self-censor land him the cases that nobody else will touch, but behind that lies a resolute optimism and belief in justice that fuel his dogged determination to defend those who seem beyond redemption. He always tries to do the right thing, but at the same time struggles to save himself from the many self-destructive elements that plague his own life, such as his overindulgence of various excesses, including women and gambling. Keegan gets a majority of his cases from BEN (John Ortiz, "Silver Linings Playbook," "Luck"), his best friend since law school. Ben is married to SCARLET (Necar Zadegan, "Emily Owens, M.D.," "The Event"), another of Keegan's old friends and, as Assistant District Attorney for the city of Los Angeles, quite often his opponent in court. In addition to Keegan's cases within the justice system, the series follows his personal trials and tribulations, including his mounting debt to his bookie and his overlapping liaisons with various women, including MELISSA "MIKKI" PARTRIDGE (Bojana Novakovic, "Edge of Darkness," "Drag Me To Hell"), Keegan's favorite prostitute and de-facto love interest. Also among his predicaments is his ongoing battle with the IRS. But always there to help Keegan clean up his mess is LEANNE ZANDER (Tara Summers, "Ringer," "Damages"), his extremely put-upon, no-nonsense assistant. Meanwhile, Keegan's ex-wife, MADDY (Miranda Otto, "The Starter Wife," "War of the Worlds"), a psychologist by profession, begrudgingly acts as his therapist. She also is the mother of their hormonal son, FINN (Ian Colletti, "Phoebe In Wonderland"), who displays many of the same proclivities as his father. Each morning, Keegan tends to wake up bruised – physically, emotionally, spiritually. Usually it's a combination of them all. Then it's out into the world – onto the battleground of Keegan's day. RAKE is produced by Fedora Entertainment and Essential Media & Entertainment Pty Ltd., in association with Sony Pictures Television. The series is created and written by Peter Duncan (creator of the original Australian series). The series is executive-produced by Duncan, Peter Tolan ("Rescue Me," "Analyze This"), Michael Wimer ("2012"), Richard Roxburgh ("Rake," "Mission: Impossible II," "Moulin Rouge") and Ian Collie ("Rake"). Kinnear and Leslie Tolan ("Rescue Me," "The Job") are co-executive producers. Sam Raimi ("Oz the Great and Powerful," "Spider-Man" franchise) directed and served as an executive producer on the pilot.
US & THEM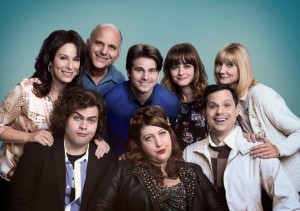 When two people finally come together, they never come together alone. US & THEM is an outrageous but authentic ensemble single-camera comedy about a pair of young lovers, whose path to happily-ever-after is complicated by the screwed-up circus of people closest to them. New York pharmaceutical copywriter GAVIN (Emmy Award nominee Jason Ritter, "Parenthood," "The Event") is a neurotic Woody Allen-ish personality with indie-rock looks, who has never been in love. On the other hand, pretty Pennsylvania-based printing press employee STACEY (Alexis Bledel, "Mad Men," "Gilmore Girls") has a subtle wit and has been engaged before. For the past six months, they have been flirting online and finally agree to meet…with their best friends in tow for double-date safety. Gavin and Stacey's wingmen are, respectively, CHRIS "ARCHIE" ARCHULETTA (Dustin Ybarra, "We Bought a Zoo") and NESSA (Ashlie Atkinson, "Inside Man," "Rescue Me"). Archie is often wrong but never in doubt and the loudest, most outrageous character in any room. Nessa is brutally blunt – actually, just brutal, in general – with a rock-a-billy look, complete with messy tattoos (many of which she doesn't remember getting). Gavin lives in an apartment below his parents, PAM (Emmy Award nominee Jane Kaczmarek, "Whitney," "Raising the Bar," "Malcolm in the Middle") and MICHAEL (Kurt Fuller, "Psych," "Midnight in Paris"). With zero filter and little volume control, Pam is fearful she is aging and that the good times may be behind her. Michael thinks of himself as the family's voice of reason. He is wrong. Dillsburg, PA, is a tiny dot of grit in the green countryside. Stacey lives there with her widowed mom, GWEN (Kerri Kenney, "Reno 911!"). BRIAN (guest star Michael Ian Black, "Ed"), Stacey's uncle, and her late father's brother, has taken on the role of family protector. He is a simple man who is amazed by the little things in life…like white Toblerones. Stacey's long-distance romance unnerves both Gwen and Brian, who fear she might fall in love and move away to the big city. When all of these characters collide to create a salty but sweet romantic comedy, we wonder not if the two leads will get together, but how they ever will stay together. After all, it's complicated enough trying to make a relationship work. But the biggest complications of all are the friends and family who are part of the package deal. US & THEM is produced by Sony Pictures Television and BBC Worldwide Productions. It is based on the hugely popular and multiple-award-winning BBC series "Gavin and Stacey," which was created and written by James Corden and Ruth Jones. US & THEM is adapted and written by David J. Rosen ("I Just Want My Pants Back"), and executive-produced by Rosen, Jane Tranter, Julie Gardner, Corden and Jones. Steve Coogan and Henry Normal serve as executive producers for Baby Cow Productions. Michael Patrick Jann ("Drop Dead Gorgeous") directed the pilot.
GANG RELATED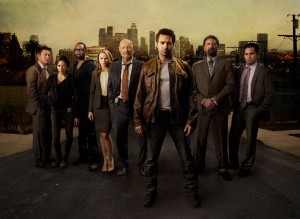 Only people who really know the streets can win the battle on the streets. In the gritty new action-drama GANG RELATED, Detective RYAN LOPEZ (Ramon Rodriguez, "Battle Los Angeles," "The Wire") is a rising star in Los Angeles' elite Gang Task Force. What the world doesn't know is that long before Ryan was a cop, he pledged allegiance to a different band of brothers – a powerful Latino gang called Los Angelicos. When Ryan's best friend and partner is senselessly killed by a notorious gang member, Ryan teams up with longtime Task Force member CASSIUS GREEN (RZA, "G.I. Joe: Retaliation," "Californication"), who has been at the forefront of the city's war on organized crime. In this war between law enforcement and gangs, the series explores how every villain has a noble cause, and every hero has a dark side. Despite his profession, Ryan is still beholden to the gang's leader, JAVIER ACOSTA (Cliff Curtis, "Live Free or Die Hard," "Training Day"), the father figure Ryan has tried to make proud his entire life and the man who masterminded his entry into the police force. It's a secret that has been held for a decade by Ryan, Javier and Javier's sons: cold-blooded gang lieutenant CARLOS (guest star Rey Gallegos, "Sons of Anarchy," "24"); and Ryan's childhood best friend, straight-laced investment banker DANIEL (Jay Hernandez, "Last Resort," "Hostel"). But Ryan is even more dedicated to being a cop. He is respected by his team, including TAE KIM (Sung Kang, "Fast Five," "Live Free or Die Hard"), VANESSA "VEE" HAREL (Inbar Lavi, "Underemployed," "Street Kings 2: Motor City") and Task Force leader SAM CHAPEL (Terry O'Quinn, "Lost"), Ryan's other surrogate father figure, whose estranged daughter, JESSICA SHAW (Shantel VanSanten, "One Tree Hill," "The Final Destination"), is the city's Assistant District Attorney. Ryan's education comes from the streets. And that schooling will work to his advantage, as he, Cassius and the rest of the task force take aim at the city's most dangerous gangs, while his increasing sense of loyalty to his task force family helps him determine which side of the law he is really on. GANG RELATED is from Chris Morgan Productions, Skeeter Rosenbaum Productions, Imagine Entertainment and 20th Century Fox Television. The series is created and written by Chris Morgan ("Wanted," "Fast Five"). The series is executive-produced by Morgan, Scott Rosenbaum ("The Shield," "Chuck"), Academy Award-winning producer Brian Grazer ("24," "A Beautiful Mind") and Francie Calfo ("The Great Escape," "The Playboy Club"). Allen Hughes ("Dead Presidents," "Book of Eli," "Menace II Society") directed and served as an executive producer on the pilot.
MURDER POLICE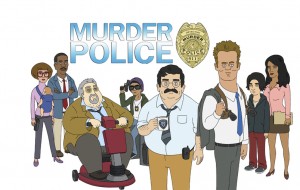 MURDER POLICE is a new animated comedy series that expands the boundaries of the cop show genre as only animation can. From David A. Goodman (FAMILY GUY) and rising writer/animator/performer Jason Ruiz, the series follows a dedicated, but inept detective and his colleagues – some perverted, some corrupt, some just plain lazy – in a twisted city precinct. At the center of this maelstrom is MANUEL SANCHEZ (Ruiz), a neurotic and nerdy cop who aspires to be a good policeman, but his efforts to solve crimes are constantly put in jeopardy by his own clumsiness and the incompetence of his fellow detectives. Making matters worse, his egotistical, bribe-accepting partner, TOMMY MARGARETTI (Will Sasso, "The Three Stooges," "MADtv"), a tough, rule-breaking "bad cop," can't interrogate a suspect without beating him up. The other detectives in the precinct include RANDALL HICKOX (Chi McBride, "Golden Boy"), a cop with little interest in police work. He's lost a lot of partners, hates his job and often hands off his resume to crime scene witnesses. Randall's newest partner, JUSTICE (Jane Lynch, GLEE), is a self-righteous working mother whose child is lodged in a baby bjorn that is permanently secured around her chest. Undercover cop DONEL (Phil LaMarr, FAMILY GUY, "Futurama") is in so deep that he often does things of questionable legality. They all are supervised by the perpetually annoyed Captain JOHN RUSHOUR (Peter Atencio, "Key and Peele"), a brusque, overweight old-school cop who expects failure and can't be bothered to even get out of his Rascal scooter. Manuel's ex-wife, ROSA (Justina Machado, "Private Practice," "Six Feet Under"), is a defense lawyer who remains irritated that Manuel always put his job first. But they remain bonded in the upbringing of their son, MARIO (Ruiz), a troubled teen who is less impressed with his father than he is by the criminals he catches. These cops often find themselves mildly interested in the most recent crime victim, but completely obsessed with who "destroyed" the bathroom. Nevertheless, where there's a mystery, Manuel somehow finds a way to solve it. MURDER POLICE is produced by Bento Box Animation (BOB'S BURGERS) and 20th Century Fox Television. The series is co-created by David A. Goodman (FAMILY GUY) and Jason Ruiz – one of the writers/animators discovered through the Fox Inkubation program. Goodman serves as executive producer and showrunner, and Ruiz is co-executive producer.
SURVIVING JACK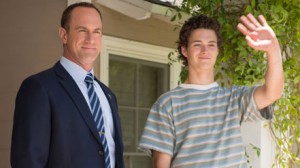 Father knows best…well, sort of. SURVIVING JACK is a new single-camera comedy based on best-selling author Justin Halpern's autobiographical book, "I Suck at Girls." Set in 1990s Southern California, the ensemble series is about a man becoming a dad, as his son is becoming a man, in a time before "coming of age" was something you could Google.JACK DUNLEVY (Emmy Award nominee Christopher Meloni, "True Blood," "Law & Order: Special Victims Unit"), ex-military and an oncologist, is a no-bull kind of guy. He sees little, if any, need to sugar-coat the truth. Up to this point, Jack's been the parent who's left for work early, come home late, eaten the big piece of chicken, yelled at his kids and gone to bed. But after years of deftly raising and running the family, his wife, JOANNE, is going back to law school, leaving Jack as a full-time parent for the very first time. Jack's teenage son, FRANKIE (Connor Buckley, "Deception"), is just starting his freshman year in high school. Lanky, quick-witted, self-deprecating and not entirely sure of himself, all Frankie wants to do is fly under the radar. But over the summer, he grew 10 inches, threw a no-hitter against a rival team and started to attract girls – all of which put him in some awkward situations – especially when the only base he's ever been to is on the field. Fortunately, no matter how embarrassing the situations Frankie gets himself into are, Jack is there to pick up the pieces and lead his son to manhood…with the least gentle hand possible. Although Jack may be unorthodox, unfiltered and sometimes even unkind in his approach, his intentions are always good. For better or for worse, he's Frankie's only resource now. Even more confusing to Jack than Frankie's growing pains are those of his daughter, RACHEL (Claudia Lee, "Hart of Dixie"), a gorgeous and super-smart 17-year-old high school junior. Up until now, Rachel's done everything right. No longer under the watchful eye of her mother, she's now a handful. Jack considers the mind of the teenage girl beyond his (or anyone's) comprehension – a fact which Rachel will take full advantage of. In addition to disciplining his own children, Jack must keep a watchful eye on Frankie's best friends: GEORGE (Kevin Hernandez, "Get the Gringo," "The Sitter"), an overly confident Mexican-American with a big vocabulary; and MIKEY (newcomer Tyler Foden), a tough kid from a broken home. Only time will tell if Jack's blunt and unpredictable parenting style will keep his kids out of trouble, or if Joanne will have to put down the law books and somehow step in to keep the family order. Until then, Jack's the dad the Dunlevy kids always wished they had – most of the time. For someone who is used to taking care of people with cancer, Jack's got this…right? SURVIVING JACK is produced by Doozer in association with Warner Bros. Television. Based on best-selling author Justin Halpern's book, "I Suck at Girls," the series is written by Halpern ("$#*! My Dad Says") and Patrick Schumacker ("$#*! My Dad Says"). The series is executive-produced by Emmy Award nominee Bill Lawrence ("Spin City," "Scrubs," "Clone High," "Cougar Town"), Halpern, Schumacker and Jeff Ingold. Victor Nelli ("Scrubs," "The Bernie Mac Show") directed the pilot.
WAYWARD PINES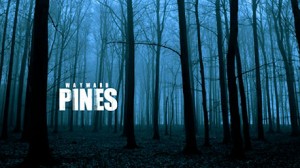 Imagine the perfect American town… beautiful homes, manicured lawns, children playing safely in the streets. Now imagine never being able to leave. You have no communication with the outside world. You think you're going insane. You must be in Wayward Pines. Based on the best-selling novel "Pines" by Blake Crouch and brought to life by suspenseful storyteller M. Night Shyamalan ("The Sixth Sense," "Signs"), WAYWARD PINES is the intense new mind-bending event thriller evocative of the classic cult hit "Twin Peaks." Secret Service Agent ETHAN BURKE (Academy Award nominee Matt Dillon, "Crash," "City of Ghosts") drives to the bucolic town of Wayward Pines, ID, to find two missing federal agents. Ethan was the logical choice for the mission. He's one of the best Secret Service agents in the Seattle office. He's also the man who knew missing agent KATE HEWSON better than anyone. They were partners. They were more than that. Their relationship nearly destroyed Ethan's marriage. Kate transferred to Boise and Ethan thought he'd never see her again. Now, Kate and her new Secret Service partner, BILL EVANS, are nowhere to be found. But just as Ethan spots the sign that says "Welcome to Wayward Pines, Where Paradise is Home!," a truck slams into his car. When Ethan wakes up in the Wayward Pines Hospital, he remembers his name, his address in Seattle and the accident on the outskirts of town. He knows he's a Secret Service Agent who came to Wayward Pines to investigate the disappearance of two agents. What he can't figure out is what's wrong with this eerily perfect little town. None of the phones work. He can't get through to his wife back home or his boss at the Secret Service. His wallet, ID, money, phone…everything is gone. And no one will help him. Back home in Seattle, Ethan's wife, THERESA, gets a call from Ethan's boss at the Secret Service, ADAM HASSLER. Ethan is missing. No other information is available until early testing shows that Ethan was never in his car that was recovered on the side of the road outside of Wayward Pines. They're still investigating. This isn't enough for Theresa. Along with their teenage son, BEN, Theresa sets out on her own search for Ethan. The mystery only deepens as Ethan employs his intelligence and tireless determination to solve the mystery of this unsettling town. Challenged at every turn by the town's die-hard residents, Ethan's investigation only turns up more questions, the most important of which is: What's wrong with Wayward Pines? WAYWARD PINES is a production of FX Productions. The series is created and written by Chad Hodge ("The Playboy Club," "Runaway") and executive-produced by Shyamalan, Hodge, Donald De Line ("Green Lantern," "The Italian Job") and Ashwin Rajan ("After Earth").