Hunter's back to tell us about USB outlets and where you might want to put them in your home.
Article by: Hunter Etherington
Well it's been a long time since I have written an article. The reason I have been away so long is also what gives me even more things to write about, for I bought my first home… the same reason that I am sitting in IKEA while I write this. Being a new home owner is lending itself to a lot of geeky home improvement projects, like setting up my home theater as well as my home office. Those are things that everyone does though, not just geeks. I am here to share some things I found that geeks would love to add to their homes.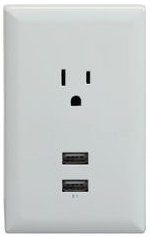 Today I would love you to check out the outlets I will be replacing some of mine with. They are outlets with USB ports built into them so you can charge any of your devices without using an adapter. I have seen a few variations of them, first starting with a power bar that included USB ports, but they are now built into the outlets themselves. The most common configuration I have seen, and are the type you can buy at almost any hardware store, are the type where one of the plugs in the outlet is replaced with two USB ports. This is a super logical configuration and does not require you to use a special face plate to go on top of it. But using it to replace an existing plug is a tough decision because you are losing a place to plug something else in. If you are building a new home or adding an outlet to your existing home this is an awesome choice because you're not losing any plugs.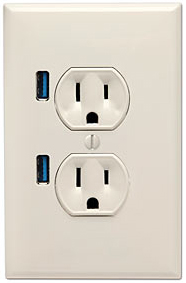 That brings me to the configuration I will be using. It's an outlet with 2 plugs as well as 2 USB ports. They are a little trickier to install but look really sleek and allow you to keep your existing number of plugs. The outlet I will be getting is from thinkgeek.com and is called the u-socket. Here are some of the locations I will be putting them so you can start to think how these outlets could be useful to you:
In my living room beside the couch
In the kitchen for when I use my iPad while I cook
Behind my side table in the front hall so I can leave things to charge that I need to grab on the way out of the house
Beside the bed to charge my phone overnight without needing to plug in the adapter
In my office so I don't have to depend on charging things off of my computer tower
If you have any other ideas as to how you would use them and where, I would love to hear them, and thanks for reading!