On March 5, embark on an epic quest to become cool in South Park: The Stick of Truth.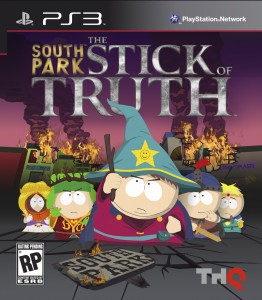 From the perilous battlefields of the fourth-grade playground, a young hero will rise, destined to be South Park's savior. From the creators of South Park, Trey Parker and Matt Stone, comes an epic quest to become… cool. Introducing South Park: The Stick of Truth, available on March 5, 2013 on the Xbox 360, PlayStation 3, and Windows PC.
But that's not all!
THQ is happy to offer exclusive weapons and costumes when you preorder South Park: The Stick of Truth. The Good Times With Weapons Pack, based on one of the most popular South Park episodes of all time, includes destructive items no fourth-grade martial artist should be without. With the Bulrog Chicken Attack, summon the devastating ninja powers of Bulrog and turn your feeble enemies into chickens! BLAM! "Nya-nya-nya-nya-na naa! Now you are a chicken!"
With Cartman's Kick-Ass Sai, the ultimate weapon of destruction, penetrate even the most evil of villains! Harness the fiery sting of the Sai to slash and cut your way through South Park!
Rounding out the Good Times With Weapons Pack is the Samurai Costume. Show off your brute muscle with this bad-ass getup, complete with samurai headgear, a super-sweet cape, and the toughest cardboard armor this side of Takagawa. Suit up, and prepare to unleash the ultimate pwnage.
THQ and Microsoft are proud to announce Xbox 360 exclusive pre-order items for South Park: The Stick of Truth: The Mysterion Superhero Pack. With your Superhero Costume, suit-up as the next South Park superhero! It's the perfect disguise for fighting your mortal enemies and keeping South Park safe!
Also, harness the elusive power of Mysterion with the Mysterion Special Attack! South Park's protector unleashes a deadly combination of stealth and firepower — your enemies won't know what hit them!
Finally, slash the darkness with the diabolical switchblade, the Dagger of Cthulhu! It's the same weapon used to stab and kill Mysterion in the twisted classic episode "Mysterion Rises." And now… the fate of the Cult of Cthulhu lies in your hands!