Magic Mike reportedly features a bit more than Tatum in a G-string.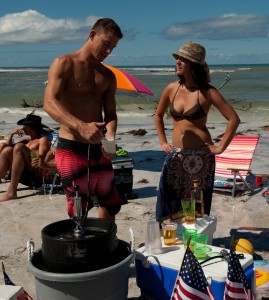 We don't often get into the smuttier side of reporting here at The Geek Generation, but when news is making its way around the internet like crazy concerning someone in the world of celeb-geeks, perhaps we can muck around in the mud too.
Guys: If you're being dragged this weekend to the premiere of Channing Tatum's male stripper-fest Magic Mike, it's most likely because your lady friend wants to see the likes of Tatum, Alex Pettyfer, and Matthew McConaughey shirtless and sporting banana hammocks. Well, at least there's a little something in it for the guys.
Olivia Munn, a target of geek-lust since her days on G4's Attack of the Show, reportedly bears boobs in her first official nude scene (I say "official" because of the leaked photos that hit the internet a few months back). This information has been confirmed by several sites online, most notably NudoGraphy.
Ladies: Don't criticize the reporting. We know you're not going to see Magic Mike for the plot.
Sidenote: Awhile back, Chris Gore sat in with us and talked about working with Olivia Munn on Attack of the Show. We even threw an F/Marry/Kill his way featuring Munn, Sara Underwood, and Alison Haislip. You can hear that conversation here: The Geek Generation – #068 – Chris Gore