This documentary should be watched by every Stan Lee fan, every comic book fan, and every movie fan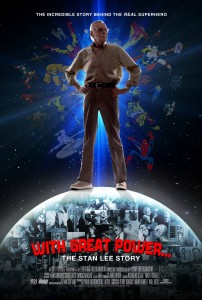 Directed by: Terry Dougas, Nikki Frakes, Will Hess
Starring: Stan Lee and many, many others
Genre: Documentary
If you're browsing around on a site called The Geek Generation, then you already know who Stan Lee is, but how well do you know the man behind the legend? This is the simple question that the 80-minute documentary With Great Power: The Stan Lee Story aims to answer.
The film explores Stan's rise in the comic book industry, from working in an office of just three men, to holding down the fort on his own, and emerging as an innovator who took comics in a new direction while giving birth to Marvel. The path to glory wasn't always a smooth road for "The Man", as Stan reveals in this clip that he had thoughts in the 1960's of quitting the comic book industry before his wife convinced him to try things his way, giving birth to the Fantastic Four.
The famously humble Lee walks the viewer through this rise, providing insightful commentary every step of the way with a touch of humor as only he can. Because Stan can never compliment himself enough, the documentary also features a parade of prominent faces to speak on his behalf, from industry peers such as Dick Ayers, Frank Miller, and Todd McFarlane, to the elite of Hollywood like Bryan Singer, Patrick Stewart, and Nicolas Cage. The different voices along with the motion-comic presentation keep the story flowing in a seemingly effortless manner.
Lee's superhero innovation of focusing on the "man behind the mask" and motivations for creating some of his most famous characters are explored, explaining the "everyman" that is Peter Parker/Spider-Man, the gamma-irradiated monster the Hulk emerging in a time of nuclear fear, and the struggles of diversity and intolerance endured by the X-Men. Through humanizing his characters, Stan truly created that initial bridge of understanding between reader and comic book superhero that helped people identify with these superpowered beings.
Even with the amazing life that he's lead in the comic book industry, the film's most entertaining and heartwarming element is the always-present love story between Stan and his wife of 60 years, Joan. To see them interacting together is to truly understand Stan Lee's character and success as both a husband and father. In every way his female counterpart, he and Joan play and joke together delightfully, and even share their stories of hardship with a sparkle of humor. The energy, adoration, and attitude of the couple is the real stuff of legends.
Bottom Line: This documentary should be watched by every Stan Lee fan, every comic book fan, and every movie fan.
[xrr rating=9/10]
With Great Power: The Stan Lee story is set to air on EPIX as part of its Marvel Heroes Weekend on April 27.