Relativity Media has partnered with Hasbro to develop and produce a live-action film based on Stretch Armstrong.
Relativity Media has partnered with global branded play company Hasbro, Inc. to develop and produce a live-action film based on Stretch Armstrong, the iconic action hero figure launched in the 1970s. The film is targeted for an April 11, 2014 release date.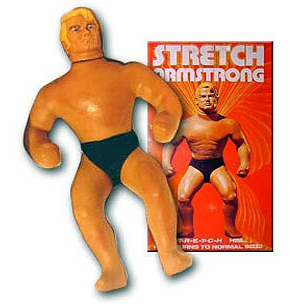 Hasbro has become an entertainment powerhouse by creating hit movies and television shows from its rich portfolio of world class brands. Since 2007, Hasbro's Transformers and G.I. Joe franchises have grossed nearly $3 billion at the worldwide box office. 2012 is shaping up to be another stellar year for Hasbro with its partners Universal Pictures releasing Battleship in April and Paramount Pictures releasing G.I. Joe: Retaliation in June. In television, Hasbro Studios produces shows like Transformers Prime and My Little Pony: Friendship is Magic that can be seen on the HUB television network in the U.S. and in more than 140 countries globally.
Stretch Armstrong is the classic action hero figure first launched by Hasbro in 1976 and re-launched in the 90's, sold successfully throughout North America and in markets across the world. The original Stretch's unique design broke free of traditional action figures, as he could be stretched over and over and always returned back to his original size. The nostalgic toy is considered to be rare and collectible to this day.