Author Geoff Johns and artist Gary Frank give some insight on their vision for Batman: Earth One.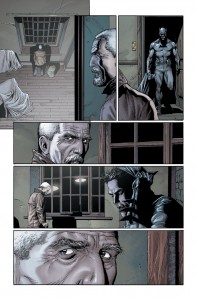 Source: DC Universe: The Source
Batman: Earth One is an original graphic novel which reinterprets the story of The Dark Knight into a modern day setting. Bestselling author Geoff Johns and acclaimed artist Gary Frank haved teamed up to present this new vision of Batman.
"Gary and I are tackling Batman from the beginning, before he knows what he's doing and with a very different ultimate goal in mind," said Johns. "He's never left Gotham. And our Gotham and the people in it are very gray. Our heroes unlikely. Our villains hidden. Our story is only beginning with volume one."
"It's essentially the first piece of the jigsaw," said Frank. "He's not the Batman people know, but he might be one day. He's certainly not yet a superhero. The fun is to watch him piece the persona together drawing on his experiences and the influences of those around him and, at this stage, the idea of becoming a 'superhero' hasn't even entered his head."