The CW is getting closer to a pilot order for a Green Arrow series.
Source: Entertainment Weekly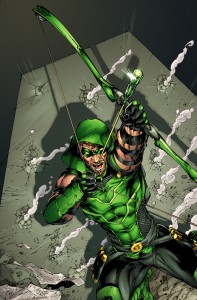 It looks like The CW is getting some of its superhero action back, as news has surfaced saying the network is heading toward a pilot order for a Green Arrow series.
Like Bruce Wayne and Tony Stark, Oliver Queen is a billionaire with an alternate persona. The "Emerald Archer" gets the job done with an assortment of trick arrows which he fires with the precision of Robin Hood.
Fans of The CW's last superhero venture Smallville may remember the character as played by Justin Hartley on the series, who became a regular cast member in later seasons. Unfortunately, it would seem that fan favorite Hartley is not involved in this project at all.
Executive producing and writing duties belong to Greg Berlanti (Brothers & Sisters), Marc Guggenheim (FlashForward), and Andrew Kreisberg (Vampire Diaries, Fringe). Kreisberg has some previous experience with the character, having written on the comic book.