It's time to build a Skyrim guard outfit. Let's start with the shield.
Article by: Hunter Etherington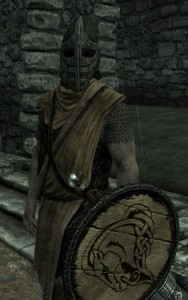 As the new year was approaching I realized I was talking a lot about how much I love DIY projects, but I have never really tried one of my own. So I decided that in the new year I was going to build my own custom costume. While playing Skyrim, I have spent a lot of time using the zoom function in the inventory to examine nearly every item I have picked up. While doing so I noticed that some of the items would be fairly easy to replicate. In particular, the guard outfits seemed like the easiest and would work as a good costume, especially if I placed an arrow in my knee.
So last weekend I started working on the shield portion of the outfit. For anyone who would want to know how to make it themselves I will outline my steps each week.
This is what the shield looks like.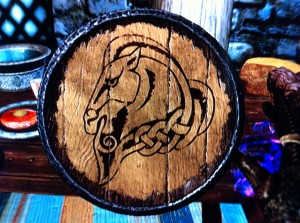 When looking at the shield I realized I could make it with only a few materials that can be picked up at any hardware store.
Materials:
2 Pine boards 6x1x4 feet
wood glue
Tools:
scroll saw or jigsaw
table saw or circular saw
clamps or duct tape
I had previously estimated that the maximum diameter of the shield was going to be around 2 feet. The first thing I did was saw the two boards in half to create four two foot long pieces. When laid out side-by-side it creates a two foot by two foot square. From there, I was walking around my parents' garage trying figure out what was the best way to create the circle I needed to cut out. I found an old garbage can lid which ended up being the perfect size for the final shield so I traced it onto the boards.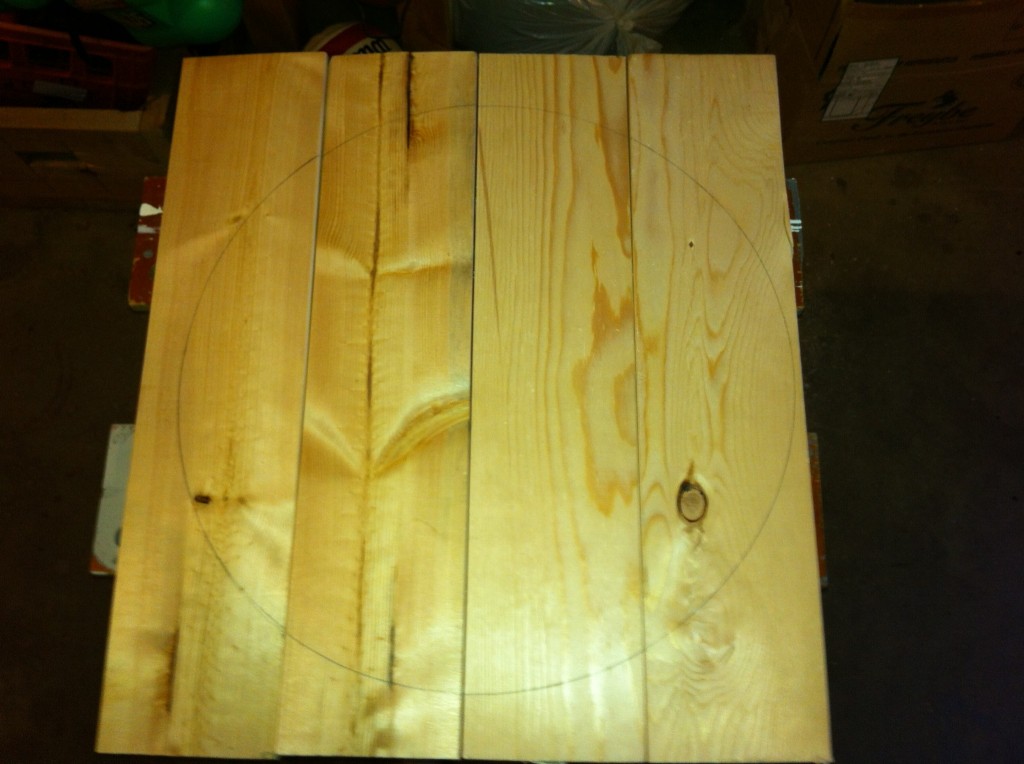 To cut it out I was thinking of using a jigsaw but I found that a scroll saw was much easier to create the shape I needed. It wasn't perfect, but I will be covering the edge eventually anyway.
After the pieces were cut out I had to decide what was the best way to fasten it together while making sure it looked like it's from the game. I found it best to just use wood glue as to avoid any visible hardware. When I started to get ready to glue the pieces together I couldn't find my clamps so I ended up having to use duct tape. It was crude, but it worked really well.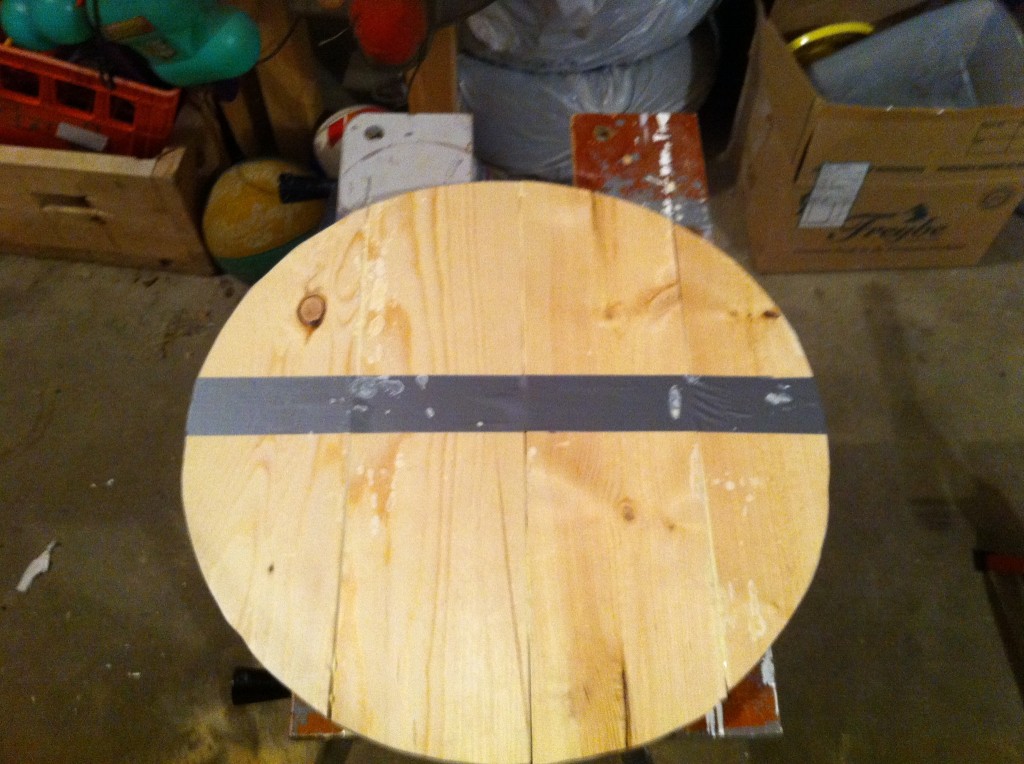 One problem with the duct tape was that the glue application was a lot messier than it would have been with clamps. Because of that I had to spend some extra time sanding and this is how it turned out at the end of the day.
There are a few things I would have done differently. I would have used dowels to help keep the planks together as well as use a table saw to cut the planks in half.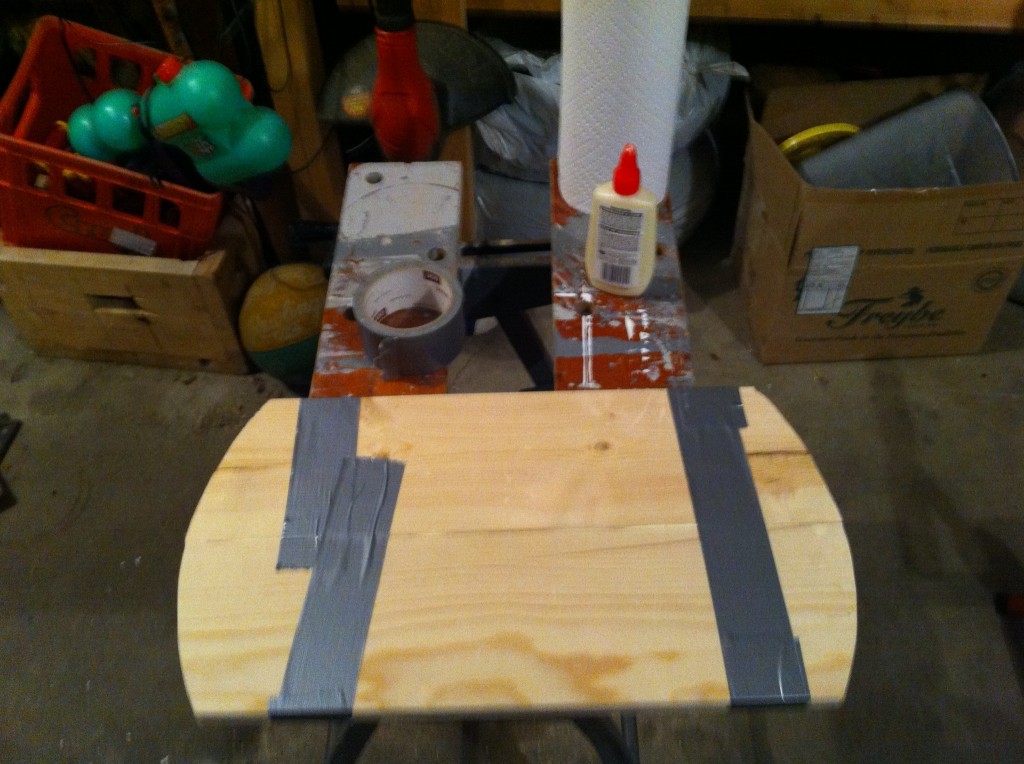 Next weekend I will be distressing the wood and then staining it. If you have any questions about what I did so far, or any suggestions for the next phase of the project, please let me know in the comments below.