Not sure what to buy your geek this holiday season? We've got you covered.
Article by: Boyd
The holiday season is upon us yet again, and let's just say that 2011 has offered many items in the realm of video games, Blu-rays, and graphic novels.With so much to sift through this holiday season, you may be asking yourself: What is the best bang for my buck this holiday season, either for myself or fellow beloved geek? The answer is simple, if you follow our handy guide to all things geekish that have been released from September to late November. We here at The Geek Generation aim to make your holiday shopping as painless and irritant-less as possible. And, maestro, take it away…
Interactive Gaming
This holiday season, gamers with a limited gaming dollar are going to have some hard choices to make. The glut on the market of games this season is so substantial, one could find themselves easily out over $600 playing every A-list title that has been released. With that said, let's delve a little deeper into the cream of the crop, and distill some of what I consider to be the banner titles, the must-plays of this Holiday season.
Batman: Arkham City (PS3/360)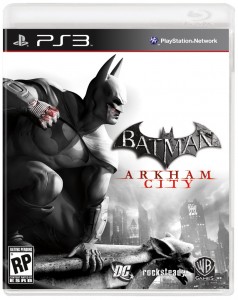 Rocksteady studios has produced nothing short of the BEST superhero licensed video game of all time. A loft claim, I know. But Arkham City really does what a sequel to a former game of the year should; it builds upon the foundation of an already great game, and gives the player a more expansive world to play in. Truly a "sandbox" Gotham, Batman can grapnel, batarang, shock, and explosive gel his way through hordes of criminals trapped in the now penitentiary lie Arkham City. Think Escape from New York in Gotham! A vastly improved freeflow combat system makes combat a breeze after the half hour learning curve. Add in a bevy of side missions, over 400 plus collectibles, an improved challenge mode, unlockables, DLC available already… Riddle me this: Need I say more? Tack on (if you can score one) the Collectors Edition, and you definitely get an all-encompassing Batman experience with a Kotokubiya statue, Gotham Knight on Blu-Ray (for PS3 only), 2 DLC codes for a Challenge Map and alternate costume, and Arkham City the Album. That said, Arkham City should be at LEAST in your top 3 for possible game purchases this holiday season. I'm not full of shit. You can quote me on that.
Batman: Arkham City is MSRP $59.99 (Collectors Edition $99.99, or more from a 3rd party seller)
Uncharted 3: Drakes Deception (PS3)
Let's face facts, Hollywood mega action flicks have lost their way these days. Rarely do I go to an action jam and really feel on edge and in the driver's seat. The octane has been let out of the big rig, the gas leaking on the floor with no match to ignite it… As I write this, I am about 36 hours post-completion of Uncharted 3 and I have to say… but I don't know where to start. If you played the previous 2 entries, you were probably amazed at the dialogue, story, visuals, gameplay. Uncharted 3 takes them to a whole new level. Naughty Dog has created visuals that look, as close as possible, to a real film. The writing of the dialogue and storytelling put most Hollywood movie scripts to SHAME. The run and gun, cover based gameplay is still there, and even more intense than every, along with the epic action set pieces. Every moment played, I was on edge. With over 1oo treasures to collect, 4 difficulties, MULTIPLAYER, already announced DLC, a SWEET Collectors Edition with a Sideshow toys Nathan Drake statue, wearable replicas of Drake's ring and belt buckle, a sweet treasure chest style package, and steelcase for the game, Uncharted 3 may be 2011 game of the year. You will FEEL like an action hero, and you will not regret the purchase if you are holding out this holiday season. SIC PARVIS UNUM.
Uncharted 3: Drake's Deception is MSRP $59.99 ($99.99 for Collectors Edition, or more from a 3rd party seller)
The Legend of Zelda: The Skyward Sword (Wii)
As I write, I am staring at my copy I just picked up about an hour and a half ago. As a lifelong Zelda fan, and someone who witnessed the visuals and gameplay at New York Comic Con, Nintendo's final foray into the Zelda franchise (at least for now) is sure to be epic. Boasting the true birth of the Legend, Link goes on a journey to save his childhood friend Zelda in a quest that takes full advantage of the Wii hardware (get out those component cables people for the best visuals!). Nintendo took time to add in great new gameplay elements, including weak spots to be exploited for almost every enemy, Wii motion+ support, where players can finally harness Link's sword swinging powers and acrobatics, and the ability to upgrade nearly all items in the game. Fans can salivate at the fact that each game comes with a symphony soundtrack, as it is Zelda's 25th anniversary. With the Wii's technology at the twilight of its life, fans can relish that it is going out with a bang. Zelda is a definite top pick for this holiday season. Get it with wisdom, power, and courage.
The Legend of Zelda: The Skyward Sword is MSRP $49.99 with a symphony soundtrack (A bundle edition is $69.99 and comes a Wii motion+ remote decorated gold with the Hyrule crest, and soundtrack. May be hard to come by in a few weeks though.)
Gears of War 3 (XBOX360)
Personally, my 360 was gathering dust until September when I picked up Gears of War 3, the final chapter of Marcus Fenix and Delta Squad. We find our hero in the midst of a shitstorm after the end of the last game, with Lambent and Locust running around causing more havoc than ever. We also discover… Adam Fenix may still be alive? That said, and without divulging too much story, Gears of War 3 is probably the last 360 exclusive that warrants a definite purchase. The story comes to a definitive conclusion, and secrets  are revealed, as well as some shocking moments I cannot reveal. Graphically and gameplay wise, the game has improved vastly, especially in the visuals department. They take full advantage of the aging 360 hardware and processors, giving the game a great polish. Once again, Gears of War 3 uses the cover system it pretty much innovated, with epic running, gunning and simple, tactical controls. (Feels more real to me than ANY Call of Duty game.) Tack on the multiplayer, with some new modes, including Beast mode, and you have a complete package for 360 owners. Other editions are available (a limited and epic edition) if you can still find them. Gears has been a defining 360 franchise, and if you have been playing it, complete the journey with this.
Gears of War 3 is MSRP $59.99 (Limited Edition is sold out, but epic edition may be available for $149.99 or more from a 3rd party seller, with a HUGE Marcus Fenix sculpture and the contents of the limited edition included.)
The ICO and Shadow of the Colossus Collection (PS3)
The popularity of the remastered PS2 and PSP game collections such as God of War gave rise to what I consider one of the finest PS2 adventures crafted, Shadow of the Colossus. While I never played Ico on the PS2, it is definitely an experience. Two games that you NEED to have before The Last Guardian is released, are these. The epic, breathtaking scope of Shadow of the Colossus is not to be missed if you didn't experience it on the PS2, with sweeping visuals, an isolated, lone hero on a lone island battling giants. With mysterious storytelling open to interpretation, Shadow of the Colossus is an adventure in every sense of the word. Let's not forget Ico, an adventure, albeit short, that requires the player to think as it does not use any type of tutorial. An old school adventure with a story that is also open to players' interpretation, Ico's puzzles defined PS2 adventure. While it shows its age, the remastered vision is endearing. Couple the games with some XMB themes on disc, and some great behind the scenes interviews and previews of Sony's big time title The Last Guardian,do not miss this HD collection this holiday season, as it is breathtaking in scope.
The Ico and Shadow of the Colossus Collection MSRP $39.99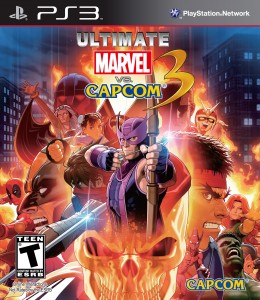 Ultimate Marvel vs. Capcom 3 (PS3/360)
Twelve new fighters. New modes. New DLC skins. Need I say more. Yes, I do… Rocket Raccoon. Firebrand. Nova. Nemesis. Dr. Strange. Phoenix Wright. Ghost Rider. Marvel vs. Capcom 3 returns in the definitive package with all new fighters. If you missed it the first time, now is the time to get it. Heralded as one of the best fighting games of 2011, and containing 2 of my favorite companies, the classic 3 vs. 3 action should provide players hours of fighting experiences on and offline with friends. One for the ages at an unbeatable price, and better than Hawkeye's arrow transporting Ant-Man to crush your opponent.
Ultimate Marvel vs. Capcom 3 MSRP $39.99
Assassin's Creed: Revelations (PS3/360)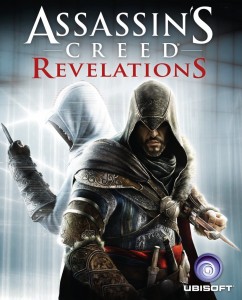 The final chapter for both Ezio Auditore de Firenze and Altair Ibn Al'had comes to a conclusion before Assassin's Creed 3 in a year or two. We find older versions of both Ezio and Altair both fighting the Templar conspiracy menace in Constantinople, in Turkey. Players can expect to play as Altair, Desmond, and Ezio as they uncover another chapter in the conspiracy surrounding the Apple of Eden. New gameplay enhancements such as the hook blade and den defense have been added to the game, and multiplayer returns as well with new characters. PS3 owners get a special installable version of the original Assassin's Creed, obviously taking advantage of the Blu-Ray storage space. Gamestop buyers might still be able to score a signature edition with some cool extras for both systems. If you are a fan of the franchise, and want what is probably a cool addition to the story, pick this one up. It's next on my gaming playlist. Requiescat in pace.
Assassin's Creed: Revelations MSRP $59.99
Honorable Mention:
Metal Gear Solid HD Collection (360/PS3)
A collection of MGS 2, MGS 3, and Peace Walker, originally for the PSP. 100 plus hours of gaming. Need I say more? Metal Gear Solid has been a defining storytelling franchise, and for 50 beans, this one should provide you with a lot of gameplay for a long time.
Blu-Rays
Some great Blu-Rays have been released since September, and here is just a smattering of some of the ones that should be in your stocking:
The Crow starring Brandon Lee and Ernie Hudson, with Michael Wincott
At long last, The Crow flies to Blu-Ray. One of my favorite cult films based on the J. O'Barr graphic novels, the story of Eric Draven, a man murdered only to come back to life on the black wings of his avatar, a crow, to exact vengeance of the evil men who took his life and his fiance's. This was a favorite of mind, even when I first saw it when I was 13 years old. The Blu-Ray release is warranted, and now for a steal you can get it.
The Crow MSRP $19.99
Captain America: The First Avenger starring Chris Evans and Hugo Weaving, with Tommy Lee Jones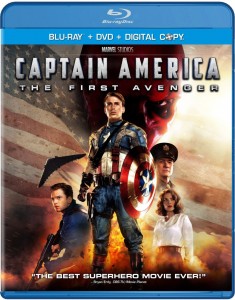 Marvel's final lead-in to next summer's blockbuster The Avengers. A fantastic period piece about young military prospect Steve Rogers, who is injected with a Super Soldier serum to become America's greatest weapon in the fight against Nazism, Captain America. A great cast and screen treatment make this a must-have, especially if you are collecting the whole "Avengers" lead-ins, such as both Iron Man films and our next important Blu-Ray purchase for you tree…
Captain America: The First Avenger MSRP $24.99
Thor starring Chris Hemsworth, Natalie Portman, Tom Hiddleston, with Anthony Hopkins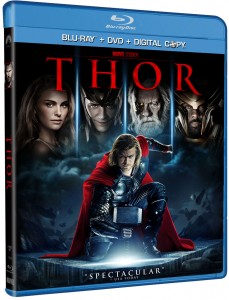 The Mighty Avenger, Thor. Cast down to earth after his arrogance causes a great upheaval in the kingdom of Asgard. Learning to live with humans, and attempting to get his power back, Thor battles Loki and the evil frost giants to save Earth and Asgard. Another superb setup film for The Avengers, with the lesser casually known characters of Thor. Some great casting choices for this one make it essential viewing before next summer when The Avengers assemble.
Thor MSRP $24.99
Batman: Year One starring Bryan Cranston and Ben McKenzie, with Eliza Dushku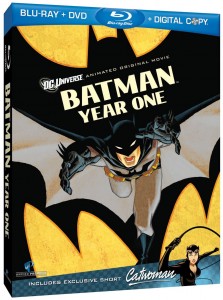 Arguably, the finest DC animated film released. This is an hour long look at the watershed Batman: Year One comic written by Frank Miller. It is a perfect translation from page to screen, and tells of Bruce Wayne's return from the Far East, only to become the masked vigilante we know as Batman. The film also explores the budding relationship between he and a young cop, James Gordon, two men who will eventually work on opposite sides of the law to achieve justice in a corrupt Gotham City. A superb animated piece.
Batman: Year One MSRP $19.99 (with a special Catwoman DC presents short and DVD included)
Graphic Novel MUST-HAVES
With so many being released, it's difficult to figure out what to buy for that comic geek. Here are a few they will definitely enjoy:
Marvel's Venom Vol.1 by Rick Remender and Tony Moore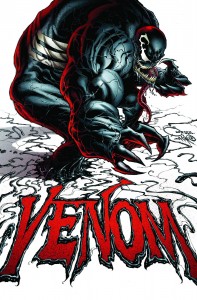 Venom's reboot has been huge for Marvel, as Flash Thompson takes the mantle of Agent Venom, with the symbiote now in the employ of the U.S. government. The story takes Venom on harrowing missions, and an internal struggle of keeping his new life secret from his girlfriend, and struggling with being handicapped after returning home from the war. Rick Remender is a mad genius and if you like Volume One, the comic is on sale monthly from Marvel.
Venom: Volume 1 is MSRP $19.99 (Amazon has it for $13.40 in TPB)
DC's Flashpoint by Geoff Johns and Andy Kubert
The ultimate story arc that lead into the big DC universe reboot. The Flash is caught in an alternate world, where everything is turned upside down. Bruce Wayne died. The Amazons control England. Superman is in a government facility. What the hell is going on? Read Flashpoint and find out if you missed it on comic shelves, as it is essential as we look at our next entry…
Flashpoint is MSRP $22.99
DC Comics: The New 52 Hardcover (released December 13) by Various
Call me hypocritical or blasphemous, but DC sucks. However, even I pre-ordered this oversized hardcover, containing a whopping 1216 pages! Every DC relaunch collected in one bookshelf edition. Some good, some bad, some ugly, some awful, who cares… this edition is a steal and then you can pick and choose what warrants a purchase monthly and what doesn't. This volume should keep you busy at night during your time off this holiday season, and for a week after probably.
DC Comics: The New 52 is up for pre-order now on Amazon for $89.99
Thus concludes our Geekoliday Buyers Guide. Hope everyone has a happy holiday, and you get everything and anything geeky you want this year on your list. And remember, geeks don't die, geeks multiply.