BBC America's General Manager, Perry Simon, has given the green light for five more specials of The Nerdist.
Source: Nerdist
BBC America's General Manager, Perry Simon, has given the green light for five more specials of The Nerdist, based on comedian, writer, Doctor Who fan and web pundit Chris Hardwick's hit Nerdist podcast. The commission follows the successful and buzzed-about pilot hosted by Hardwick, which premiered in September as part of BBC America's comedy block the Ministry of Laughs. The Nerdist will continue to be produced by Nerdist Industries and Comcast Entertainment Studios, with Chris Hardwick, Alex Murray, Jay James, Gary Snegaroff and K.P. Anderson serving as executive producers.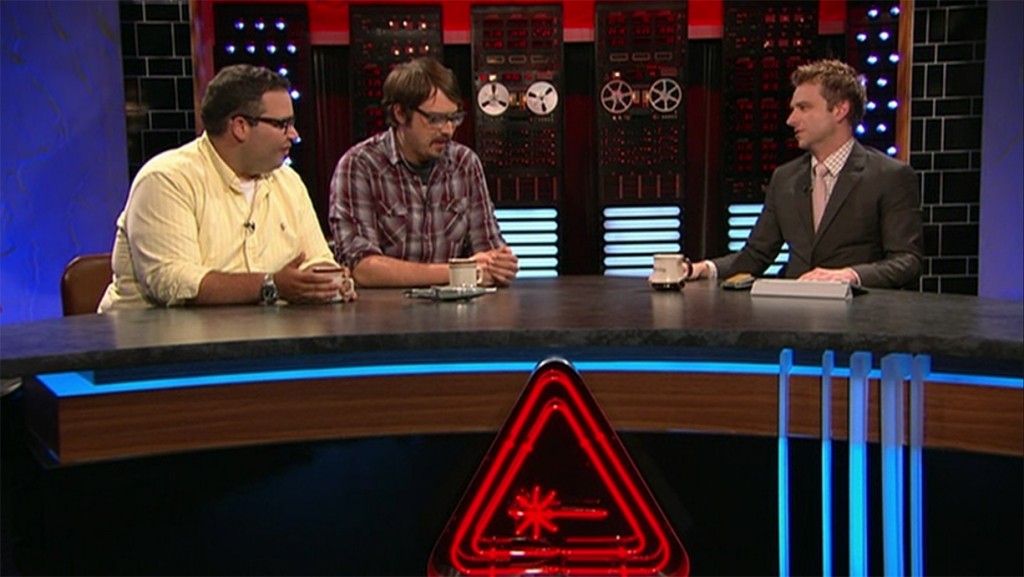 The five specials (2×60 mins.; 3×30 mins.) will air throughout the next year, coinciding with big events for the channel. The Nerdist will feature panelists from LA to London, including celebrity guests, comedians, bloggers, and podcasters, in a comedic roundtable discussion. The first special will premiere on December 24, 9:00pm ET/PT, as a one-hour year-end review of all the things that nerds love from pop culture to tech trends and more.
Perry Simon, General Manager, Channels, BBC Worldwide America says: "The Nerdist pilot, which featured The Doctor, Matt Smith, and Craig Ferguson joining the Nerdist team as guests, earned strong buzz and was an excellent pairing with the midseason premiere of Doctor Who. We couldn't be happier that we will continue working with Chris and are excited that The Nerdist will be a part of our biggest events over the next year."
Chris Hardwick says: "We had mammoth amounts of fun making The Nerdist for BBC AMERICA earlier this year with Craig Ferguson and Matt Smith and can't wait to make more nerdy nerd nerdness in the upcoming specials. I thank BBC America for allowing people to further consume our wee podcast with their eyes."
The Nerdist podcast, named one of the best comedy podcasts by Rolling Stone, is a top 10 comedy podcast on iTunes and has featured guests from Andy Samberg to Jon Hamm to Zach Galifianakis.
The Nerdist joins BBC America's stable of all-new original programming, including new comedy panel show Would You Rather? with Graham Norton premiering December 3 plus Richard Hammond's Crash Course and Copper premiering in 2012.