AMC announced today the renewal of The Walking Dead for a third season.
Source: AMC
AMC announced today the renewal of The Walking Dead for a third season. Season two continues to deliver the strongest telecasts for any drama in basic cable history against adults 18-49 shattering a basic cable record set nearly 10 years ago for a single drama telecast (The Dead Zone). The Walking Dead is based on the comic book series written by Robert Kirkman and published by Image Comics. Glen Mazzara serves as series' showrunner. Kirkman, Gale Anne Hurd, David Alpert and Frank Darabont are executive producers. Greg Nicotero is a co-executive producer.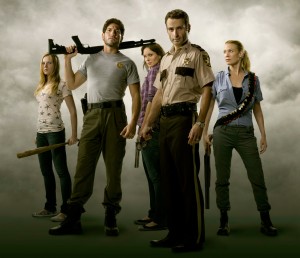 "Today we are pleased to announce that the 'dead' shall live as we proudly renew 'The Walking Dead' for a third season on AMC and, globally, with our terrific partners at Fox International Channels," said Charlie Collier, AMC's President. "We are thankful for everyone's contribution in front of and behind the camera as we continue to make 'The Walking Dead' a unique television experience. And, we are so proud as it continues to set viewership records around the world."
The Walking Dead secured a 2010 Golden Globe nomination for Best Television Series – Drama and won the 2011 Emmy Award for Outstanding Prosthetic Makeup. The series tells the story of the months and years that follow after a zombie apocalypse. It follows a group of survivors, led by police officer Rick Grimes, who travel in search of a safe and secure home.
The Walking Dead received rave reviews from countless critics, both domestic and international, who heralded the series as "above all else, The Walking Dead hasn't lost the most important ingredient in its strangely successful recipe: it's thrilling" (The Hollywood Reporter), "…with Dead's riveting cast of characters, the personal dynamics are almost as potent as the gory thrills" (Us Weekly), "The Walking Dead is a feast. Dig in." (The Guardian, UK), "It doesn't even take three minutes to realize that this series is setting standards" (Der Tagesspiegel, Germany).