The CG Animated 'Beware the Batman' will join DC Nation on Cartoon Network in 2013.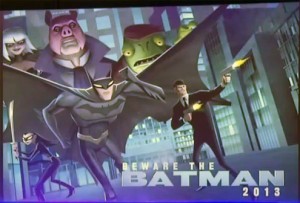 Warner Bros. Animation executive vice president for creative affairs Sam Register announced recently at the MIP Junior conference that the next Batman animated TV series will be titled Beware the Batman. The CG animated show will be part of the DC Nation block that's coming to Cartoon Network in 2012, although Beware the Batman won't be joining the party until 2013.
The series will feature a classic-looking Batman teaming up with a gun-toting Alfred Pennyworth and a female ninja sidekick named Katana. Register also added that the series will explore the mythology's more obscure villains, such as Professor Pyg, but also won't shy away from featuring some of the more well-known Batman foes.
While Katana will be filling the sidekick role in the show, Register also said, "Katana is gonna be his new Robin, but not necessarily."
To listen to the Beware the Batman portion of the keynote, use this link.