Here is a look at the second month of the new DC Comics Reboot 52 Titles, with their covers and descriptions. All titles are on sale in October.
credit: Newsarama.com
Here is a look at the second month of the new DC Comics Reboot 52 Titles, with their covers and descriptions. All titles are on sale in October.
Justice League #2 by Geoff Johns and Jim Lee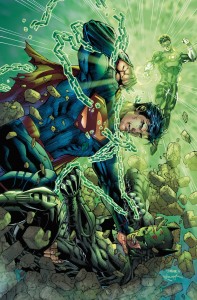 What happens when the World's Greatest Detective takes on the world's most powerful alien? You'll find out when Batman and Superman throw down. Batman will need all his intellect, cunning and physical prowess to take on The Man of Steel.
Justice League International #2 by Dan Jurgens and Aaron Lopresti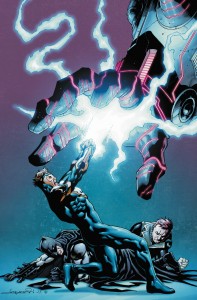 The United Nations' new international team of heroes must learn to work together – and fast – if they're going to discover the mystery behind the giant alien Signalmen who are appearing all over the globe. Can Booster Gold lead his team to victory, or will they fall?
Aquaman #2 by Geoff Johns and Ivan Reis
An entire town…devoured! As Aquaman and Mera discover the grisly truth behind a town's disappearance, the Trench infestation spreads inland! Plus: Another gruesome Trench power revealed – and it's not for the squeamish!
Wonder Woman #2 by Brian Azzarello and Cliff Chiang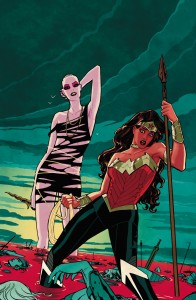 Hera, Queen of the Gods, does not take her vengeance lightly – and if Wonder Woman is so foolish as to stand in the way of her whim, then Wonder Woman is her enemy. But it's Hera's daughter Diana should truly fear – the goddess of discord is coming to Paradise Island, and murder always follows in her wake!
The Flash #2 by Francis Manapul and Brian Buccellato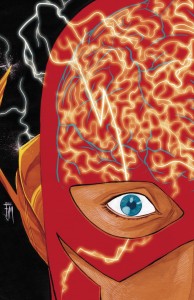 The Fastest Man Alive learns he can make his brain function even faster than before – but as much as it helps him, it also comes with a steep price. Plus: The mystery behind Barry Allen's friend Manuel Lago deepens as Barry investigates his kidnapping at the hands of Mob Rule!
Captain Atom #2 by J.T. Krul and Freddie Williams II
Losing control of his powers, unable to stop the sensory overload in his mind, Captain Atom wants nothing more than to find a quiet place to regroup. But how can he shut out the signals floating in the air – especially when they're crying out for help?
The Fury of Firestorm #2 by Gail Simone and Ethan Van Sciver and Yildiray Cinar
Three innocent high school kids are caught in the crosshairs of an international special forces team with orders to murder them in cold blood…until two of those teenagers summon the terrifying, living nuclear monstrosity known as the Fury of Firestorm! Do not miss this disturbing look into the future of super powers in the DC Universe!
Mister Terrific #2 by Eric Wallace and Gianluca Gugliotta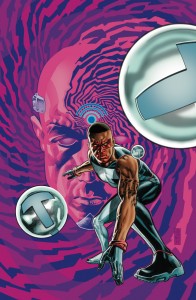 An electrifying new villain joins the DCU! Meet Brainstorm, the man determined to bring Los Angeles to its knees – beginning with billionaire Michael Holt. But even if he can break this new enemy's hold on an unsuspecting city, how can Mister Terrific defeat a foe even smarter than himself? Luckily, the last time he faced a problem he couldn't solve, he perfected infinite fractal mechanics!
Green Arrow #2 by J.T. Krul and Dan Jurgens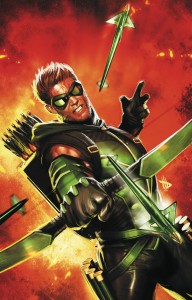 Super Hero executions will now be televised! After taking down members of a "celebrity" gang – privileged, decadent teens who buy their powers and stage fights with unsuspecting victims – Green Arrow finds himself in the crosshairs of the entire team! It's Ollie Queen vs. a dozen thrill killers while the world watches – live!
The Savage Hawkman #2 by Tony S. Daniel and Philip Tan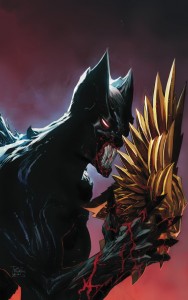 When the alien creature known as Morphicius starts draining the life force from Carter Hall, a.k.a. Hawkman, he learns that there's more to his new victim than meets the eye. The mysterious properties of the Nth Metal protect Hawkman – but in the process, they are also making Morphicius powerful! With innocent lives in the balance, can Hawkman turn the table on his enemy, or are Morphicius newfound powers too powerful to stop?
DC Comics Presents #2 by Paul Jenkins and Bernard Chang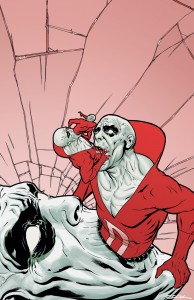 Ever since he died and became Deadman, Boston Brand has served the deity known as Rama Kushna, inhabiting bodies to complete missions that she dictates. But for the first time, Deadman may have a clue how to gain some control over his "life." But the cost may be the souls of the bodies he inhabits!
Action Comics #2 by Grant Morrison and Rags Morales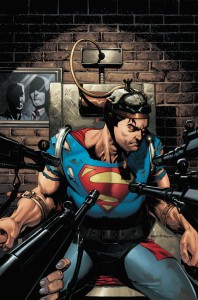 In his weakest moment, Superman is taken down – but by whom? And if the world wasn't ready for a man with super powers, they're utterly unprepared for the rage of a Superman cornered! The cornerstone character of the new DCU continues his debut adventure!
Superman #2 by George Perez and Jesus Merino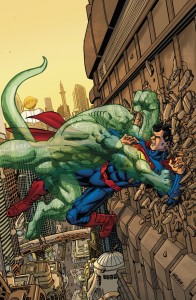 The all-new adventures of Superman continue! Everyone can see the new villain who's attacking Superman – except The Man of Steel! How can he stop a threat that none of his super-senses can detect? Meanwhile, a Daily Planet reporter starts digging up some dirt on Superman, including a secret that could ruin him forever!
Superboy #2 by Scott Lobdell and RB Silva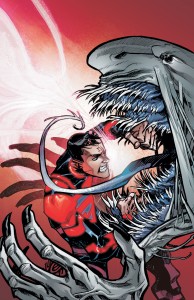 Project N.O.W.H.E.R.E. has put a lot of effort into creating their Superboy, and they intend to make sure he performs to their standards. And what better opportunity for him to demonstrate his raw power than to throw him into an alien prison riot? Good luck, Superboy… you're going to need it!
Supergirl #2 by Michael Green and Mike Johnson and Mahmud Asar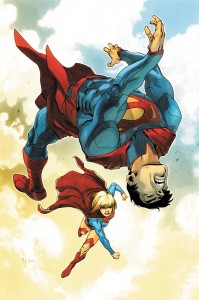 Get ready for a super-smackdown as Supergirl fights her cousin, The Man of Steel! What could cause these two to come to blows? Can the teenage Supergirl hold her own against the adult Superman? Well, let's just say she's got a trick or two up those fancy new sleeves of hers…
Batman #2 by Scott Snyder and Greg Capullo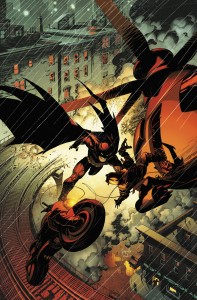 Bruce Wayne is back in the cowl, hunting a new and deadly killer in Gotham City – a killer with a vendetta against Bruce Wayne! But who is this mysterious killer in an owl skull mask? And is he the key to unlocking one of Gotham's oldest and most terrifying secrets? Be there for
their first brutal encounter!
Detective Comics #2 by Tony S. Daniel and Ryan Winn
Batman sets his sights on the Gotham Ripper, who in turn has his sights on Batman. Meanwhile, Bruce Wayne explores a budding romance with television journalist Charlotte Rivers, who's visiting Gotham City to cover the gruesome slayings – while also trying to uncover Bruce's own mystery. But time is running out as both Commissioner Gordon and Batman work to uncover the true identity of this new serial killer.
Batwing #2 by Judd Winick and Ben Oliver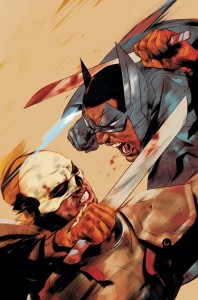 He is called Massacre, and he brings death. What does the soldier in service of Batman Incorporated do when he's met his match? When he's been brought so low and been wounded so badly? What does he do when lost Super Heroes begin turning up as victims? Batwing fights back!
Batman: The Dark Knight #2 by Paul Jenkins and David Finch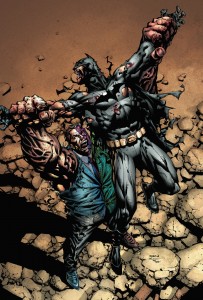 Something sinister surges through Arkham Asylum, and Batman finds himself bombarded by his greatest foes in this second sensational issue from superstar creator David Finch!
Bigger, meaner, and more powerful than ever before, the inmates of Arkham Asylum run rampant as the entire Bat Family struggles to keep the walls from falling down, unleashing Gotham City's worst criminals on the unsuspecting population. And you won't believe the jaw-dropping final page! Just keep repeating, "It's only a comic book. It's only a comic book…"
Batman and Robin #2 by Peter Tomasi and Patrick Gleason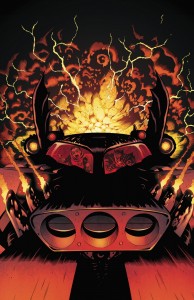 Batman's fears about Robin's tendency to dish out more pain than necessary are growing! And who is the man named NoBody, visiting Gotham City to say hello to his old friend Bruce Wayne and find out where he went wrong in his battle against crime.
Batgirl #2 by Gail Simone and Ardian Syaf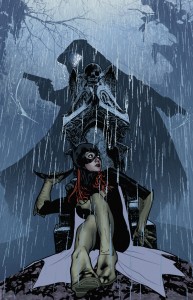 The nightmare-inducing brute known as Mirror is destroying the lives of Gotham City citizens seemingly at random, and an explosive confrontation between Batgirl and Mirror leads Babs to question wearing the cape and cowl at all!
Batwoman #2 by J.H. Williams III and W. Haden Blackman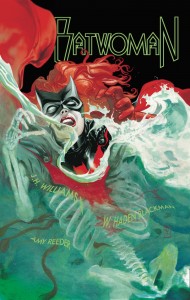 Horror! A terrifying new villain stalks the innocent children of Gotham City! Intrigue! A threatening government agency is hot on Batwoman's trail. Romance! Kate Kane's new relationship is heating up!
Can Batwoman stop the new evil rising from the damp back alleys of Gotham's barrios? And overcome the many challenges she faces as both Batwoman and Kate Kane? 2011's most anticipated new series intensifies in this exciting second issue!
Nightwing #2 by Kyle Higgins and Eddy Barrows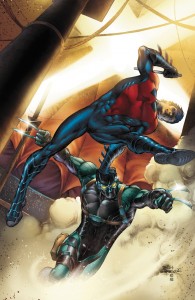 When a mysterious assassin targets Dick Grayson, Nightwing must work fast to uncover the killer's plot before he strikes again. But as Haley's Circus continues to perform in Gotham City, Dick finds himself torn between two lives: His old one as a circus performer and his new one as a Super Hero. And they may be more connected than he ever realized!
Red Hood and the Outlaws #2 by Scott Lobdell and Kenneth Rocafort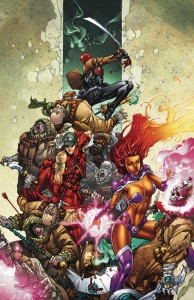 Red Hood is already globe-trotting in an effort to find the ancient assassins behind the slaughter of those who taught him some of his darkest skills… and if Roy and Kori are going to be of any help, well, they'll just have to tag along – whether Jason wants them to or not!
Birds of Prey #2 by Duane Swierczynski and Jesus Saiz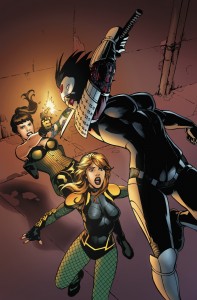 An explosion in a secure Gotham City airport terminal hurls Black Canary and Starling headlong into a nightmare involving stolen pharmaceuticals, terrorists for hire and killers in stealth suits who can appear – and disappear – at will. When Canary calls in backup, Starling's not so sure a vengeful samurai who talks to her dead husband in a sword is the best choice.
Catwoman #2 by Judd Winick and Guillem March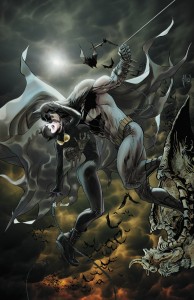 She's a thief who lives to steal just for the thrill of breaking the law. He's The Dark Knight, obsessively driven to battle evil with every ounce of his strength. They should keep each other at arm's length, but…they just can't seem to help themselves! Don't miss this issue – things are gonna get messy!
Green Lantern #2 by Geoff Johns and Doug Mahnke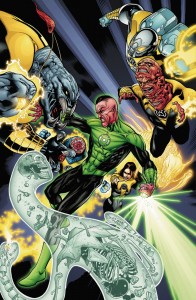 Renegade Green Lantern Sinestro sets a course for Korugar with one purpose: To free his homeworld from the scourge of… The Sinestro Corps?!
Green Lantern Corps #2 by Peter Tomasi and Fernando Pasarin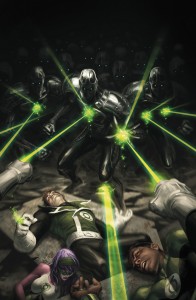 Guy Gardner and John Stewart lead a squadron of Green Lanterns to fight a mysterious force that is marching across the space sectors and devouring not only their natural resources but their entire populations. Worst of all, those responsible have a vendetta against the Green Lantern Corps!
Green Lantern: New Guaradians #2 by Tony Bedard and Tyler Kirkham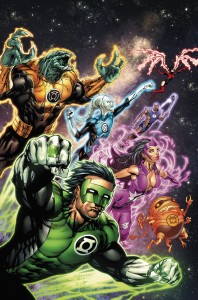 By their rings betrayed! Who – or what – has the might to tear power rings from each of the seven Lantern Corps, murdering their former bearers in the process? And why have the rings all chosen Kyle Rayner as their new master? As members of each Corps target Kyle for death, we learn more about the shocking fate of Ganthet!
Red Lanterns #2 by Peter Milligan and Ed Benes
On a war-torn world where invading forces fight insurgent forces, the innocent always suffer the most. When a child screams with red-hot rage at the madness around her, she is answered by her weapon of retribution: Atrocitus.
Justice League Dark #2 by Peter Milligan and Mikel Jannin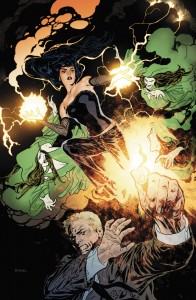 Madame Xanadu continues guiding the world's darkest heroes in their struggle against evil. But will John Constantine, Zatanna, Shade the Changing Man and the others be able to join forces in time to defeat the dangerous Enchantress before she destroys the world as we know it?
Swamp Thing #2 by Scott Snyder and Yanick Paquette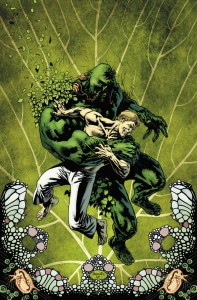 Alec Holland thought he knew the history of the Swamp Thing – but he was wrong. The creature's roots run deeper than he knows, and the Parliament of Trees intends to make him understand the responsibility he wants so desperately to avoid! With this issue, the mythology of the Swamp Thing branches out in ways you never saw coming – don't miss it!
Animal Man #2 by Jeff Lemire and Travel Foreman
Maxine's new abilities continue to terrify Ellen and Buddy Baker, and things take a turn for the worse as Buddy begins a startling transformation of his own that will lead him on a journey into the heart of The Red. Meanwhile, The Hunters Three arrive on Earth and set their sights on the Baker family. The Hunt is on as DC's most surprising new series continues to take ANIMAL MAN in shocking new directions.
Frankenstein: Agent of S.H.A.D.E. #2 by Jeff Lemire and Alberto Ponticelli
It's all-out war as Frankenstein and his new field team, The Creature Commandos, uncover an age-old conspiracy at the heart of Bone Lake – one that will see them suit up as the world's first "Necronauts," traveling between worlds and through "dead space," toward the mysterious Monster Planet. Meanwhile, the horrifying origins of the Commandos are revealed – and the S.O.M.B.I.E. makes its first appearance!
Resurrection Man #2 by Dan Abnett and Andy Lanning and Fernando Dagnino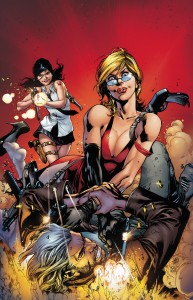 Mitch Shelley's past remains a mystery. So when he goes looking for answers, will he find them? Not likely, when he has to contend with the bounty hunter femme fatales known as The Body Doubles.
I, Vampire #2 by Joshua Hale Fialkov and Andrea Sorrentino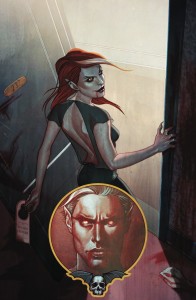 True love becomes divine hatred between the Queen of Blood and Andrew, as her vampires begin their attacks across the country. Their past behind them, they find themselves ready to battle to the death… If those feelings really are all gone. Surrounded by swarms of bloodthirsty vamps, Andrew must confront his immortal beloved in a blood-soaked battle he can't win.
Demon Knights #2 by Paul Cornell and Diogenes Neves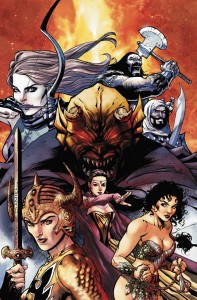 The siege that will reverberate through history to the present-day DCU begins as the Demon Etrigan and his unlikely lover, Madame Xanadu, face the Horde! What five (mostly) noble souls would be crazy enough to join them? The cover gives but a hint, and the point could well be moot by the time this issue's done. For the Horde is armed with the magic of Mordru – including some decidedly different dragons!
Stormwatch #2 by Paul Cornnell and Miguel Sepulveda

The moon is alive! Following the events of SUPERMAN #1 where XXXXXXX, the covert team of sci-fi Super Heroes known as Stormwatch must not only battle the Earth's moon, but find a way to hide its monstrous metamorphosis from the rest of the Earth! How? Uh, they're working on it. Meanwhile, the recruitment of Midnighter goes poorly, and we learn why the Martian Manhunter is a member of the team.
Deathstroke #2 by Kyle Higgins and Joe Bennett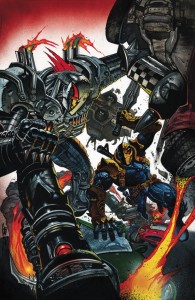 Deathstroke's tactical prowess is put to the test when the man who hired him attempts to renege on the contract. Pitted against a salvo of new assassins, including the vicious Road Rage, Slade must take his giant sword to the 405 freeway and proclaim himself the most vicious killer in the city of Angels!
Grifter #2 by Nathan Edmundson and Cafu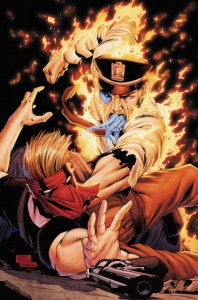 The police are looking for him. Government operatives are hunting him down. And Cole Cash can hear the voices of an alien race in his head. Escaping New Orleans will require quick thinking and a violent streak straight out of Cole's Special Operations background – and just like that, his life will be turned upside down, figuratively as well as literally.
Suicide Squad #2 by Adam Glass and Federico Dallachio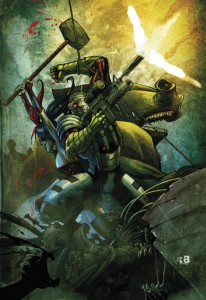 80,000 ordinary people vs. the Squad! Well, they're not really "people." Not anymore. With an entire sports stadium on lockdown following the outbreak of an unknown virus, Deadshot, Harley Quinn and the rest of the Squad must sneak past a military perimeter and fight their way through the infected to retrieve… "it." What is "it"…? Brace yourself for a stomach-churning reveal as the most brutal version of the Suicide Squad soldiers on! Plus: Bring a body bag – it's the team's first Squad fatality!
Voodoo #2 by Ron Marz and Sami Basri
Is she a hero? Is she a villain? Voodoo is on the run in the new DC Universe, trying to stay one step ahead of her pursuers, using all of her considerable skills to complete a mission that will put the entire Earth in danger. DC's sexy, edgy new series goes into overdrive with one of the most unexpected opening scenes ever!
O.M.A.C. #2 by Dan Didio and Keith Giffen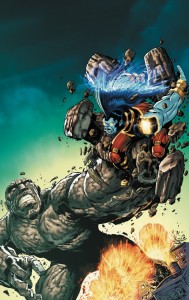 Brother Eye gives Kevin Kho the ground rules to their new "arrangement." New players are introduced to the game as Sarge Steel and Checkmate begin their hunt for the One Machine Army Corp, but O.M.A.C.'s appearance may be short-lived when he faces the incredible threat of Rocker Bonn, the Amazing Man!
Men of War #2 by Ivan Brandon and Jonathan Vankin and Tom Derenick and Phil Winslade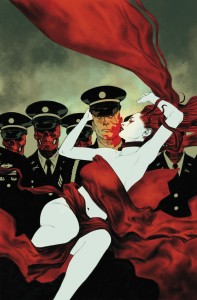 In the split second after a heavy-weapons blast the air goes silent and still, just as it does in the ghostly realm of Circe. How will Rock and his team of men – battle-hardened, but still human – survive a villainess who can walk on the very wind?
Plus, Navy Seals Ice and Tracker go where no boots are on the ground, but when their mission is compromised, how will they tell friend from foe?
Blackhawks #2 by Mike Costa and Graham Nolan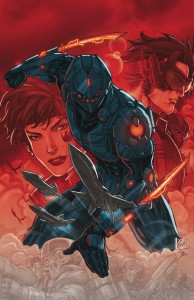 While the Blackhawks deal with a potential public exposure, Lady Blackhawk is keeping dangerous secrets of her own! And the first clues of a vast conspiracy throughout the DC Universe begin to take shape. The action ratchets up for DC's newest team of high-tech military operatives.
All-Star Western #2 by Justin Gray and Jimmy Palimotti and Moritat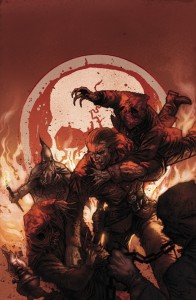 What happens when a psychologist and a sociopath have to work together to track down Gotham City's first serial killer? They'll soon find that crime in the big city runs deeper than its foundations, and it's all mapped out in the mysterious Crime Bible – that is, if they don't kill each other first.
Plus: No zombie is safe in the Wild West when Lazarus Lane summons the demon known as El Diablo!
Teen Titans #2 by Scott Lobdell and Brett Booth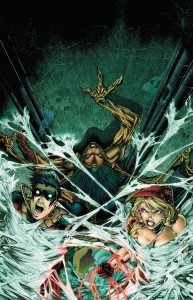 A strange creature haunts the streets of Los Angeles… and because of this creature's age, both Red Robin and N.O.W.H.E.R.E. are racing to find her – but neither side is prepared for the horror known as Bugg!
Meanwhile, Superboy is on a collision course with the team, and Kid Flash plots his escape from N.O.W.H.E.R.E. with the most unexpected of allies!
Static Shock #2 by John Rozum and Scott McDaniel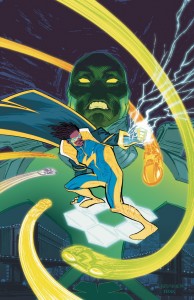 Static finds himself the target of dark forces as Virule and the Slate Gang unleash their deadly trap! Will Static's debut end before it has even started?
Blue Beetle #2 by Tony Bedard and Ig Guara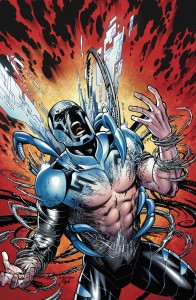 Jaime Reyes was trying to save his best friend when an alien weapon attached itself to his spine. Now, if he wants to live to see tomorrow, Jaime must defeat a team of Super-Villains who want the weapon for more nefarious purposes.
Hawk & Dove #2 by Sterling Gates and Rob Liefeld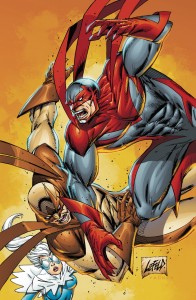 Hawk and Dove continue their investigation of the enigmatic Alexander Quirk! Who is he? What does he want? A secret laboratory might hold the answers, but it might also spell the end for Hawk and Dove! To top things off, the monster watching our heroes from the shadows finally makes his move – and he's got a terrifying new partner!
Legion of Super-Heroes #1 by Paul Levitz and Francis Portela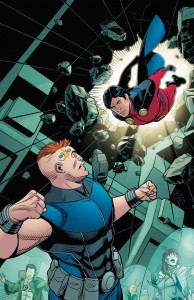 Taken hostage on a hostile world, the Espionage Squad is outmatched by a rebel leader that only one Legionnaire could possibly stand against – but Legion leader Mon-El may be outgunned as well! And just what does Brainiac 5 see in Glorith's magic that could be a game changer for the Legion?
Legion Lost #2 by Fabian Nicieza and Pete Woods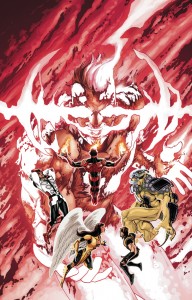 Trapped in time with two teammates already dead and unsure if they're infected or can ever return home, the lost Legionnaires must confront the horrific reality about the pathogen released by the terrorist Alastor when they are forced to confront the very first Hypersapien!