The Black Dynamite cartoon pilot has officially been released online.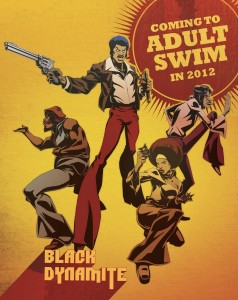 The Black Dynamite cartoon isn't set to premiere on [adult swim] until Spring 2012, but the pilot has officially been released online in its entirety for you to enjoy.
The premise for the pilot episode:
In this unaired pilot for the upcoming Black Dynamite series, our ass-kickin-friend-of-the-community Black Dynamite takes on his childhood mentor and surrogate father: That Frog Kurtis, a Puppet TV educator turned super villain!
Based on the 2009 feature, Black Dynamite further chronicles the exploits of the central character, ex-CIA agent and full-time ladies man Black Dynamite, and his crew as they avenge the death of Black Dynamite's brother against kung-fu masters, drug-dealing pimps and The Man and his crew. Spearheaded by Carl Jones (The Boondocks), the series features the voices of Michael Jai White, Tommy Davidson, Kym Whitley and Byron Minns, all of whom starred in the feature.
UPDATE: You can now watch more episodes on Amazon.
UPDATE #2: The pilot video is no longer embeddable, but can be watched for free on Adult Swim's website.