Super 8 is a nostalgic trip through time, mixing J.J. Abrams' brilliant storytelling with the feel of a Spielberg classic.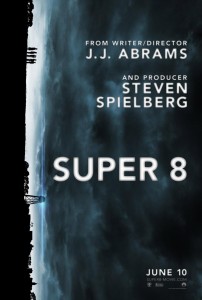 Directed by: J.J. Abrams
Starring: Joel Courtney, Kyle Chandler, Elle Fanning
Rating: PG-13
Genre: Mystery / Sci-Fi / Thriller
[audio:https://www.podtrac.com/pts/redirect.mp3/www.thegeekgeneration.com/podcast/reviews/movies/movie-review-super-8.mp3]
Super 8 is the latest project from producer Steven Spielberg and writer/director J.J. Abrams. Not only is this the title of the movie, but it's also what originally connected the two men, as one of Abrams' first jobs in the film industry was restoring some of Spielberg's old Super 8 films.
If you haven't heard of J.J. Abrams before, you'd better learn the name. Not only he is responsible for directing 2009's Star Trek, but he was also the initial writing force behind the mystery-based TV shows Fringe and LOST. Character-driven mystery stories are where Abrams excels, and Super 8 is no different. Set in a small town in Ohio, the story centers around a group of kids with a passion for making movies. One night while filming, their Super 8 camera captures a train wreck behind them. Following the wreck, the military shows up, while strange events start occurring in town. Electricity flickers on and off, people are missing, and all the town's dogs have run away. Deputy Jack Lamb (Kyle Chandler) suspects a military cover-up of whatever is causing these mysterious events. Meanwhile, his 12-year old son Joe (Joel Courtney), who witnessed the crash, leads his movie-making group of friends on an investigation of their own.
As always, Abrams tells a story driven by the characters. While the mystery remains the driving force of the plot, the relationships between the kids, as well as their relationships with their parents, are the true focus of the film. Joe is coping with the recent loss of his mother and a workaholic father who is growing more distant as a result. At the same time, he's developing a bond with Alice (Elle Fanning), who on her first night of shooting with the group also witnessed the crash. Instead of revealing much more of the plot, I'll leave it for you to experience on your own.
As a character-driven movie, the performances had to be up to par to make it a success. Newcomer Joel Courtney shines in the role of Joe Lamb, who is only one of many great child actors to fill the cast. Continuing to impress is Elle Fanning, who's career I've been admiring since her touching performance in Phoebe in Wonderland. The remainder of their friends aren't starved for personality either, as one loves to play with fireworks, while another fancies himself a budding director.
It's not too often I talk about the score of a movie, but the music in Super 8 is worth mentioning. Aside from the bicycle-riding, flashlights in the dark, and other Spielbergian visuals, the score is perhaps the largest cog of the nostalgia machine, feeling very reminiscent of early 80's classics like E.T. or Back to the Future.
Bottom Line: Super 8 is a nostalgic trip through time, mixing J.J. Abrams' brilliant storytelling with the feel of a Spielberg classic.
[xrr rating=10/10]