All 52 of DC's rebooted #1 covers have been revealed.
Credit: Newsarama, DC Universe: The Source
As noted before, starting on August 31st with the ending of Flashpoint and the launch of Justice League #1, the entire DC Comics Universe will be rebooted with 52 #1's with redesigned costumes and major changes. Here are the 52 titles, their creative teams and the premises:
–Action Comics #1 written by Grant Morrison and art by Rags Morales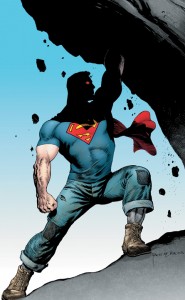 "A new era of DC Comics begins as the longest-running monthly comic of all time releases its first issue #1 since 1938. This September, New York Times bestselling writer Grant Morrison (ALL-STAR SUPERMAN) joins with sensational artist Rags Morales to bring you tales of The Man of Tomorrow unlike any you've ever read before in ACTION COMICS #1. This momentous first issue will set in motion the history of the DC Universe as Superman defends a world that doesn't trust their first Super Hero. The first Action Comics #1 is now the most sought-after comic book of all time. This September, one of comics' most imaginative storytellers will make history again in Grant Morrison and Rags Morales' ACTION COMICS #1."
–Superman #1 written by George Perez and drawn by Jesus Merino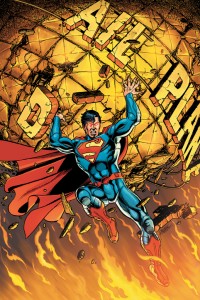 "What is Superman's startling new status quo? How does it affect his friends, loved ones and his job at The Daily Planet? Find out in SUPERMAN #1, written by legendary comics creator George Perez (CRISIS ON INFINITE EARTHS, NEW TEEN TITANS and WONDER WOMAN) and illustrated by Jesus Merino."
–Supergirl #1 written by Michael Green and Mike Johnson with art by Mahmud Asrar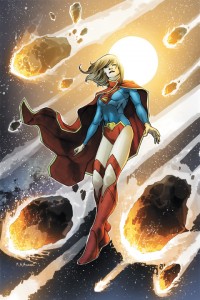 "Supergirl's got the unpredictable behavior of a teenager, the same powers as Superman and none of his affection for the people of Earth. Writers Michael Green and Mike Johnson (Smallville, SUPERMAN/BATMAN) will team up with artist Mahmud Asrar to give a new take on the teenager from Krypton in SUPERGIRL #1."
–Superboy #1 written by Scott Lobdell with art by R.B. Silva
"They thought he was just a failed experiment, grown from a combination of Kryptonian and human DNA. But when the scope of his stunning powers was revealed, he became a deadly weapon."
–Justice League #1 written by Geoff Johns and art by Jim Lee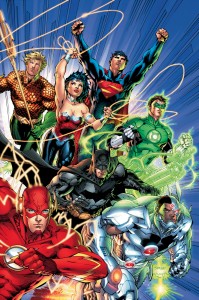 Geoff Johns and Jim Lee's Justice League will begin its first year with an "updated secret origin reflecting DC's new initiative, giving the group a reason for coming together that it lacked when the league first appeared in 1960."
The team will ultimately boast 14 members, with the iconic core of Superman, Batman, Wonder Woman, The Flash, Green Lantern and Aquaman.
–Wonder Woman #1 written by Brian Azzarello and art by Cliff Chiang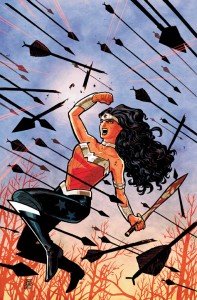 "New York Times bestselling writer Brian Azzarello, author of The Joker and 100 Bullets, teams up with the immensely talented artist Cliff Chiang (Neil Young's Greendale) for WONDER WOMAN #1, an exciting new series starring the DC Universe's greatest superheroine."
–Aquaman #1 written by Geoff Johns and art by Ivan Reis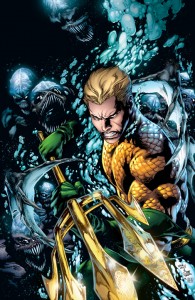 "Geoff Johns, one of comics' greatest storytellers, reunites with GREEN LANTERN and BRIGHTEST DAY collaborator Ivan Reis to bring you a thrilling new take on the fan-favorite hero of the sea in AQUAMAN #1."
–The Flash #1 written and art by Francis Manapul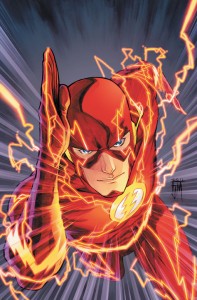 "Rising superstar Francis Manapul, fresh off his acclaimed run on THE FLASH with Geoff Johns, makes his comics writing debut in THE FLASH #1, sharing both scripting and art duties with Brian Buccellato. The Flash knows he can't be everywhere at once, but what happens when he faces an all-new villain who can? "
–The Fury of Firestorm #1 written by Ethan Van Sciver and Gail Simone with art by Yildiray Cinar
"Welcome to a major new vision of the Nuclear Man as writers Ethan Van Sciver and Gail Simone team up with artist Yildiray Cinar to deliver THE FURY OF FIRESTORM #1. Jason Rusch and Ronnie Raymond are two high school students, worlds apart – and now they're drawn into a conspiracy of super science that bonds them forever in a way they can't explain or control."
–The Savage Hawkman #1 written by Tony Daniel and art by Phillip Tan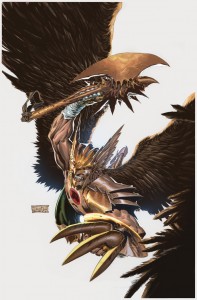 "Batman writer Tony Daniel will team up with artist Philip Tan (GREEN LANTERN: AGENT ORANGE, THE OUTSIDERS) for THE SAVAGE HAWKMAN #1. Carter Hall's skill at deciphering lost languages has led him to a job with an archeologist who specializes in alien ruins – but will the doctor's latest discovery spread an alien plague through New York City? No matter the personal cost, Carter Hall must don his cowl and wings and become the new, savage Hawkman to survive."
–Green Arrow #1 written by J.T. Krul and art by Dan Jurgens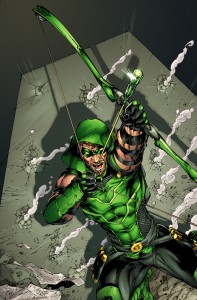 "Oliver Queen is an orphan who grew up to fight crime as the Green Arrow, a billionaire playboy who uses his fortune to become a superhero – able to fight the most powerful super-villains in the universe with nothing but a bow and arrow. JT Krul will write GREEN ARROW #1 with art by superstar artist Dan Jurgens."
–Justice League International #1 written by Dan Jurgens and art by Aaron Lopresti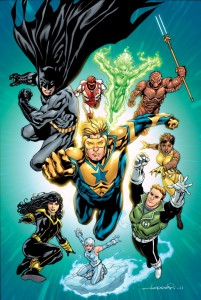 "A team of internationally-drafted superheroes fight each other and their bureaucratic supervisors as much as they do global crime in JUSTICE LEAGUE INTERNATIONAL #1 from writer Dan Jurgens and artist Aaron Lopresti."
–Mr. Terrific #1 written by Eric Wallace and art by Roger Robinson
"The world's third-smartest man – and one of its most eligible bachelors – uses his brains and fists against science gone mad in MISTER TERRIFIC #1, the new series from writer Eric Wallace and artist Roger Robinson."
–Captain Atom #1 written by J.T. Krul and art by Freddie Williams II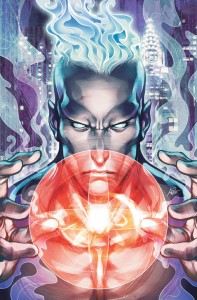 "Captain Atom has all the power in the world, but no hope of saving himself. Charged by nuclear energy, possessing vast molecular powers, he has the potential to be a god among men – a hero without limits. But the question is this: Will he lose himself in the process? JT Krul and artist Freddie Williams II take the character in a bold new direction in CAPTAIN ATOM #1."
–DC Comics Presents #1 by Paul Jenkins and art by Bernand Chang
"The anthology series gets a new look in DC Universe Presents, a new series that will focus on multi-issue story arcs each featuring a different superhero from the DC Universe's rich cast of characters, told by some of comics' most exciting writers and artitsts. DC UNIVERSE PRESENTS #1 kicks off the first arc of the series: a Deadman story by Paul Jenkins and Bernard Chang."
–Green Lantern #1 written by Geoff Johns and art by Doug Mahnke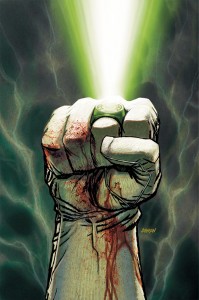 "This fall, Johns reunites with artist Doug Mahnke, as the series begins anew with GREEN LANTERN #1 with cover by Ivan Reis and Joe Prado. Together they will continue to thrill readers and expand the Green Lantern mythos. Change is coming. But set aside your fear. It'll be worth the wait."
–Green Lantern Corps #1 written by Peter Tomasi and art by Fernando Pasarin
"When deadly conflicts emerge across the universe, it's up to Guy Gardner, John Stewart and an elite Green Lantern strike force to keep the peace."
–Green Lantern: The New Guardians #1 written by Tony Bedard and art by Tyler Kirkham
"The power of Rage, Avarice, Fear, Will, Hope, Compassion and Love combine to be the most powerful (and colorful) team in the corps under the leadership of Kyle Rayner. Beware their power . . . and their volatility!"
–Red Lanterns #1 written by Peter Milligan and art by Ed Benes
"Going solo. Atrocitus and his Red Lantern Corps return in their own series, battling against injustice in the most bloody ways imaginable. This Lantern Corps takes no prisoners, they are judge, jury and executioners!"
–Batman #1 written by Scott Snyder and art by Greg Capullo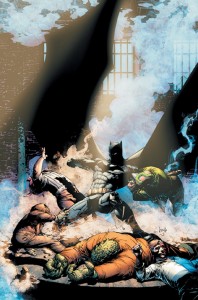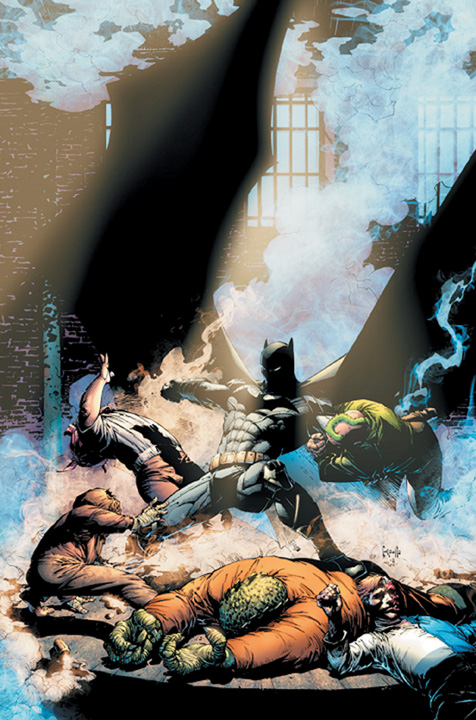 "In the first BATMAN #1 since 1930, New York Times bestselling writer Scott Snyder teams up with superstar artist Greg Capullo in his DC Comics debut! In the series, Bruce Wayne once again becomes the only character taking on the Batman name."
–Detective Comics #1 written and drawn by Tony Daniel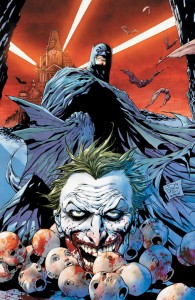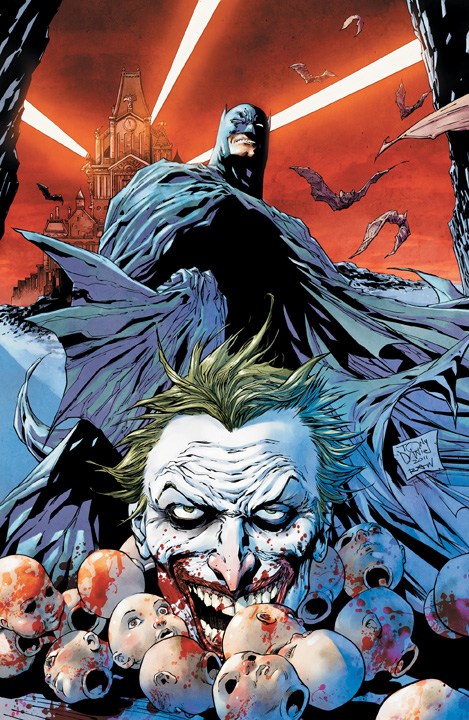 "DC Comics' flagship title is relaunched for the first time ever in DETECTIVE COMICS #1 by acclaimed writer/artist Tony Daniel. Marking the first time Batman will appear in a debut issue of Detective Comics, the series will find Bruce Wayne on the trail of a dangerous serial killer known only as the Gotham Ripper."
–Batman and Robin #1 written by Peter Tomasi and art by Patrick Gleason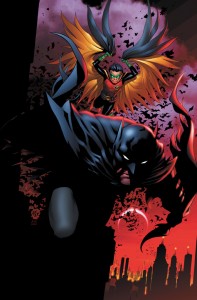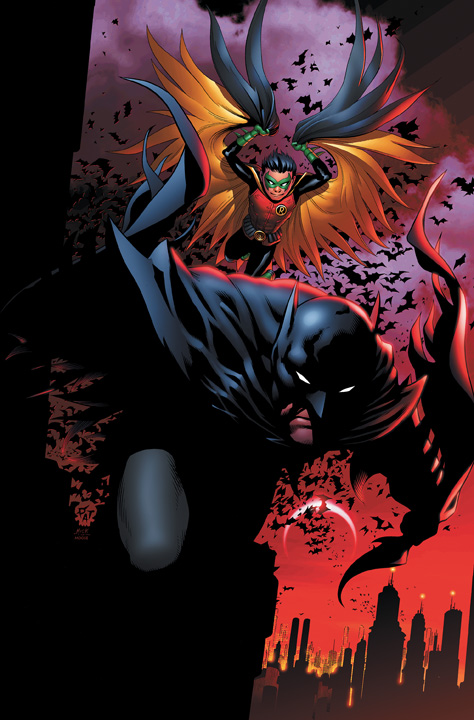 "Tomasi and Gleason, who formerly worked together on Green Lantern Corps, were already announced as the regular creative team on Batman and Robin last year, although their run was delayed and ended up only lasting three issues. They'll launch the new title with Bruce Wayne as Batman and his son Damian as Robin, protecting Gotham City as father and son."
–Batman: The Dark Knight #1 written and drawn by David Finch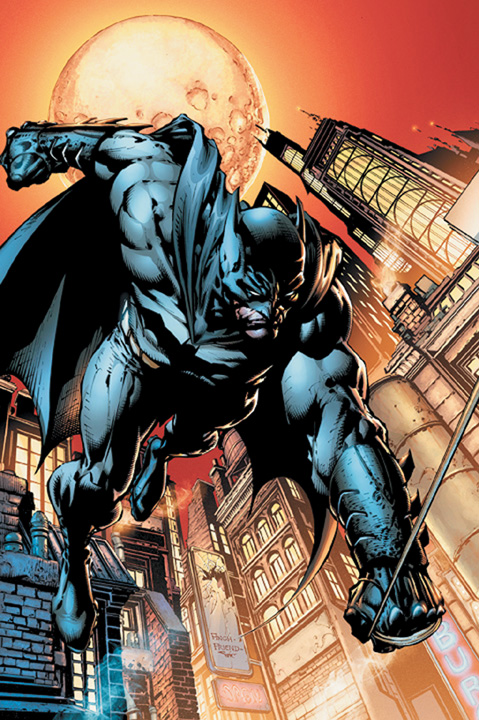 "A twisted adventure that pulls Bruce Wayne deep into the halls of the famed Arkham Asylum, a jail for Gotham City's most dangerous and criminally deranged."
–Batgirl #1 written by Gail Simone with art by Ardian Syaf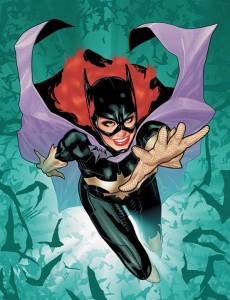 The biggest shock of the relauches, Batgirl #1 takes Barbara Gordon out of her wheelchair as Oracle and back into the mantle of Batgirl. DC has released the following statement from writer Gail Simone:
"Barbara Gordon is pretty much my everything," writes Simone. "Because of the Batman TV show, she was the reason I fell in love with superheroes. Because she was a redhead who could kick ass, she is the reason I fell in love with comics. She was always forward-looking as Batgirl, a girl who was smarter than the male characters, who had class and elegance and style, as well as tough-as-nails grit. For a long time, there was simply nothing else like her in comics, and for me and a lot of other readers, her every appearance was joyful and explosive."
"For many years, I got to write the character as Oracle, and there is to this day, no character who means more to me. This is classic Barbara as she was originally conceived, with a few big surprises. It's a bit of a shock, to be sure, but we're doing everything we can to be respectful to this character's amazing legacy, while presenting something thrilling that a generation of comics readers will be experiencing for the first time……Barbara Gordon leaping, fighting, and swinging over Gotham. Now, when citizens of that city look up, they are going to see BATGIRL. And that is absolutely thrilling."
–Batwoman #1 written by J.H. Williams III and Haden Blackman with art by Amy Reeder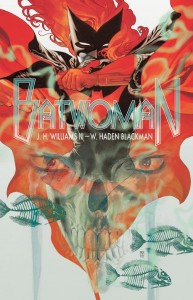 This is merely a delayed launch of a title that was supposed to be out in early 2011. It stars the Batwoman character introduced in 52.
–Catwoman #1 written by Judd Winick and art by Guillem March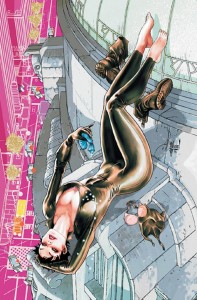 "Meet Catwoman. She's addicted to the night. Addicted to shiny objects. Addicted to Batman. Most of all, Catwoman is addicted to danger. She can't help herself, and the truth is – she doesn't want to. She's good at being bad, and very bad at being good."
–Birds of Prey #1 written by Duane Swierczynski and art by Jesus Saiz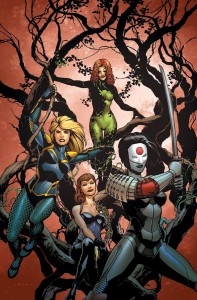 "The Birds of Prey are Gotham City's covert ops team, taking down the villains other heroes can't touch."
–Red Hood and the Outlaws #1 written by Scott Lobdell and art by Kenneth Rocafort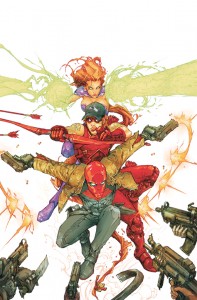 "Batman's former sidekick had put his past as The Red Hood behind him, when the reclusive Jason Todd finds himself unwillingly elected as the leader of an all-new team of outlaw vigilantes. As The Red Hood once again, Jason Todd will lead this new team of antiheroes, including Green Arrow's rejected sidekick Arsenal and Starfire, a former prisoner of intergalactic war."
–Nightwing #1 written by Kyle Higgins and art by Eddy Barrows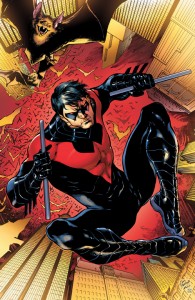 "After a tenure as the Batman of Gotham, Dick Grayson resumes his mantle as Nightwing! As Dick embraces his identity, Haley's Circus, the big top where he once performed with his family, returns to Gotham – bringing with it a history of murder, mystery and superhuman evil. Nightwing must confront friends and enemies from his past as he searches for the source of an even greater evil."
–Batwing #1 written by Judd Winick and art by Ben Oliver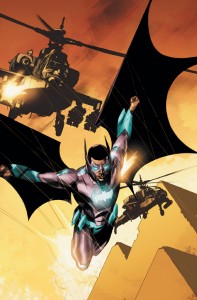 "This September, join with us in this historic moment when the first black character to wear the Batman mantle will be the first to star in his own ongoing series."
–Swamp Thing #1 written by Scott Snyder with art by Yannick Paquette
"DC Comics embraces its dark side. On the 40th anniversary of the character's creation, the New York Times bestselling writer of AMERICAN VAMPIRE, Scott Snyder, teams up with Yannick Paquette (BATMAN, INCORPORATED) to bring horror back to the DC Universe in SWAMP THING #1. For years, one man served against his will as the avatar of nature. And while he may have been freed of the monster, he's about to learn the monster will never truly let go of him."
–Justice League Dark #1 written by Peter Milligan with art by Mikel Janin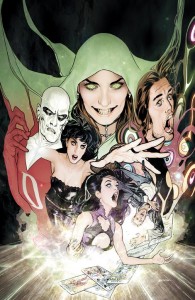 "John Constantine, Deadman, Shade the Changing Man and Madame Xanadu are Justice League Dark, a band of supernatural heroes united to stop the dark things the rest of the DCU does not see."
–Animal Man #1 written by Jeff Lemire and art by Travel Foreman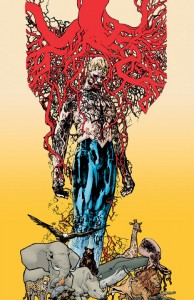 "Buddy Baker has gone from "super" man to family man – but is he strong enough to hold his family together when Maxine, his young daughter, starts to manifest her own dangerous powers?"
–Demon Knights #1 written by Paul Cornell with art by Diogenes Neves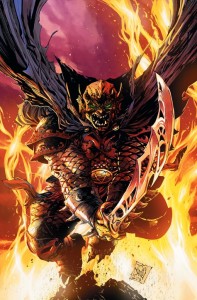 "Set in the Middle Ages, the Demon leads an unlikely team to defend civilization and preserve the last vestiges of Camelot against the tide of history."
–Frankenstein: Agent of Shade #1 written by Jeff Lemire with art by Alberto Pontacelli
"Frankenstein and his network of strange beings work for an even stranger government organization: The Super Human Advanced Defense Executive. It's the breakout hero of Seven Soldiers as you've never seen him before!"
–Resurrection Man #1 written by Dan Abnett and Andy Lanning with art by Fernando Dagnino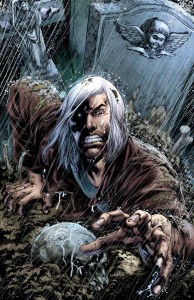 "A cult favorite character returns in a new series written by his classic creative team of Dan Abnett and Andy Lanning. RESURRECTION MAN #1 is the story of a hero who wakes up with new powers each time he's killed.
–I, Vampire #1 written by Josh Fialkov and art by Andrea Sorrentino
"Vampires threaten to bring ruin to the DC Universe in I, VAMPIRE #1 by rising star Josh Fialkov and artist Andrea Sorrentino. Tortured by his centuries-old love for the Queen of the Damnned, Andrew Bennett must save humanity from the violent uprising of his fellow vampires, even if it means exterminating his own kind."
–Voodoo #1 written by Ron Marz and art by Sam Basri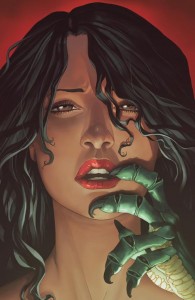 "Priscilla Kitaen has just found out she's a monster. A half-alien hybrid, the woman known as Voodoo must confront the secrets of her past to make sense of the nightmare her life has suddenly become."
–Legion Lost #1 written by Fabian Nicieza and art by Pete Woods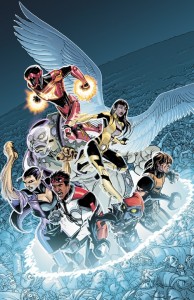 "Seven heroes from the 31st century have traveled back to the present day. Their mission: Save their future from total annihilation. When the future tech they brought with them fails, they find themselves trapped in a nightmarish world and an ultimate struggle to survive."
–Legion of Super-Heroes #1 written by Paul Levitz and art by Francis Portela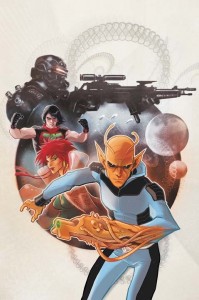 "In the 31st century, the Legion of Superheroes is reeling from the loss of seven of their finest — and trying desperately to keep their youngest recruits alive against a series of terrible new threats."
–Teen Titans #1 written by Scott Lobdell and art by Brett Booth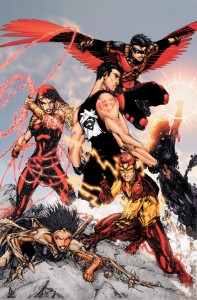 "Tim Drake is forced to step out from behind his keyboard when an international organization seeks to capture or kill super-powered teenagers. As Red Robin, he must team up with the mysterious and belligerent powerhouse thief known as Wonder Girl and a hyperactive speedster calling himself Kid Flash"
–Static Stock #1 written by John Rozum with art by Scott McDaniel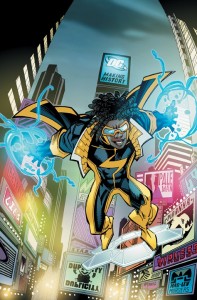 "Virgil Hawkins has been gifted with incredible electrical powers. Adopting the persona of Static, he faces super-powered street gangs, raging hormones, homework, and girls"
–Hawk & Dove #1 written by Sterling Gates and art by Rob Liefeld
"It's up to the living avatars of war and peace to root out the hidden forces who look to plunge the country into a deadly civil war"
–Sucide Squad #1 written by Adam Glass and art by Marco Rudy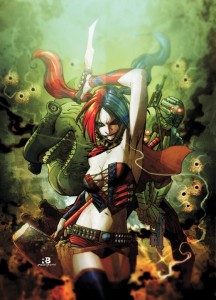 "Harley Quinn! Deadshot! King Shark! They're a team of death-row super villains recruited by the government to take on missions so dangerous – they're sheer suicide! Who will be the first to crack under the pressure?"
–Blue Beetle #1 written by Tony Bedard and art by Ig Gurua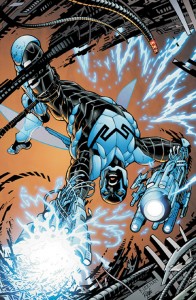 "It's not easy being Jaime Reyes. He has to deal with high school, family and all the drama that comes with being a teenager. Also, he's linked to a powerful scarab created by an alien race who seek to subjugate planets – or annihilate them. It's up to one teen hero to turn this instrument of destruction into a force for good."
–Stormwatch #1 written by Paul Cornell and art by Miguel Sepulveda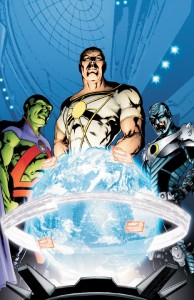 "Stormwatch is a dangerous super human strike force whose existence is kept secret from the world. Jack Hawksmoor and the rest of the crew look to recruit two of the deadliest super humans on the planet: Midnighter and Apollo. And if they say no? Perhaps the Martian Manhunter can change their minds. Featuring a surprising new roster."
–Blackhawks #1 written by Mike Costa and art by Ken Lashley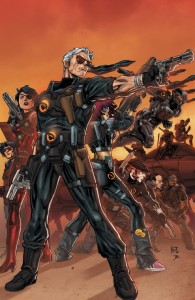 "Blackhawks is an elite group of mercenaries made up of brave men from around the world equipped with the latest in cutting-edge hardware and vehicles. Their mission: Kill the bad guys before they kill us."
–Sgt. Rock and the Men of War #1 written by Ivan Brandon with art by Tom Derenick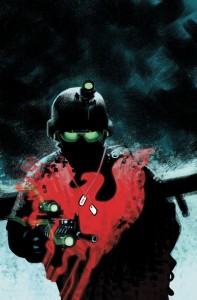 "The grandson of the original Sgt. Rock assumes the command of Easy Company, a team of crack ex-military men financed by a covert military contractor, as they brave the battle-scarred landscape carved by the DC Universe's super-villains."
–All Star Western #1 written by Jimmy Palimotti and Justin Gray with art by Moritat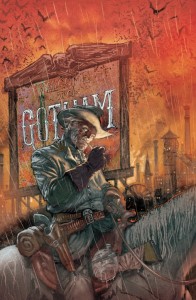 "Even when Gotham City was just a one-horse town, crime was rampant – and things only get worse when bounty hunter Jonah Hex comes to town. Can Amadeus Arkham, a pioneer in criminal psychology, enlist Hex's special brand of justice to help the Gotham Police Department track down a vicious serial killer? Featuring back-up stories starring DC's other western heroes, ALL-STAR WESTERN #1 will be written by the fan-favorite Jonah Hex team of Justin Gray and Jimmy Palmiotti and illustrated by Moritat."
–Deathstroke #1 written by Kyle Higgins with art by Joe Bennett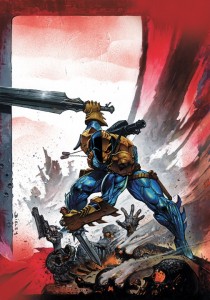 "A metahuman mercenary who made a living taking out the toughest targets, Deathstroke will reclaim his fearsome legacy by any means necessary."
–Grifter #1 written by Nathan Edmondson with art by Cafu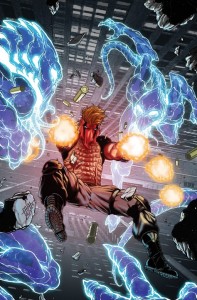 "Ex-black ops agent Cole Cash is a charming grifter that few can resist. And yet he's about to be branded a serial killer when he begins hunting and exterminating inhuman creatures hidden in human form – creatures only he can see. Can the biggest sweet talker of all time talk his way out of this one when even his brother thinks he's gone over the edge?"
–OMAC #1 written by Dan DiDio and art by Keith Giffen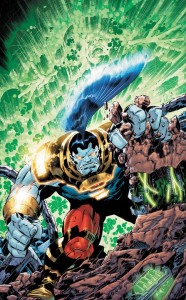 "A man loses control of his life as the omnipresent Brother Eye transforms him against his will into a powerful killing machine"