Thor is an action-packed blockbuster that provides a fun and faithful experience.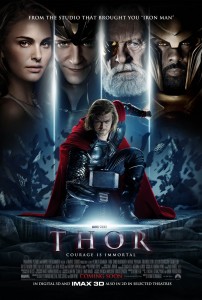 Directed by: Kenneth Branagh
Starring: Chris Hemsworth, Tom Hiddleston, Natalie Portman, Anthony Hopkins
Rating: PG-13
Genre: Action / Adventure / Drama
[audio:https://www.podtrac.com/pts/redirect.mp3/www.thegeekgeneration.com/podcast/reviews/movies/movie-review-thor.mp3]
For me, the character of Thor was in the same camp as Iron Man. I was always fairly familiar with both on the surface, but never bothered to dig too deep into their respective worlds. Because of this, it made the first Iron Man movie that much more of a pleasant surprise. Now, having seen Thor, I can say that I'm just as pleased.
One of the people I saw the movie with referred to Thor as a "Reader's Digest" version of the character, and I agree with that assessment. Each of these Marvel films leading up to The Avengers has the task of introducing the mainstream to all of the heroes that will be involved. While Thor did succeed in this regard, it was in no way fleshed out to the extent that Iron Man was. Don't, however, mistake that as me saying that Thor sucked, because it most certainly did not. It's just different, and different isn't always a bad thing.
Thor wasted no time in moving the plot along, and it really couldn't afford to since there was so much to cover. The nine realms, including Asgard, needed to be introduced and completely understood… and it was. The relationships between Odin, Thor, and Loki all needed to be established… and they were. Thor's journey from arrogant prince to humble hero needed to be believable… and it was. While fast-paced, Thor had clear goals in mind and hit the mark with each.
One of the best parts of Thor were the action sequences. Thor's style of aggressive fighting, Mjolnir in hand, couldn't have been portrayed any better on the big screen. If you think watching a guy swinging a hammer around would get dull, think again. There was clearly a lot of thought put into using Mjolnir in creative ways. They certainly had lots of material to pull ideas from.
As far as the acting went, Chris Hemsworth's performance as Thor was superb, successfully managing to portray all aspects of the character's personality. There have been doubts by some that anyone would be able to share the screen with Robert Downey Jr. in The Avengers, but Hemsworth's charisma and presence put him in a good position to. Anthony Hopkins delivers as he always does in the role of Thor's father Odin. Tom Hiddleston was perfectly cast as the villainous god of mischief, Loki. Natalie Portman was fine as Jane Foster, but the role was clearly unchallenging for someone of her caliber. Even the warriors three shined throughout the film.
If there's anything to take away from the success of Thor and Marvel's other recent releases, it's that you can't mess around with the source material. If this is the path that they continue on, I look forward to both Captain America and The Avengers.
Bottom Line: Thor is an action-packed blockbuster that provides a fun and faithful experience.
[xrr rating=9/10]