After screening the pilot, NBC has decided not to pick up Wonder Woman as a series.
Source: The Hollywood Reporter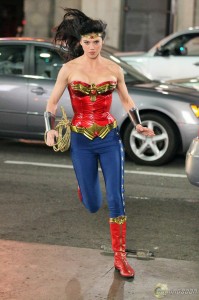 After much back and forth with just getting a pilot underway, NBC has decided not to pick up the David E. Kelley-written Wonder Woman as a series.
The news comes after lackluster buzz and a network screening that went poorly. The drama, produced by Warner Bros. TV, is a reinvention of the iconic DC comic in which Wonder Woman (Adrianne Palicki) is a vigilante crime-fighter in Los Angeles but also a successful corporate executive trying to balance all the elements of her extraordinary life.
With NBC passing on the pilot, it's very unlikely that the series will be headed elsewhere at this time. Hopefully the pilot will make it's way online just as the Aquaman Smallville spin-off did so that we can get see if the pass was justified. Perhaps if they had cast Bridget Regan as the lead (as I had insisted from the beginning) things might have been different.